The Best Millennial Gifts for Everyone You Know
This post may contain affiliate links. Which means if you make a purchase using these links I may recieve a commission at no extra charge to you. Thanks for support Miss Millennia Magazine! Read my full disclosure.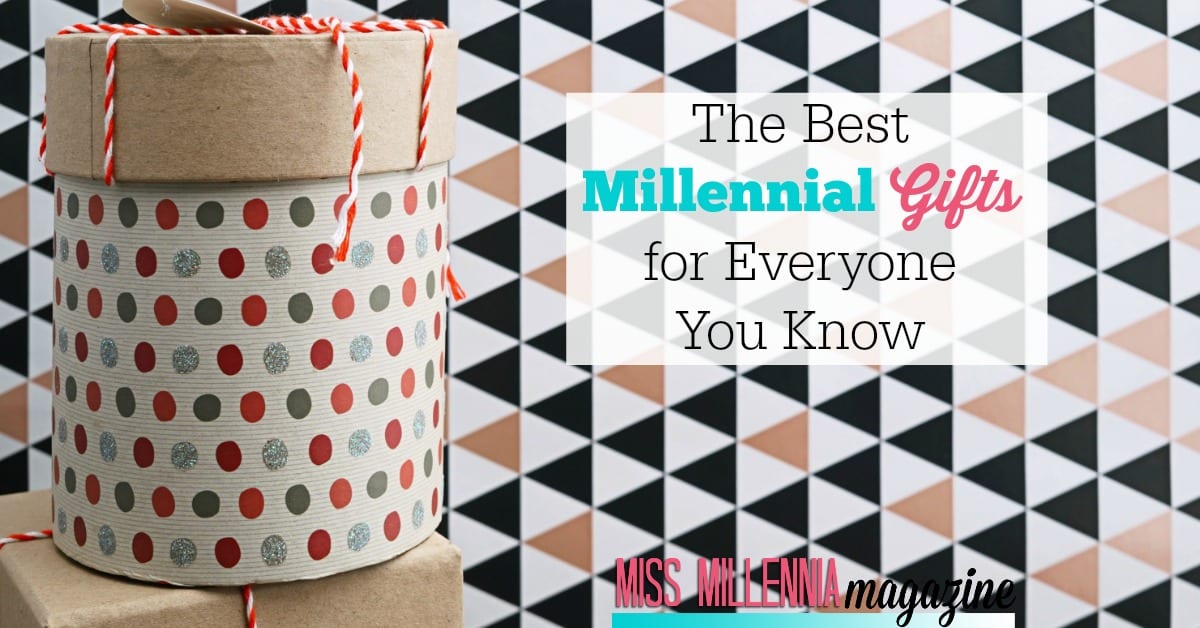 It's that time of year again! Time to get the perfect gift for everyone you know. Yeah, we are aware it can be tough. So we put together a guide of the hottest gifts for everyone on your holiday list this year. Enjoy!
5 Interesting Gift Ideas for Beauty Enthusiasts
We all have that friend who's make-up and hair so on point when you go out you think she should probably be on her way to an awards show. If that's your friend, check out these gifts below.
1. Urban Decay "Naked" Palette
The Naked Palette is a great gift for anyone that you know who is into makeup. It also a great gift if you know someone who is just starting to have an interest in makeup. This eye shadow kit gives you a wide range of neutral colors that is perfect for everyday makeup.
Not only is it a great variety, but the color lasts all day, so there are minimal touch ups needed. There are plenty of options that you can choose from, and it's hard to go wrong with any! Just dig in and enjoy yourself. make-up
2. Kick Ass Flat Iron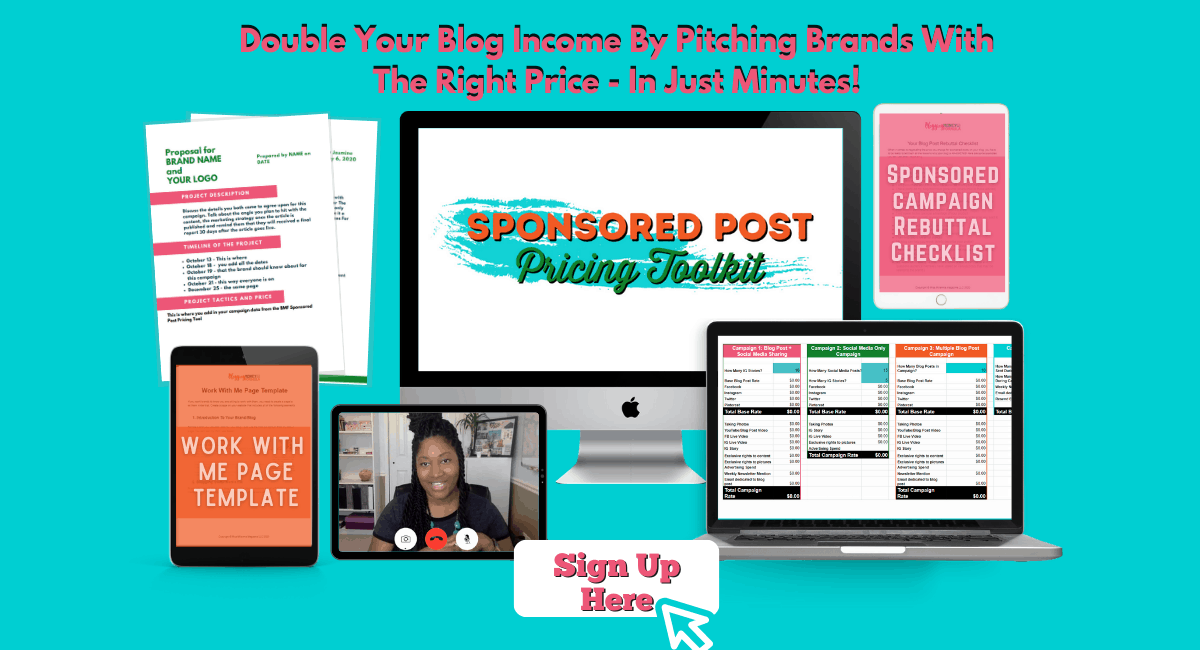 The Diamond Hair Styler is a great gift option this year. This flat iron makes it clear that not all flat irons are created equal. There are plenty of reasons why this product is superior including the fact that the plates are hot within 15 seconds, up to 450F!
On top of that, the cord swivels 360 degrees for ease of use and its super light. There is a smart display so that you can see the temperature at all times. Lastly, all the buttons are located inside the plates so that you do not change the settings accidentally. I reviewed this flat iron here. Want to get one? Check it out here.
3. Paula's Choice Skincare
Paula's Skincare is the gift that we all could use, every year. Even if you have no issues with your skin (lucky), This product will rejuvenate and rehydrate you so that you appear bright and fresh every single day. No one is perfect, but this product will get you closer to that goal with each use. Paula's skincare if offering 20% sitewide + free shipping Monday, November 21st- 28th. And you get a surprise gift with purchase by going through my unique link here.
4. Pure Cosmetics by The Lano Company
A cosmetic brush set is something that I have never considered as a gift, but I would for sure appreciate it if I received it. The Luxe Bronze 12 Piece Professional Brush Set is a godsend.
Admittedly, I always forget to replace my brushes when it is time, and I'm sure I'm not alone. If I'm going to be replacing them, I might as well go with something that will last quite a while! This professional set is exactly what the doctor ordered. You can get this set at Loxa Beauty. You can expect to get up to 50% off at LoxaBeauty during the Black Friday Sale! Offers valid 11/25-12/2.
5. Kylie Cosmetics – Matte lipstick mini kit, Kylie Jenner
The Matte Lipstick mini kit is a super cute gift for the makeup fanatic in your life. This is perfect because if you are getting them makeup, you don't have to worry about what shade of lipstick you want. This gives them plenty of options!
They can try out all different shades. Trust me, being given options is perfect for those who love makeup. They can choose which is their favorite and stock up! Check out the gift here.
Excellent Gift Ideas for Fitness Lovers
If you have a friend who loves going to the gym, finding a new gym outfit or just wearing yoga pants, here are some pretty cool gifts you can get for them.
1.MOTR
MOTR is an excellent multi-use workout tool. It is perfect for anyone you know that loves to exercise, along with people just getting started. Owning this means you have a personal home gym, without taking up a bunch of space. I did a review about my experience using the MOTR here.
The mobility of MOTR also means that you can take the gym on the go. Working out by the lake, with your friends who also have the MOTR, is now always a possibility. Get one for a friend here.
2. My Yoga Works
Give someone the gift of fitness this season with a subscription to My Yoga Works. You have hundreds of premium classes at the touch of your fingertips, and these classes are taught by professional Yoga teachers. Whoever get this as a gift will be able to attend their yoga classes whenever is most convenient for them. There is no better way to get in shape. We recently did a review on My YogaWorks here.
You can get an exclusive deal on MyYogaWorks for only $49 (reg. $150)! Use the promo code YOGA49 at sign up. Offer expires on November 28, 2016. Get a subscription for a friend here.
3. Cute Workout Clothes
New Years is closer than you think. Many will have the resolution of getting in shape. New workout clothes is always a HUGE motivator for me to get active. Let's start that motivation early by giving some cute workout clothes to your loved one. It's like giving the gift of good health!
There is a Black Friday promotion going on at Danskin.com. You can expect to take 30% off sitewide + an additional $10 off $100 with code VIP2016. This offer is only available for a limited time. So get some gear for your friends here.
4. Digital Body Fat Scale
The EatSmart Precision Body Check Body Fat Scale allows you to quickly and easily measure your body weight, BMI, % body fat, % muscle mass, % total body water and bone in the comfort of your own home. The daily caloric intake feature estimates how many calories are needed to maintain her current weight. Being aware of body composition is an important way to monitor your health, and any fit chica knows, weight is more than a number.
At only $29.95, the Body Fat Scale makes a great gift for anyone who loves to exercise and workout. Get it on Amazon.com
5. Sivan Health and Fitness Balance Fit Chair with ball and pump
Many people have been using a balance ball in their workout routine. It's great for many things, including building core strength. The Sivan Health and Fitness Balance Fit Chair with ball and pump
take this to a whole new level as it allows you to work your core all day long while just sitting on it at work. Multitasking at its finest! Buy it here.
5 Thoughtful Gift Ideas for Femme Fashion Addicts
Not sure what to get your fashion savvy friend? We have a few ideas for you.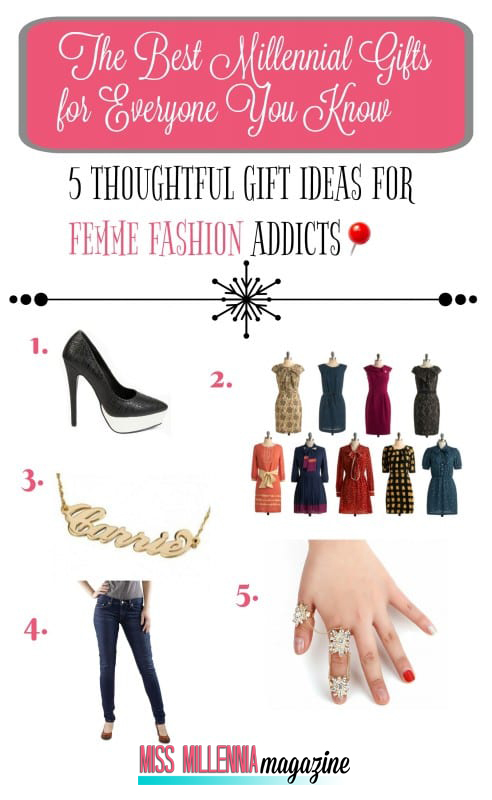 1.Shoes at Dr. Scholl's Shoes
Dr. Scholl's Shoes are legitimately adorbs! I wrote a post on the types of shoes you should own here featured a great deal of them from Dr. Scholl's Shoes. Check out the shoe collections here.
2. Dresses at Modcloth
I love Modcloth! And while they have some of the cutest home decor things I have ever seen, their dresses have to be my fav. These are perfect if your buddy has more of a retro and funky style. Check it here.
3. Name Plate Necklace
The nameplate necklace is a retro style that is making a serious comeback. What better way to show your buddy you were thinking about them than a nameplate necklace? Use the promo code millmag and get an additional 5% off. Get one here.
4. A Good Pair of Jeans
We all want that perfect pair of jeans, but finding the right fit can be challenging. How awesome would it be to get your buddy that perfect pair? Lucky Jeans has a great variety of jeans for different body types. They offer not just great denim with plus sizes up to 24W in jeans. They are offering 50% off for their Black Friday sale. Grab a pair for your bud here.
5. Multiple Finger Ring
If your buddy is a ring person, you should get them the multiple finger rings. The cool part about these is they do give the illusion of being more like a tattoo instead of a ring, just less permanent. Check out this excellent option.
The Most Clever Traveler Gifts of 2016
We are big on travel here at M3. And if you have a buddy who loves travel or wants to travel more, here are a few gift ideas they may enjoy.
1.Gift Boutique Jewelry Travel Box
Okay, so this can double as a gift for your fashion friends as well. If you know someone who packs a lot of makeup, beauty products, and jewelry when they travel, then this is an excellent gift to have! Check out this gem here.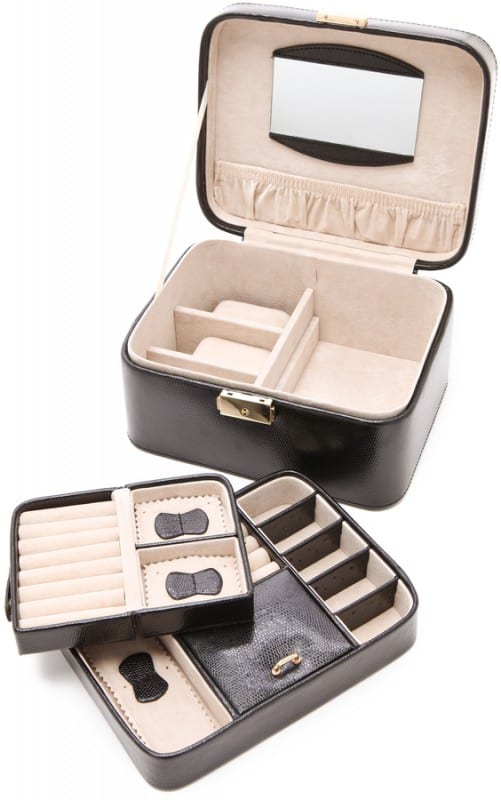 2. Trtl Soft Neck Support Travel Pillow
Ok, I know what you are thinking; What a corny gift. But if they are an avid traveler they can appreciate pillow that gives them a little neck support when they sleep on a plane or in the car. This one is better than a traditional u-shaped memory foam travel pillow and half the size of a travel pillow and weighs only 148 grams. Check it out here.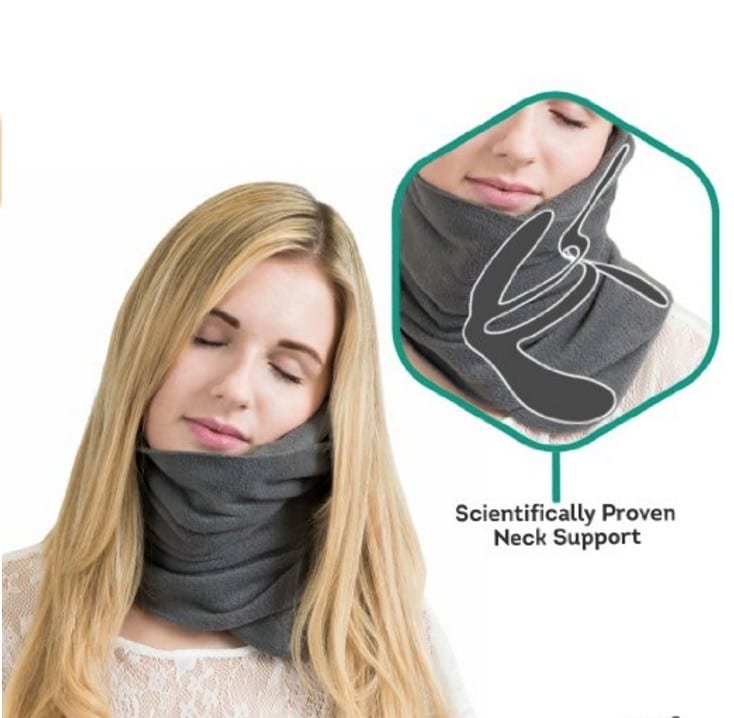 3. Virgin America Flight
Is your friend traveling somewhere soon, but have not purchased their ticket yet? Get it for them on Virgin Airlines. In case you've never experienced a Virgin flight, it's Amaze. Filled with amenities like wi-fi, drinks, food, movies on demand and extra legroom for everyone! And it's all included in your ticket price. Let them travel in style.
If they are not planning a trip soon, gift them some Virgin Airlines points, so they have them for the next time they travel. Check out how to gift your buddy a flight here.

4. Multi-Purpose Travel Passport Wallet
Do they have a wallet that fits their passport? If not this would be a great gift idea. This one has multiple compartments, and it's stylish enough to be worn on the reg. Check it out here.
5. Lonely Planet's Ultimate Travel: Our List of the 500 Best Places to See… Ranked
If all else fails here is a great book to show them some of the best places to travel listed in order of coolness. The beautiful pictures are enough to make anyone want to travel more. This is a great book to give them inspiration on where to travel next. Get it here.
Interesting Gift Ideas He Will Love
If you are trying to decide on a gift idea for a guy in your life, there are plenty of options for you there too.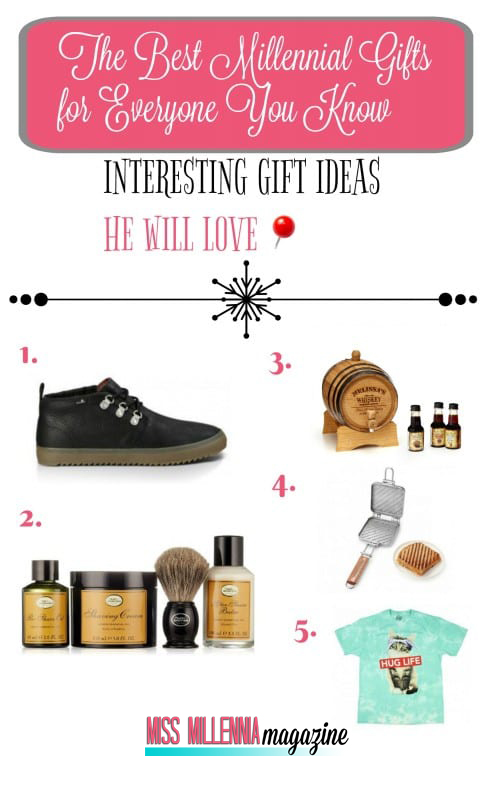 1.Awesome shoes
The holidays are a great time to revamp your man's wardrobe! Sanuk offers a ton of different style choices—from the laid-back Chiba TX to the more classic Guide white tennis shoe, there is a little something for everyone. Check out all that has to offer here.
This Art of Shaving Kit is perfect for the well-groomed man in your life. It includes a pre-shave oil, shaving cream, the shaving brush and an after-shave balm—everything needed for the perfect shave! And if you act before February 2, 2017, you could save 15%. Check them out here.
3. Personalized Whiskey Barrel
What is a man cave without a personalized whiskey barrel? Thanks to its miniature size, the aging process is accelerated which means the alcohol of your choice will reach its peak flavor in only 3-5 days! Check this awesome barrel out here.
4. Grilled Cheese Maker
Does your man love to camp and eat grilled cheese? Now he won't have to choose between the two thanks to this nifty gadget! Just place the sandwich inside, lock it down to keep the precious insides safe, and hold over the fire (or a gas stove!), and voila! A delicious cheese sandwich in the wilderness! Check it out here.
5. Graphic T-Shirt
Who doesn't like a funny t-shirt? From puns to dad jokes, who says that clothes are a waste of a gift?! Check out all of the awesome options here and here, too.
5 Innovative Tech Gifts on Everyone's Wish List
Everyone loves tech gifts! Make sure you get them the hottest ones that are out there right now. Check it out.
1.Amazon Echo
The Amazon Echo is definitely on the top of everyone's wish list! Much more than just another wireless speaker, the Echo is also a command device! Check it out here.
2. Apple Watch Series 2
Built-in GPS? Check. Water-resistant? Check. Tons of styles to choose from? Check. Need it? Absolutely. Check it out here.
3. HP Sprocket Portable Photo Printer
Love to scrapbook on the go? This is a fun way to print out pictures wirelessly from your photo stream or from social media! It's an inkless printer too so actually ahead of its time. Find it here.
4. UE Boom 2
This little beauty is water proof and dirt proof for the adventurer on your shopping list. This portable speaker is ideal for hiking, biking, and parties! And as an added plus, the UE Boom 2 can pair with another speaker to get a full surround sound effect. Check it out here.
At an easy-to-carry 3 pounds, this new MacBook is a game changer. With a phenomenal processing time and an impressive Retina display, Apple has yet to let their fans down! Check it out here and make someone's holiday awesome.
Potential Gift Ideas for the Hobbyist You Know
Have a friend who has some pretty cool hobbies? Check out this list of ideas for a few of them.
An El Gato Malo French Press
Have a coffee fanatic in your home? How about a drowsy student visiting from school? The El Gato Malo French press brings classic coffee and tea making to the 21st century with its stainless steel outer appearance and its double-walled capsule. It's a beautiful addition to anyone's home. M3 readers get an additional 15% off with the promo code MMMSav15 Check it out here.
2. Custom M&Ms
Customs M&M's are a long time favorite for your friend who still has a sweet tooth! There's nothing like biting into a favorite picture or a funny inside joke! Add a variety of items to your M&M's that will be meaningful for some time. You can custom make your own right here!
3. A Cabbaggage Farmer's Market Bag
Have a friend who enjoys going to the farmers market regularly? Or one who refuses to use plastic bags when they grocery shop? This is THE bag for them. It is insulated with multiple compartments, which makes it perfect for shopping at any farmer's market, grocery store and picnics!
It includes a unique and removable shelf that creates a second layer to protect delicate items on the bottom from getting crushed with an optional opening for tall bottles. Your friend will love you for it. Use the code MISSMILL to get $10 off until December 31st! You can find it here.
4. Diffuser and essential oils
If you know someone who is into essential oils and or holistic remedies, this could be a great gift for them. Help your loved ones unwind with a diffuser and an array of essential oils to choose from! You can help them find their happy place right here and here!
5. CROCK-POT DESIGN TO SHINE 7-QT. SLOW COOKER
Do you know someone that is always on the go that swears that there is no time for cooking when they're on-the-go? A crockpot can be the answer that they've been searching for! Just throw in the ingredients, and within a few hours, you have a fully cooked meal ready to go when you are! You can check it out here.
Simple Gift Ideas for That Someone Who is Hard to Shop For
If you got through this whole list and still at a loss what to get for that last person on your list, never fear there are some great options for you below.
1.Platejoy Subscription
Personally, I feel this would be the perfect gift. Do you know someone that is always busy? So busy they don't have time to plan every meal? Well, look no further for a gift for them.
Platejoy customizes a meal plan for you based on your diet restrictions, personal tastes, and time restraints. They then deliver the recipes and grocery lists straight to your phone. If that is not enough, they also have the option to deliver the groceries to your house! Can't get much easier than that. Get it for them here.
2. Fandango Gift Card
We all love movies. With that in mind, it's hard to go wrong with a gift card at Fandango. Even if they are not an avid movie goer, there is bound to be one or two films they would like to see. Now the cost is not an issue. Also, you don't have to know which theater they prefer as Fandango covers a pretty wide range. Snatch up this deal here.
3. Dylan's Candy Bower Sweet Tower
Holy sweets, Batman. This 12-inch high tower is truly a beautiful collection of some of the most delectable treats around. I would almost be disappointed not to get this gift. Get it for someone special to you. And maybe order one for yourself while you're at it… I know I'll be getting one. Get it here.
4. Personalized photo book
Just can't think of anything this person would want because they already have EVERYTHING? Well, there is something for them too. You can get a customized photo book for them. The gift of memories and reminiscence can never be a flop, amirite? Build your book here.
5. Nook E-reader
If nothing else, you can always get them the cool new Nook Tablet 7″. It is available in stores starting 11/25 and would an excellent gift to anyone who loves to read. They will have access to millions of books and can take it with them everywhere. A much better option than dragging books everywhere you go. Get it here.