20 Unique Etsy Gift Ideas For Everyone You Know
This post may contain affiliate links. Which means if you make a purchase using these links I may recieve a commission at no extra charge to you. Thanks for support Miss Millennia Magazine! Read my full disclosure.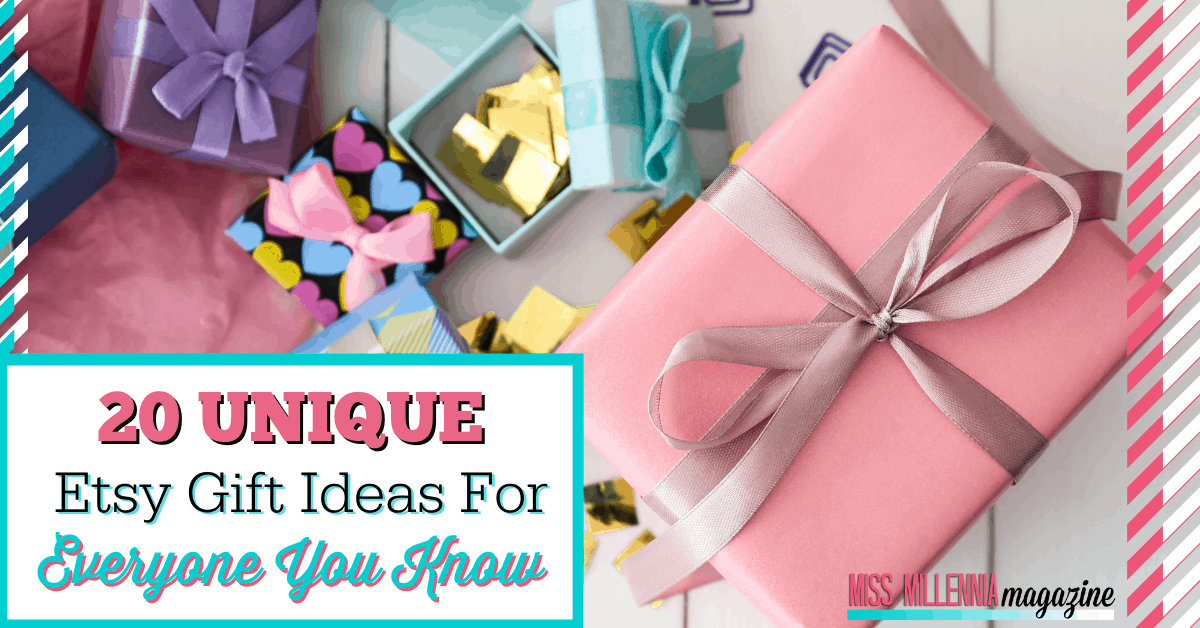 I live for Etsy. Not only does the idea of contributing to small businesses make me feel good inside, but they have such unique pieces! For my wedding, I got both my fabric bouquet and my headpiece from this site and got tons of compliments.
That's why Etsy gift ideas are perfect when you're stumped on what to buy. No matter how well you know the person you are shopping for or what their personality, you'll find a huge array of funky options they'll love. Read on for my favorite 18 Etsy gift ideas for everyone on your list!
Before you do your shopping online this year, make sure to sign up for a free Ebates account and get cash back with every purchase. Use my link here to get an additional $5!
Custom Engraved Stainless Steel Coffee Tumbler
We all have that one friend who is super addicted to coffee. Make her caffeine addiction look cute with this custom engraved tumbler from LifetimeCreations. Choose from 3 funny sayings and either sleek stainless steel or chic matte black. With her name written right on the cup, your loved one will never have to worry about someone stealing her precious java again!
Vegan Leather Purse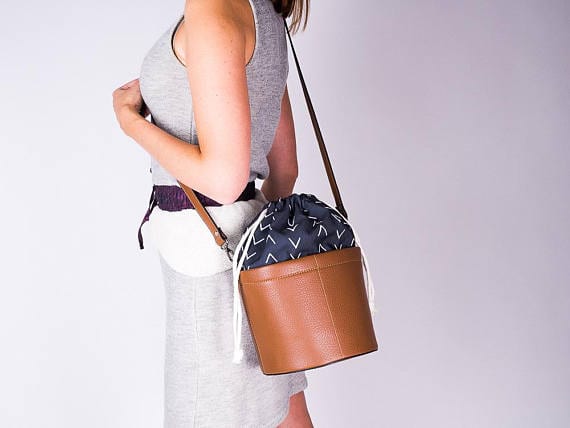 Got a fashionista on your list who has everything? Grab her one of these gorgeous vegan leather bucket bags from boejackdesigns. The stylish bucket design has canvas inside that can act as a liner or extend to add extra storage space.
It's big enough to stash any work or school essentials but won't overpower even small ladies. The adjustable strap lets her switch it up between crossbody and shoulder bag style, and the fabric is cruelty-free, ideal for animal activists.
You can find this beauty of a bag here.
Leather Tote
If you're at a total loss on what to gift someone this holiday, go with one of these gorgeous leather totes. Handmade in Oregan by PortlandLeather, these bags are super versatile. Perfect for grocery shopping, gym trips, carry-on luggage, work, school, and plain old fashion reasons, these are a great gift option for literally everyone. With a wide variety of colors, sizes, and features, it's easy to customize each bag to your gift recipient's needs.
Check out these awesome totes here.
Personalized Plan for World Domination Notebook
If you love giving funny rather than serious holiday gifts, you'll get a kick out of this personalized notebook from Legacy Memories. Add your gift recipient's name to give them a chuckle. Its sturdy spiral binding and heavy covers ensure his plans are safe inside. This silly notebook is super affordable and fun, making it great for your office Secret Santa gifts or a sneaky nephew.
Grab a notebook (or two!) here.
Work BFF Candle
Some days it seems like you'd lose your mind at work if it weren't for your office bestie. Show your appreciation for her with these candles by AtoZCandles. These candles come in tons of fabulous scents including festive options like Peppermint Brownies, Holiday Spice, and Under the Mistletoe. Where else but on a list of Etsy gift ideas would you find something so humorous and useful?
Shop these funny candles here.
Sweary Pencils
These sweary pencils from FourLetterWordCards are one of my favorite Etsy gift ideas on this list. They're super useful, hilarious, and surprisingly motivating. These pencils come in a pack of 8 assorted colors; each one emblazoned with a different "mature" quote. Get a pack to divvy up between all the girl bosses who sit around you at work or keep them together as a present for your most foul-mouthed friend.
You can find this pencil pack here.
Gardening Tools Set
Know a lady who loves planting in springtime? Peep this garden tool gift set from GiftlandDeco. Each set includes three garden tools and a set of gloves, all decorated with pretty floral designs.
These tools are handmade from wood and metal; no cheap-o tools that will break in 2 seconds here! Grab a set for your mom, your grandma, and that friend who has a green thumb.
United States of America (USA US) Watercolor Art Scratch Your Travels™ Map
Christmas shopping for a friend who travels a lot can be intimidating. They've seen so many cool things, what could possibly impress them? Help her keep track of all her amazing trips with this cool scratch-off map from KUULYS.
Whenever she visits a new state, she can just scratch away the top layer, revealing a pretty watercolor design underneath. It's like a travel journal and wall art in one!
Check out this excellent map here.
Nature Inspired Soy Candles
The outdoorsy person in your squad will love these camping-inspired soy candles from SweetDCandles. They come in 4 gender-neutral scents inspired by the camping experience in the North, South, East, and West. With wood wicks, soy wax, and reusable steel cups, these are both eco-friendly and safer to burn.
Grab some of these candles here.
Personalized Dad Beer Glass
Who says finding gifts for men is difficult? The best thing about Etsy gift ideas is how many of them are customizable. Show your dad or husband some love with this fun personalized beer glass from EverythingEtchedAZ.
Perfect for holding the brewski he desperately needs after work, or during the big game, this glass reminds him of all the wonderful people that made him from a man into a dad. Each one is handcrafted but still safe to pop in the dishwasher (because what dad likes washing dishes?).
You can find this beer glass here.
Funny Wine Glasses
Shopping for Etsy gift ideas is even easier if you choose a theme. Why not choose a fun wine glass for everyone on your list? They're both funny and functional. These three options cover the different personalities in your group.
"Because Trump" by ExpressionsGlassware is perfect for those friends or family member who loves to talk politics. "Because Work" by JenniferCraftCorner is sure to make your work BFF or office Secret Santa smile. Have a friend or sister who is just a little extra? This "Majestic AF" unicorn design TwinkleTwinkleLilJar brings the sparkle.
Shop "Because Trump" here, "Because Work" here, and the unicorn here.
Soy Wax Jar Candles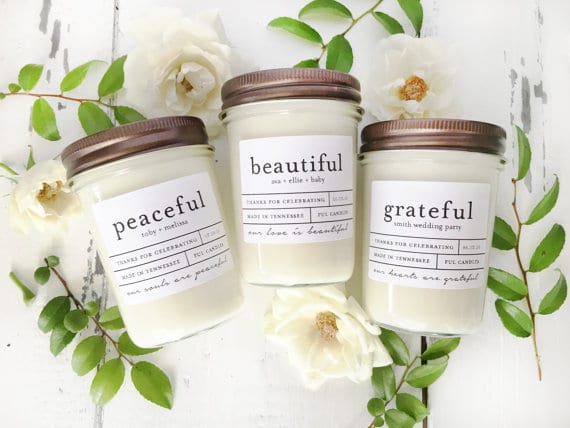 If someone on your holiday shopping list loves minimalist decor, get them a set of these gorgeous soy candles from FULcandles. They come in sets of 6 to 48 candles, so stock up for easy gifting for everyone on your list. Or give a smaller set to your pal whose home always smells amazing!
Mix and match scents including Powerful (ginger and cinnamon), Blissful (balsam and cedar), and Peaceful (rosemary and mint). Customize the name on the label for an even more personalized gift.
You can find these candles here.
Inspirational Mirror Decal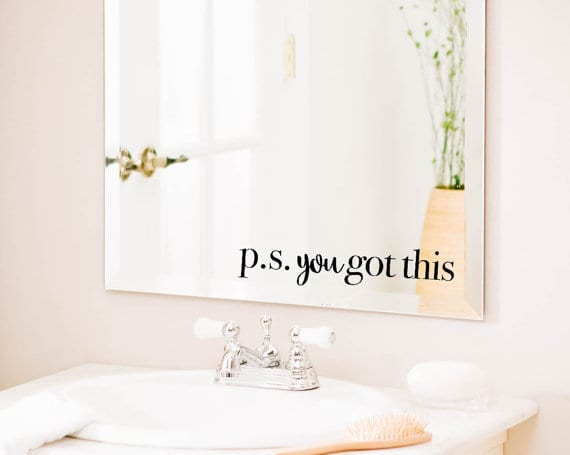 I love looking at Etsy gift ideas because of how unique they always are. I would never have thought to gift someone a mirror decal of an inspirational quote, but it's such an amazing idea!
Grab this decal from designNmore to give all your favorite ladies a boost whenever they look in the mirror. This one is available in lots of sizes and black or white text, so it fits into any design aesthetic. Remind your loved ones how special they are!
Sparkle Art Print Set
Often when we move into our first apartments, they are small, dark, and not very well-decorated. Remedy that for your bestie with this print set by ArtPrintsByChrista will add some home decor with sparkle and happiness. Not only will the quote motivate her to be the #girlboss you know she is, the shoe prints are glittery and stylish. The prints in this set are available in a variety of sizes to match her space and look great hung together or individually.
You can find this print set here.

Adventure Awaits Mountains Crest Enamel Pin
Some people were just born for adventure. If you're shopping for someone like that this holiday season, grab this adorable enamel pin by OverlyAttachedDecals for them. It's colorful and cute design adds a touch of personality to hats, bags, and jackets. Plus it's tiny, making it ideal for people who are always on the move and don't have much room for "stuff."
Push Pin US Travel Map
Remember those travel-loving people on your list? This super cool push pin US travel map by pushpinmap is another fun gift option for them. Each map comes with a bag of 75 colorful push pins to easily mark the location of their latest adventures.
It comes in a huge variety of sizes, materials, and frames to fit into any space and decor style. You can even personalize the map with the gift recipient's name! This would also make a cute gift for your partner to track where you have traveled together.
Peter Pan Quote Wall Art
Etsy gift ideas are especially perfect for those on your list who are into fandoms or appreciate cultural references. Take this pretty Peter Pan inspired wall art for instance. Made by AshleysVinylBoutique, this shadow box features vintage map backing with an inspiring quote from Peter Pan on the front.
It can be hung or stand alone, and the back opens so you can tuck trinkets and photos inside. Kids and travelers alike would love this in their room!
You can find this shadow box here.
Vinyl Record Wall Clock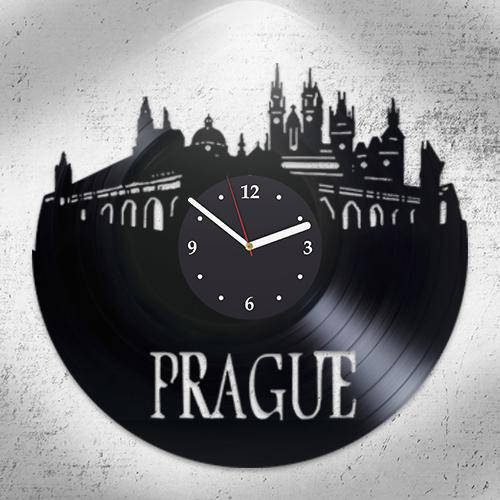 In my opinion, nothing is cooler than repurposing old stuff into something new. This vinyl record clock by MySkyStore does just that. What once was an old record collecting dust is now an awesome art piece!
This one would be the perfect gift for someone who studied abroad in Prague. The artist offers tons of other designs, too, including animals, bands, movies, and hobbies. You can gift a cool clock to everyone on your list!
Grab this Prague clock here and check out the shop's other options here.
Instead of shopping at big box stores this holiday season, check out these unique Etsy gift ideas. There is something here for everyone from your coworkers to your bestie to your cousins you hardly ever see. With personalized details, unique designs, and handcrafted charm, you can't go wrong!
Love Our Gift Guides?
If you loved this holiday gift guide, check out some of our others!