10 Cool Tech Gifts for the Geek in Your Life
This post may contain affiliate links. Which means if you make a purchase using these links I may recieve a commission at no extra charge to you. Thanks for support Miss Millennia Magazine! Read my full disclosure.
Before you do your shopping online this year, make sure to sign up for a free Ebates account and get cash back with every purchase. Use my link here to get an additional $5!
This one is for the geeks! Ok so no you don't have to be a geek to receive any of these gifts. We all like a beautiful tech gift every now and again don't we?  We have everything from tech gifts for the adventurer to the latest tech in Apple. Check out our list of tech gift ideas.
This article contains affiliate links, and we will be compensated for any purchase made by clicking on them. Thank you for supporting Miss Millennia Magazine!
PRO HD 1080P Action Sports Camera
If you have a friend who enjoys an excellent adventure, Action Sports camera may be right up their alley.  This camera featured on Open Sky with a wide angled lens, a waterproof case, a self-timer and recording time for up to 3 hours! My favorite part is that this camera is only $29.99.
Just because it's a tech gift does not mean it has to break the bank. It comes in several colors so you can pick the one that best fits your friend's personality.
Learn more about the Action Sports Camera here
A Smart Water Bottle
Before you think a water bottle may not be a great gift, think again. This Hydra Smartbottle does a little bit of everything on top of holding your water that is. Its a Bluetooth speaker, a hand's free speakerphone, an FM radio, a power bank, hidden storage, a carabiner, bottle opener and a free app to use it.
This is perfect for your friend who is always at the gym or doing outdoor activities. This piece of technology will take their whole water drinking experience to a whole other level.
Learn more about the Hydra Smartbottle here
Tile Tracker Tool
If you have a friend who seems to lose their stuff pretty often, the Tile may be a wonderful gift to give. Tile is a tool that makes it easy to track a lost item. Whether it be a phone, wallet, bag, keys, anything that may become lost pretty often.
Get a combo pack just in case they lose more than one thing quite often. It's not sexy, but it will save them so much time they don't have to worry about looking for things and money not having to replace all the things they lose.
VR Headset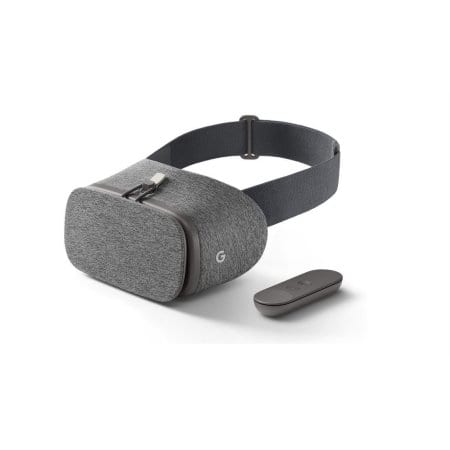 Virtual Reality is so popular now. Especially when it comes to having a VR experience at home. Why not gift a friend of yours some of the latest technology when it comes to exploring a virtual reality experience.
The Google Daydream view is a perfect gift. The fabric headset is comfortable enough to wear with your favorite VR ready phone. They have a variety of phones that work well with it. You can see the selections for that here. Just make sure your friend you buy this for already has a phone that is compatible for this to be used!
Learn more about the Google Daydream view here.
A Home Virtual Assistant
We could all use a little helping hand at home. If such is the case for a friend of yours, why not get them the all-new echo spot. It has the capabilities of the original Amazon echo such as controlling the lights and updating you on the weather.
But it has the added benefit of having a small screen you can use to see the weather, make video calls and even has a Bluetooth speaker. Anyone would be delighted to get this as a gift this year!
Learn more about the echo spot here.
A Mini CampStove
If you have a friend who enjoys camping, this nifty gadget is going to rock their world. The Biolite Campstove makes small smokeless fires so you can cook your meals easily. But one of the coolest features is that it is also a battery pack and charge your phone for you, even out in the wilderness!
If you want to go all in, there are other devices sold separately with this that make for an amazing tool to have in the wilderness like a grill attachment. If anyone has ever spent the night in the woods before, they will love this gift.
Learn more about the Biolite Campstove here.
A Car Virtual Assistant
If your friend already has Alexa at home, why not give them Alexa for their car. This Garmin speak with Alexa makes it easy for you to get around with turn by turn navigation, and many of the same features you would get with an Amazon Echo, but in your car.
No more wasted commutes home. Instead, you can check your to-do list, play games or check your calendar all hands-free. This is a perfect gift who already has a house full of Amazon Echos.
Learn more about the Garmin speak with Alexa.
Apple Watch Series 3
Ok so, this would not be an official tech list without the latest Apple gear! The new Apple Watch series 3 is pretty amazing. The significant changes made this year is that has cellular so you can go and take phones calls on your watch without having your phone nearby.
It is waterproof, and you can download songs to your watch to listen to while you are on the go since it had 16GB of storage! It's pretty much a smartphone, in watch form. It is still an activity tracker that even allows you to swim with it! It does not matter who you give this to; they will love it…period.
Learn more about the Apple Watch series 3 here.
Xbox One X 1TB Console
If your friend is a gamer and has been drooling over the new Xbox One X for some time, this is a great gift to give. The Xbox One X has 40% more power than any other console and a  4K Blu-ray player. If they are team Xbox and do not already have one of these babies, they will love it! 
Learn more about the XboxOne X here.
Robot Vacuum
This one is for your busy friends, especially the ones with pets. If they do not have as much tie to clean, why not get a robot to do it for them? I mean a robot vacuum of course! The iRobot Rumba is pretty, pretty, cool It has an app where you can control the settings for it and even press a button for it to start cleaning at that very moment.
It has iAdapt 2.0 Navigation with Visual Localization which means it tracks where it's cleaned and makes a point to cover the entire area of your home. And if you have an Amazon echo at home, you can even have Alexa control it hands-free.
Learn more about the iRobot Roomba here.
There you have it! 10 Fantastic tech gifts that any Geek would love. Just try not to geek out too much yourself when you are buying your gifts for everyone else. Or maybe you should and get a little something-something for yourself while you're at it. What is on your tech wish list this year? Let us know in the comments so we know what else we should be geeking out on this year!