It's no secret that the majority of people want to be nice and healthy. So, why is it that in 2015 in a group of 100 adults approximately only 26 would eat their five a day? Although, the NHS is now insisting we should be eating 10!  
Nobody really wants to give up their favorite treats and go on a diet, but how about starting small with some simple food swaps?
You can replace your everyday drinks.
We all know that sugar rots your teeth, we've all heard it from our dentist's plenty of times; "You shouldn't be drinking these fizzy drinks" and "even fruit juices contain too much sugar, drink water!"
Yes, they are right, but if you are constantly drinking water, it can get boring. Test out drinking Matcha water instead. You can mix Matcha powder with almost anything that you consume.
You can do so much with it:
Smoothies

Ice teas

Lattes

Breakfast bowls

Yoghurts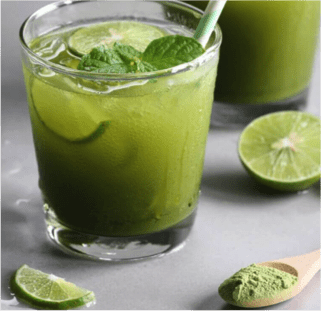 What's so special about Matcha?
Boosts metabolism and burns more calories

Prevents diseases

Lowers cholesterol and blood sugar

Calms the mind and relaxes the body
Almonds
Why eat almonds?
Almonds not only protect the heart but they also contain E and B vitamins. Additionally, they are an excellent source of fiber and protein. All this and they still taste great!
How to eat them?
There are so many unhealthy foods that can help with almonds for a healthier and a much better tasting meal or snack:
Replacing the croutons on your salad with almonds

Almonds instead of chocolate chips in cookies
Pancakes
It's no secret that almost everyone loves pancakes. It may be the oozing chocolate or the dripping golden syrup- whatever it is that makes you yogurt them, it's sadly not healthy – not even the flour.
The worst thing you could do is eat shop bought, ready-made pancakes. These are made to last a long time between the production and the consumption.
When making your own, you can add anything you want to them. For example, adding blueberries to the mixture, plus they taste much better.
Try replacing your regular plain flour with buckwheat, gluten free and high in fiber flour.  Or even, merely adding some fruits or almonds would make them much healthier.
Milk
Most of us drink milk every day in our:
Cow's milk contains a lot of calcium, although calcium is right it's not absorbed well by our bodies. Replacing it with plant-based milk (like almond milk) will mean so much more is absorbed and not only this, it will add extra flavor to your morning coffee.  
Benefits of almond milk
Reduces blood pressure

Strengthens muscles and bones

Suppresses the growth of prostate cancer cells

Boost immunity system

Helps maintain healthy skin
Sugar
Sugar, probably one of the most sweetening ingredients, but also one of the unhealthiest. We all want the taste of sugar but no one wants the health risks and the fat that comes with it.
Maple syrup is the perfect thing to replace sugar, let it be in your baking or hot drinks. Not only will this be healthier, it also helps boost the immune system and has anti-inflammatory properties.
Butter
Nobody can resist a slap of melted butter on their morning toast. If we suggest coconut oil, most of you would just think about the benefits to your hair and skin- I doubt you would've ever though about replacing it for butter.
All you need to do it keep it at 23 C, so it's solid, and whenever you fancy a tasty piece of toast, spread the coconut oil on and watch the scrumptious treat melt before your eyes.
Potatoes
We use potatoes in so many meals; toad in the hole, Sunday roast, and even your homemade chips. Have you tried any of these using sweet potato as a replacement?  
Yes, we agree that both sweet and white potatoes contain a good amount of nutritional value. However, sweet potatoes beat any white spud as they have fewer carbs and calories, a higher vitamin count and great taste.
How do you put these health swaps into place?
Breakfast
A nice bowl of muesli with almond milk

A cup of tea with a teaspoon of maple syrup and a splash of almond milk

Toast spread with coconut oil
Snacks throughout the day
Energy boosting Matcha smoothie

Fruit salad with yoghurt

A hand full of almonds
Lunch
Dinner
Sweet potato

fish

steamed vegetables

peppercorn sauce

Water
Dessert
Hopefully, you have learned a couple of easy food swaps. Why don't you try them yourself? If you've found this useful, share it with your friends. Also, if you've enjoyed testing any recipes, don't forget to let us know in the comments.