9 Ways To Treat Yourself Without Breaking The Bank
This post may contain affiliate links. Which means if you make a purchase using these links I may recieve a commission at no extra charge to you. Thanks for support Miss Millennia Magazine! Read my full disclosure.
In the days of Instagram, it's easy to get discouraged by photos of other peoples' amazing lives. Who doesn't feel a little jealous when your friends are on vacation in a breathtaking place or are sipping expensive cocktails in a swanky club. Aren't there any cheap ways to treat yourself anymore?
I'm here to tell you that you can live that high life without putting yourself into debt. With just a few bucks, you can feel like the queen that you are! Follow my nine tips below for fun and luxurious ways to treat yourself without breaking the bank.
**This article contains affiliate links, and we will be compensated for any purchase made by clicking on them. Thank you for supporting Miss Millennia Magazine!**
1. Take A Personal Day
One of the worst parts about being an adult is that you never really get a day off. Weekends are spent cleaning, working out, socializing, and running errands. Days away from work can be just as grueling as those spent at the office!
That's why, if you can, you should take a personal day off from work every now and again. That means doing just the stuff that makes you happy and nothing else. Want to watch that Say Yes to the Dress marathon? Go for it! Want to read an entire book on the couch while eating a tub of ice cream? You do you! Feel like hitting the mall when it's not overrun with weekend crowds? Be my guest.
Taking a day off won't feel like a treat if you spend it doing all the stuff you need to do. Instead, really allow yourself to recharge by only saying "yes" to activities that make you smile. And don't feel like you have to spend your personal day alone! If having the company of your BFF or partner sounds like your perfect day, start planning with them!
2. Put On A Face Mask
Of all the cheap ways to treat yourself, this is the one I personally do the most often. Sheet masks come super cheap at the drugstore but they make me feel like I'm a fancy lady every time I apply one. They're also a fun way to scare my husband (haha!).
Face masks let you practice self-care in a couple of ways. First, you're taking care of your skin. Because skin is our biggest organ, it really deserves a lot of pampering and attention! Cleaning, moisturizing, or exfoliating your face will make it feel and look its best. Second, face masks can help clear up skin problems. This can boost your confidence, which is the ultimate act of self-love!
Finally, applying a face mask gives you a few minutes to yourself. There's not a lot you can do with a mask on your face, so this time is perfect for chilling out with your favorite music, show, or magazine. You can also put one on while you're soaking in the bathtub for a double treat. Quiet moments for the win!
Grab a fun assortment of Korean sheet masks here! Or if you prefer a more eco-friendly approach, try this amazing pot of a healing clay mask here.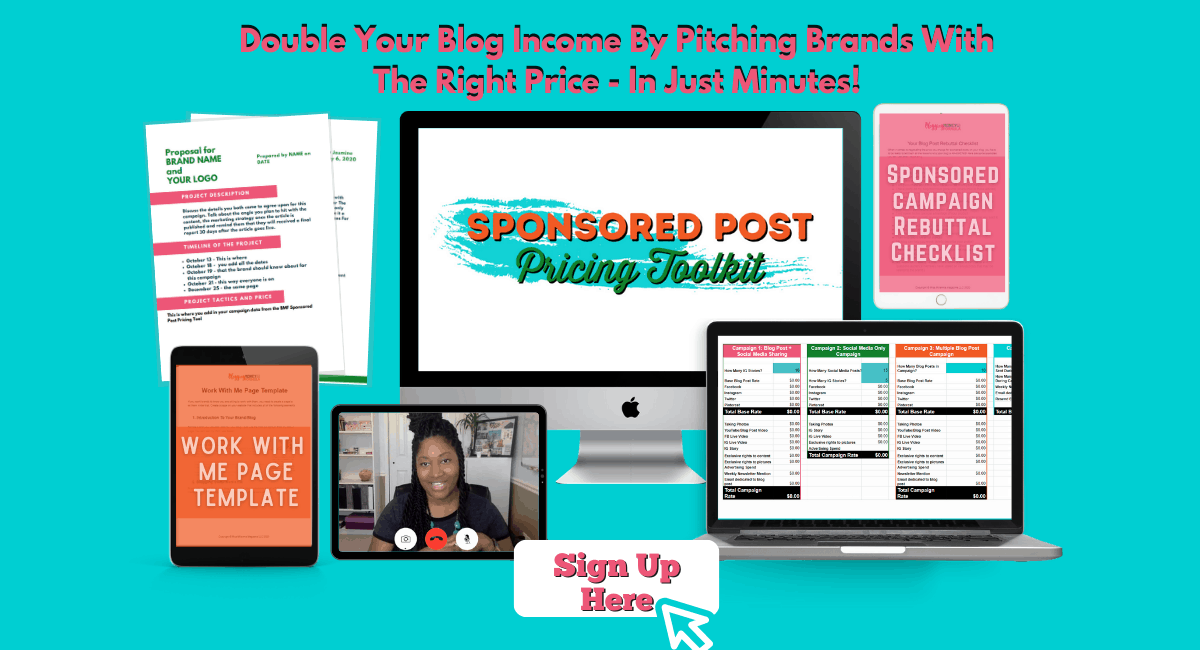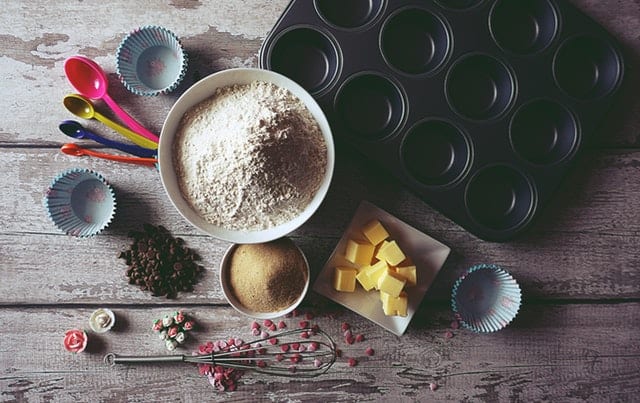 3. Bake Something Delicious
Let's be honest:
The best treats are the kinds you can eat! When I'm feeling like I want to give myself a little boost, I usually end up baking something. The act of turning some random ingredients into something yummy gives me a sense of accomplishment. Plus the delicious outcome helps, too!
Baking can get expensive if you run out to buy tons of ingredients. So if you are looking for cheap ways to treat yourself, try finding a recipe you can make with stuff you already have in the house. Sugar cookies are always a good bet because they're made from the most basic ingredients like sugar, flour, and eggs.
Maybe baking isn't your forte. That's ok! You can still treat yourself to good food! Frozen cookie dough takes all the hard work out of baking. This way you can just slap some little cookie globs onto a sheet pan and bake them while you're enjoying the other self-care activities on this list. All you have to do is eat them!
Get some yummy baking inspiration in this Sally's Baking Addiction cookbook.
4. Watch Your Favorite Movie
Popping in your fave film or binge-watching your fave TV show is one of the easiest cheap ways to treat yourself. You can get wrapped up in a familiar story and boost your mood without leaving your house. This tip is perfect for when you feel lazy but still want to enjoy some "me time."
But there's a catch.
No matter how much you love dramas, try sticking with feel-good movies when you're treating yourself. Usually, we do some self-care because we're feeling physically, mentally, or emotionally drained. When you're already exhausted or sad, a dramatic film might not be the best cure. In fact, it will probably pull you further down into your slump.
If you're bored of the same old shows and movies, try these! My favorite happy films are Mamma Mia!, Grease, and Legally Blonde. As for TV shows, watching Friends, Bob's Burgers, and 30 Rock always makes me smile. Watching these allows me to escape to a happy and fun alternate universe for a little while, which really does feel like a treat.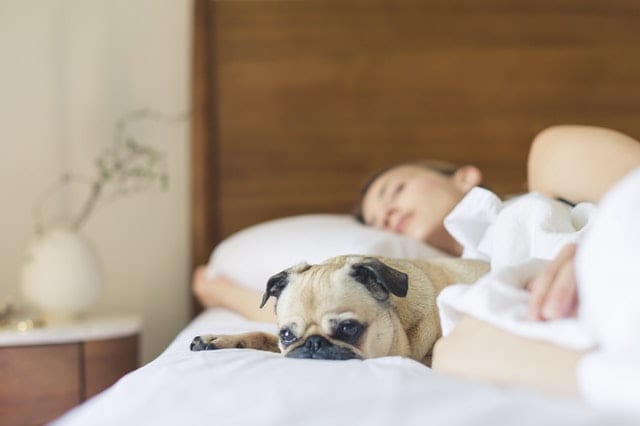 5. Take A Nap
I LOVE to sleep. There's no if's, and's, or but's about it. Few things make me happier than being snuggled up under the covers all comfy and relaxed. Sleeping in is pretty much my favorite part of the weekends! That's why I think that one of the best ways to treat yourself at home is to hop in bed and take a nap.
Napping allows you to truly recharge. Whenever I am tired, I start to feel emotional and frantic and not at all productive. And when I'm trying to be productive but nothing is going right, I get even more upset. Sometimes taking a break helps, but if you're truly exhausted, a nap can help you rest and refuel.
If you are looking for cheap ways to treat yourself, napping couldn't be more perfect. It costs zero dollars but will feel the most luxurious of any idea on this list. Letting your body get the rest it needs is so important and most of us don't listen to that enough!
Need more reasons to take a snooze? Check out this video from Dr. Oz on the benefits of power napping!
6. Shop With Ebates
When you're on a budget, sticking to free or super cheap ways to treat yourself is your best bet. But if you are just itching to shop, Ebates can help keep your bank account out of the red.
You've probably heard of this site before and wondered "Is this for real?" I assure you, it very much is. When you shop online using Ebates, you get cash back on your purchase, usually between 1-9% of your purchase! As if that weren't enough, they also search out promo codes for you to use to save you even more money.
If you are an avid online shopper, you literally can't go wrong using this program. You were going to buy the stuff anyway, so you might as well make some cash back on it! Ebates is also great for gift shopping because you can secretly save a few bucks while still giving awesome presents.
And don't worry. Ebates works with actual brands you love like The Body Shop, Pier 1 Imports, and Kohls. No random, boring retailers here!
Sign up for your Ebates account here to receive an extra $10 on your first order!
7. Buy Fresh Flowers
It's no wonder that we traditionally bring flowers to people who need cheering up. Hospital patients, people in mourning, and even angry spouses all perk up a bit when they receive some pretty blooms. Bringing the most beautiful part of the outdoors inside is sure to make you smile.
We always feel so flattered when a date brings us flowers, so why not do the same for yourself? Popping your favorites in a vase will give you those warm fuzzy feelings but towards yourself, and self-love is something we should all strive to do a little more!
Fresh flowers also act as a unique decor piece. But instead of dropping a few hundred dollars on new art or furniture, you can spruce up your space with no more than $20. A bouquet is by far the prettiest of these cheap ways to treat yourself!
Besides simply brightening up your home, did you know that fresh flowers have mental health benefits? According to the Huffington Post, smelling fresh flowers can boost mood and decrease feelings of anxiety. If you want to feel more relaxed, choose flowers with curvy shapes and pastel hues. For an energy boost, choose a brighter bouquet.
8. Run A Bath
Ever since I was a kid, there is nothing I love more than a long, hot bath. There is something about floating in a warm tub (with bubbles, of course!) that seems to literally wash all your cares away.
Taking a steamy bath is the most perfect of cheap ways to treat yourself when you are a) broke and b) don't want to leave the house. Add in a bath bomb and you'll feel like you're at a luxury spa! Baths are a great way to start or end an at-home spa day too; they are super relaxing and kick-start that "taking care of my mind and body" vibe.
That's not all.
I love using baths as a way to get time to myself. Lock yourself in the bathroom with a full tub and make sure no one comes to bother you. This allows you to be alone with your thoughts so you can decompress, work through problems, or even just quiet your mind when you're feeling overwhelmed or busy.
For a fun addition to your next bath, pick up this set of luxurious bath bombs.
9. Make A Scrapbook
One more of the more engaging yet cheap ways to treat yourself is to put together a scrapbook or photo album. Sometimes craft projects can be pricey, but not these! All you need to buy is the book. If you're the creative type who loves to treat yourself by making something, this is the tip for you.
I know it sounds old school, but who doesn't love printed photos? While it's nice to see our treasured pictures on social media, there's something about holding physical prints in your hand that feels special. You can also add in ticket stubs, brochures, paper napkins, and other mementos of places you've been to go along with your photos.
When I was younger, I was super into making scrapbooks. It let me be a little creative while looking back on fun memories. There's no better way to make yourself smile than to relive an awesome vacation or big life event. Scrapbooking can help you clear out some clutter (I'm looking at you, boxes of old photos) and gives you a happy feeling inside…..now that's a treat!
Check out this cute photo album and this fun DIY scrapbook kit for your project!
Cheap ways to treat yourself do exist!
Enjoying a little something just for you does not have to drain your bank account. With these nine ideas, you can boost your mood and feel like a diva with little to no money. Yaassss!
What are your favorite cheap ways to treat yourself? Which of my ideas did you like the best? Let me know in the comments down below!
Resources
Celavi Essence Facial Mask Paper Sheet Korea Skin Care Moisturizing 9 Pack
Aztec Secret Indian Healing Clay Deep Pore Cleansing
Sally's Baking Addiction: Irresistible Cookies, Cupcakes, and Desserts for Your Sweet-Tooth Fix
Bath Bomb Gift Set USA – 6 Vegan Essential Oil Natural Lush Fizzies Spa Kit
Fabric Frame Cover Photo Album 300 Pockets Hold 4×6 Photos
Our Adventure Book Pixar Up Handmade DIY Family Scrapbook Photo Album Expandable 11.6x7.5 Inches 80 Pages with Photo Album Storage Box DIY Accessories KitOur Adventure Book Diy Family Scrapbook Photo Album Expandable 11.6×7.5 Inches 80 Pages with Photo Album Storage Box DIY Accessories Kit[/easyazon_link
The Mental Health Benefits of  Flowers