Tech Gadgets: One to Rule Them All?
This post may contain affiliate links. Which means if you make a purchase using these links I may recieve a commission at no extra charge to you. Thanks for support Miss Millennia Magazine! Read my full disclosure.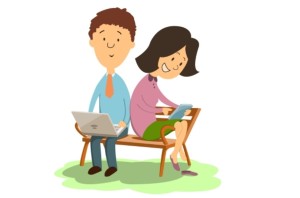 The distinct technical lines between mobiles and personal home computers are becoming more and more blurred. Once cell phones were prized for getting smaller, yet now, the larger screens and extensive processing capabilities are what drives sales. Needs vary among consumers; some may value simplicity, good coverage, and Web and email browsing, but care little about things such as camera specs. Whereas those eyeing products such as the Nokia Lumia will most likely be swayed to buy it because of its 41 megapixel camera.
Modern mobiles now have so many features that personal computers also contain that many more consumers are working on the go without having to even  take their laptops. And even though trends show mobile phone screens increasing in size, sales of tablets are skyrocketing. So is there any one product, be it computer, mobile, or tablet, to rule them all? No doubt there are more than a few companies out there hoping to convince you. Yet there is still plenty of work to be done with each type of tech gadget. Here's a rundown on what each type of product does best.
Mobile Phones
It's a phone, wait it's a computer! Though some tablets offer phone call capabilities, phones are still handy little gadgets to have. They've also become so readily available that affordable smartphones can be had for a fraction of their original selling cost. Even as screen size increases, mobile makers are consistently working to design thinner, lighter and more usable products with each new launch. Email messaging, social media chat features, and even Skype can be used on both Android and iOS platforms. And though the same can be said for other electronic communications devices, mobiles still rank best for texting ease. Add some truly excellent camera features to most and it's not conceivable that the popularity of tablets will mean the demise of mobile phones.
Personal Computers
Desktop and laptop computers are still very popular workhorses. Larger screens are particularly prized for long days of work for consumers such as graphic designers, artists, and code programmers. Though less portable, home computers offer more in the way of memory capabilities, making such options especially important to people working with large files such as photography, video, and audio. Gamers also enjoy the advantage of using a larger screen or connection to an even bigger television screen. Communication with others would normally be via Email, chat, social media, and audio or video conferencing. Personal computers are also becoming more popular as a sole source for watching television.
Laptops
Laptops have become widely accessible due to consumer-friendly prices. Though one of the few cautions with laptops is that many under $200 are known to have issues within a year or two after purchase. So, whenever possible, consider signing up for a warranty service if offered.
Tablets
Those with a mobile phone and a home computer may wonder what all the fuss is about with tablets. The truth is, they're a great middle-of-the-road option when wanting portability, ease of use, and solid viewing capabilities. The most popular screen size starts at seven inches and goes up from there. These smaller electronic devices are terrific for watching films, playing simple games, and reading books. Their size and stand options also make them great for using in the kitchen when trying a new recipe. They're also highly convenient to use for checking emails, chatting with friends, etc. And with so many apps suitable for mobile phones but nicer to use on tablets, real solid work can be done on the things as well, particularly when combined with a wireless keyboard and a small enhanced speaker system. Memory options are on the rise, with 16 and 32GB options proving very popular, making those with built-in cameras even more useful. Tablets won't take the place of mobiles but they are fun and surprisingly functional gadgets.
With modern technology and what can often be seen as a cutthroat world, it's actually refreshing to see that mobile phones, personal computers, and tablets all have a viable place amongst consumers. They each do specific things best, with little in the way of overlapping. The product chosen will largely depend on the job at hand, and thanks to syncing programs and functionality of the devices, it doesn't really seem like overkill to own all three.