Traveling is rough on the body. We force ourselves to sit for eight hours at a time in a packed car and we eat unhealthy meals for the sake of time. We board planes and breathe in the recycled air and deprive ourselves of much-needed sleep. Our bodies suffer and we get sick. Whether the destination is a business meeting or a beach, spending time curled up next to a toilet is not where anyone wants to be. One cannot usually prevent the modes of travel and the germs that come along with it, but they can be prepared to battle the germs and illnesses.
To help yourself win the fight, some travel musts are as follows:
Bring along:
Pepto-Bismol tablets: These are great because they fight common travel symptoms such as nausea and diarrhea from eating at diners and fast food locations. They are also easy to carry.
Pain Medication: Car rides and plane rides often breed headaches and muscle aches. Certain meds work better for different people, so carry along whatever pain med works best for you.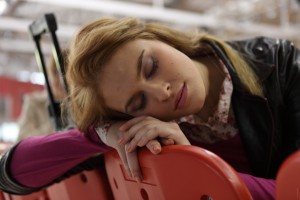 Do:
Exercise and eat right before you fly. Especially for long trips (eight-hour flights or more), the better shape your body is in, the better chance it will have at fighting off the viruses planes carry.
Stay hydrated, especially on a plane. Plane cabins have low humidity, which causes the body to lose water faster. Ergo, one becomes dehydrated and becomes sick. Though plane toilets are gross, the more visits you have to them the better off you are, so drink up!
Rest. I find it difficult to sleep in cars and buses and practically impossible to do so on a plane, but it's best to try. Sleeping during the trip eliminates much of the psychological stress one accumulates during travel (close calls in the car, questionable smells, the awareness of germs). Also, a power nap will make you you feel fresh for when you arrive at your destination. To help you sleep, bring along ear plugs and a travel-friendly pillow.
Dress in layers while traveling to allow yourself to control your body temperature.
Photo courtesy of www.photl.com