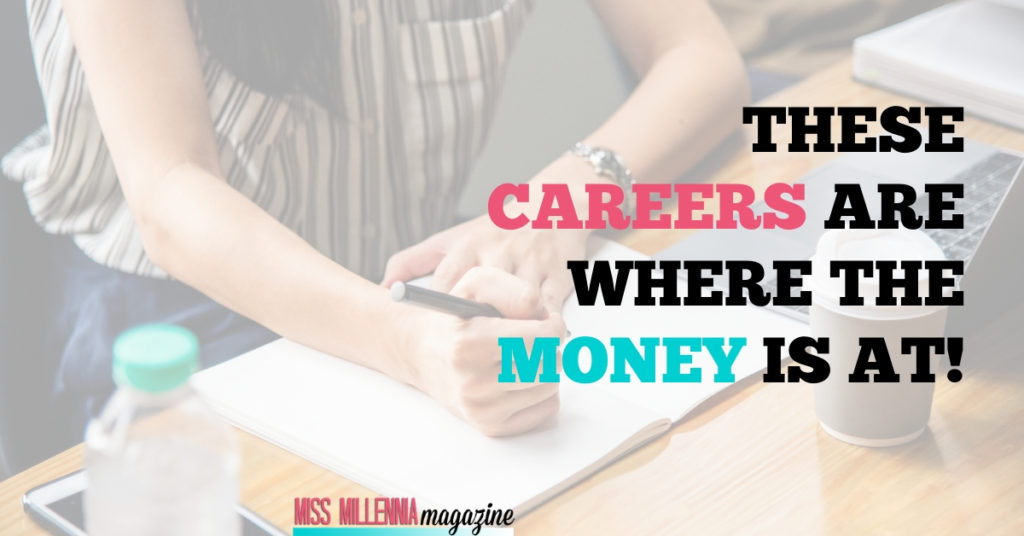 Are you on the hunt for money? Well, you wouldn't be the first, and you're definitely not about to be the last. Your career is your life, whether you like to admit that or not. As soon as you finish high school, university, or college, there's no escaping it. The world pushes you into a career, and you fall into the trap of being a slave to the system until you get to retirement age. But the retirement age is getting older and older, so the road that you have to follow to try and get to the age where you can finally hang up your boots is getting longer and longer. So, if you're in this for such a long run, you might as well figure out a way to find the money.
You're nearly 100% not going to get rich by winning the lottery, and money is not just going to fall out of the sky for you. So, the option you're left with is your career, and there are plenty of routes that you can go down to ensure you get the most out of life. We want to show you just a few of the careers that seem to be boasting the most money for their employees. As long as you're prepared to get to the top, the money will be there waiting for you. So, have a read on, and see if this article gives you a bit of inspiration for a career change.
Business Management
Business management is definitely a good one to get into. You can make a hell of a lot of money from managing someone else's business, or even your own. But we'll get into the pros and cons of running your own business later on in the article. For now, we want to tell you why business management can take you to the top where all of the money is. But first of all, you need to know how to get there. There's two ways of knowing what to do in terms of business management. First of all, you can work your way up through a company, and slowly learn everything there is to know about managing parts of a company. But this will require a lot of work, and there's really no telling whether you'll actually be able to work your way up. So, the surefire way that you're left with is to do a course in business management.
Start at the bottom with this too. If you just do a standard business management degree, you will learn pretty much everything there is to know about managing a business, meaning jumping right into a role is going to be a lot easier than expected. Then, you can go on to do an accredited mba program online. This is a masters qualification putting you a cut above the rest. So not only will you be an expert in the career that you're already in, but you'll be qualified to go to pretty much any company you want, and get a position as one of the business managers. Of course all of this means a lot more hard work, but you've got such a high chance of being successful when you go down the education route, and the money at the end will be more than worth it.
Marketing
Marketing has pretty much always been a surefire way of being able to make a lot of money. Whether you do a marketing course like we suggested with business management, or whether you just go into a company and learn all there is to know about a certain field of marketing. Because marketing is so broad, you might only work for a company who focuses on one or two areas. You'll never find a company who offers all services, and offers them well. So, think about marketing and where it could take you, and if it would interest you.
For example, there's social media marketing, and if you love the buzz of social media, then you'd love managing profiles. Plus, it's one of the easiest techniques to use for a business, so your job wouldn't be that hard. It could take you down so many different routes, including going off on your own and managing social media profiles for huge companies. There are other really interesting areas that you could work in, and if you go for a marketing consultant job, you really could find yourself bringing home the bacon!
Financing
Who would of thought ey, there's money in managing money. All jokes aside, if you become qualified enough in financing, you could go all the way up to a six-figure salary. Financing is huge, and one of the best people to be is a financial advisor in something like investing. Investment is huge, and commission that you could earn per win that someone who has invested through you who has won, is huge.
But of course, investment is risky, and you could lose them everything. Have a few bad investments in a row, and your reputation or position within your company would not be good. There's also a lot of money in banking. Of course, you have to be very well qualified to work in financing, but the higher up you go, the more money you'll be able to find. Just make sure you're really good with numbers, and don't mind working with numbers all day. Some people will admit that it fries their brain, and the fact that all they can think about is numbers is one of the reasons why people leave the profession.
Real Estate
If you love nice homes, interacting with other people, and making a hell of a lot of money, then this is the one for you. We'll keep this short and sweet, because there's not much you can say about it. If you become a real estate agent, you will earn commission on every sale that you make. The bigger the house, the bigger the commission. So you see, it's all about impressing your customers, getting the right customers, and knowing how to talk the talk. A very easy profession to get into, and a very rewarding one.