Weddings are beautiful events, and each one of them is uniquely different—thanks to the differing combinations of bride and groom. So how do you know what theme will work best for you and your hubby-to-be?
There are a few preliminary decisions to make before you choose a theme. For example, an agreed-upon budget must be established (and NOT exceeded! You don't want to begin married life broke and bitter). Also, things like personal interest are important (you don't want to pick something your man will absolutely hate like, oh, I don't know, a Hello Kitty themed soiree? No thank you!). So, once these decisions have been made, you can finally start looking at possibilities. For your perusal, here are 6 wedding themes that are hot in 2014.
Vintage:
If you and your man have the history channel on instant watch, then this might be the theme for you. Whether you desire that sixties cat-eye look, the delicate lace and fringe of the twenties, or the gold and red of roman gladiators, this theme is fun and easily adaptable to different styles.
High Drama:
You want glitz. You want glam. You want your guests to walk into the room and have their mouths hit the floor in awe. You want chandeliers and floor to ceiling drapery. You want candelabra and pearls dripping from the cake. If you're a bride who likes to make an entrance, then this could be the perfect theme for you.
Rustic:
Perhaps you're the type of bride who enjoys a bit of down-to-earth-ness. This theme is great for the bride who wants guests to feel comfortable and eclectic.
Color Pop:
This theme is becoming very popular. A good rule of thumb for color pop is to pick two neutrals (black, white, silver, grey, brown, tan, cream, etc.) and one accent color. Make it bright and memorable! Pick a luscious green, a dazzling magenta, or a sunny yellow—whatever fits your personality best!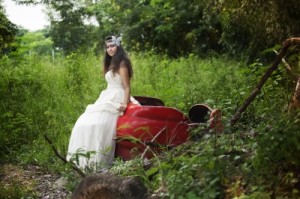 Boho Chic:
For the couple that is laid back and fresh, this could be the perfect theme for you. Complete with lots of soft, neutral colors and an abundance of wildflowers, your guests will be making daisy-chains as they watch you walk up the aisle.
Garden:
You must be the type of girl who is constantly surrounded by flowers—or maybe you just want to be that girl? If your wedding is garden-themed, expect beautiful aromas to tickle your nose as you walk down the aisle, which could take place in a sunlit greenhouse.