The insurance industry is a tricky—but HUGE—business. As one of the biggest businesses in the world, there's a lot that happens with insurance, especially in the U.S., where Obamacare complicates it even more.
So, considering that, let's look at some valuable things you need to know about health insurance.
How It Works Now That We Have Obamacare
A surprising number of people, particularly Millennials, don't fully understand how health insurance works and how it impacts what you pay for health insurance. I've had a friend of mine get upset over having to sign up for insurance under the Affordable Care Act because she didn't think it was right to charge people (i.e. people who didn't think they needed insurance) a penalty fee for not being insured. The problem with that is that insurance, especially universal insurance, depends on healthy people.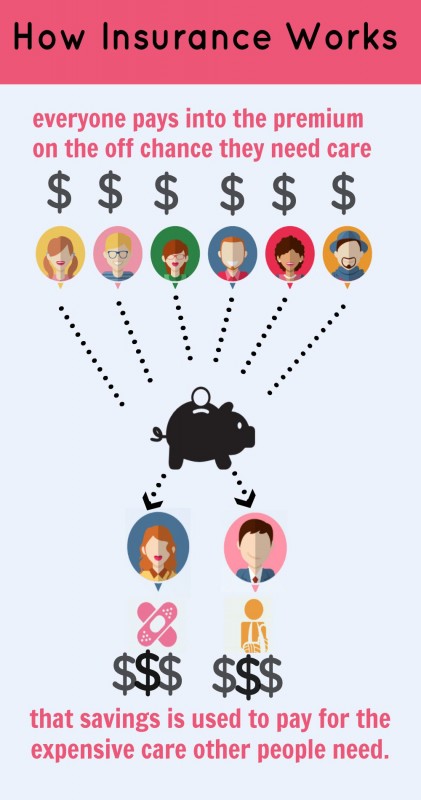 Most people in America receive their health insurance through their job. That's because big companies with more than 50 employees are required to offer their employees' health insurance. Every month, you and your employer pay for you (and your family's) health insurance premium. This is like collective savings. Everyone pays into it on a monthly basis on the off chance that they might need it. Healthy people don't need to use as much of the savings as other people (such as people with pre-existing conditions), so their contributions help to offset the cost of everyone else's health care. Up until Obamacare, outside of big businesses (where they HAVE to offer all their employees health insurance), insurance companies could refuse coverage to people who were considered to be a liability—i.e. people they thought would spend more money than they would put in. While that is the smart move for a business, it left millions of Americans without insurance.
Obamacare was passed into law in 2010, but the big pieces of the law didn't go into effect until 2014. Obamacare was put into effect in an attempt to reign in American healthcare cost, which is one of the highest in the world. Additionally, America was one of the only first-world democracies in the world to not offer universal health care, which left about 50 million people uninsured in 2012, before Obamacare took effect. Since then, this number has dropped significantly. 
The goals of Obamacare were simple. Make it so every person was guaranteed insurance and make sure that people are paying roughly the same price for it, even if they have pre-existing conditions. Now that all Americans (including the healthy ones) are paying into the health care premium, insurance companies can afford to cover everyone else as well. Which leads to…
It's Illegal To Be Uninsured
Under the Affordable Care Act (ACA), you are required to buy health insurance. If you don't enroll and go more than three months without insurance, you could face a penalty of $325 or 2% of your annual household income, whichever is higher. This penalty fee is in place mostly to secure healthy Americans into the health market so everyone else can use it.
Insurance For People Under 26
If you're a full-time employee, your employer has to offer you insurance—but usually not right away. To avoid initial high-end costs, most companies require that employees work for a set period before they can enroll in benefits. It can be as long as, but no longer than, 90 calendar days from your date of hire.
Your parents may still be able to cover you. If you are under age 26, you should strongly consider looking at your parents' coverage. Your parents are most likely already paying for the family plans anyway, so adding or keeping you on is cheaper than getting your own insurance.
Additionally, any students who are full-time can receive some sort of health insurance through their school. If you have no other insurance, your school will require you to buy insurance while you attend the campus.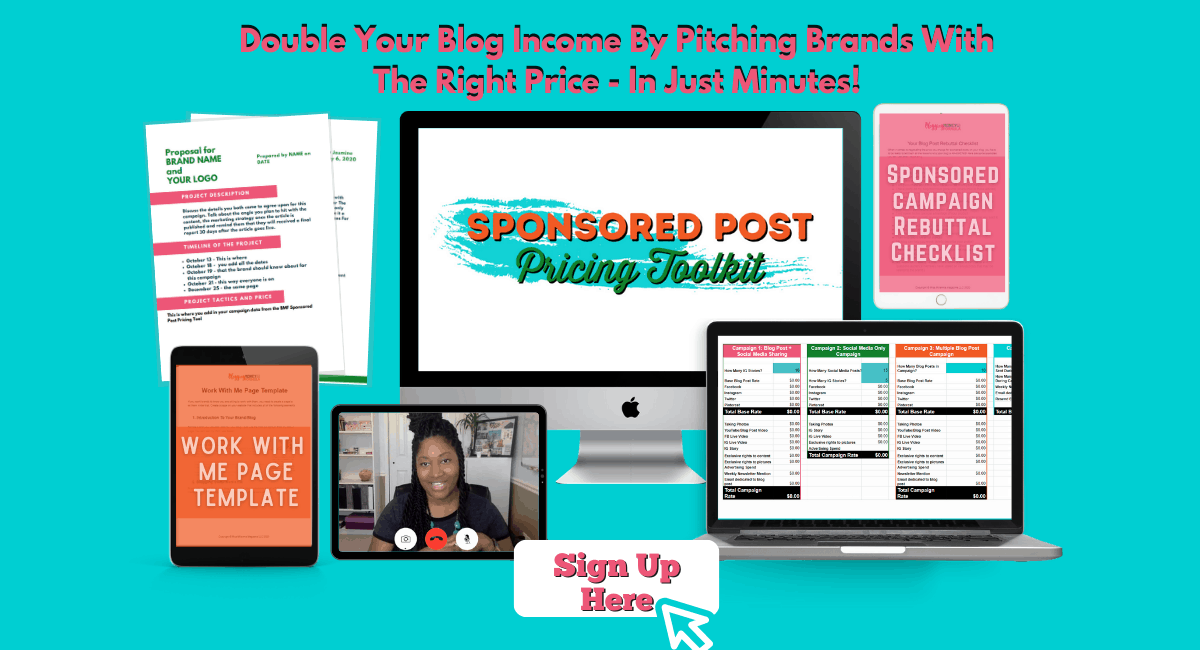 There Are Two Major Types Of Health Insurance Networks: Health Maintenance Organizations (HMOs) And Preferred Provider Organizations (PPOs).
Insurance companies team up with certain places to receive discounts on services and care (which is usually passed along to you) and this is called their "network." All insurance plans operate their network, but how much flexibility you have within that will depend on your type of insurance.
HMOs typically have lower monthly premiums and require patients to see doctors within their network. If you see an out-of-network physician, be prepared to pay the very high full price, except in the case of an emergency. PPOs often have higher monthly premiums but are more flexible, allowing patients to see doctors outside of their network for additional fees. So you still pay extra, but you won't be paying the full price cost out of pocket. Learn more about the differences here.
Which one you choose to get (if you have the choice), will likely depend on how much you want to pay for your premium and how picky you want to be where you receive care. It will vary from person to person.
Women Now Have More 
Coverage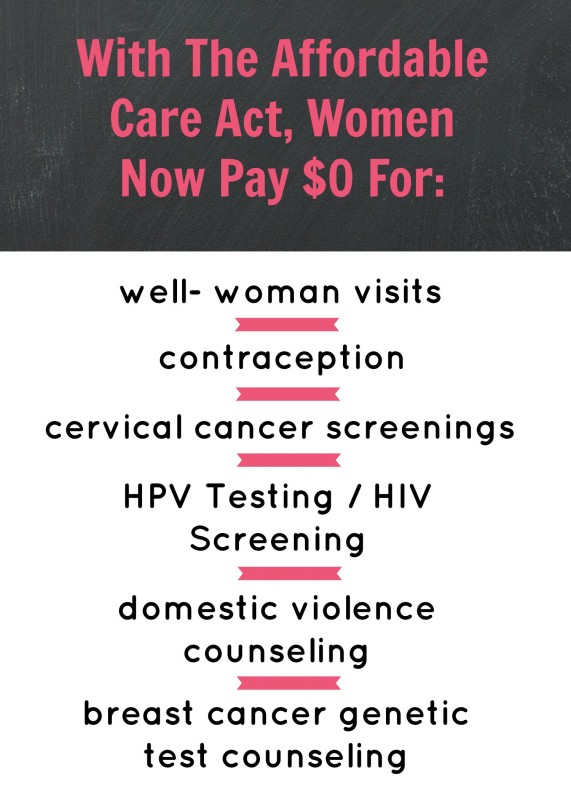 Once you're covered, many basic exams won't cost you anything. Under the Affordable Care Act, many women's preventive health care services, such as the well-woman examination, which includes a pap smear and breast exam, are required to be 100 percent covered by your insurance. Hooray for that victory for women!
You Can Negotiate Medical Expenses
Many people don't think about this, but negotiating with medical providers is a thing, and more and more people are doing it. Always be sure to discuss your cost with your provider before going forward with any expensive procedure. It's important to know your deductible (and how far away you are from meeting that) before you do anything big, this way you can discuss it with the provider and ask for help in getting the best rate for your care.  Everyone is feeling the burden of medical expenses. Your provider may be willing to work with you. Check out this how-to  from Clear Point Credit Counseling Solutions.
Also, don't be afraid keep an open line to your insurance company. It is a business, so they may try to deny you coverage on something legitimate, but you can always appeal. Make your case and keep good records, because you will absolutely need them.
What Kind Of Out Of State And Out Of Country Coverage You Have
Don't ever assume anything when it comes to health insurance. Even though you think it covers you all over the U.S., it can be tricky when things actually happen outside of your usual network. Your "emergency" could be different from your insurance company's "emergency." Make sure you know their definition, or else you can be looking at some pricey bills.
Before you travel, check out your plan's provisions for travel coverage. How does it cover emergency care? Can you acquire routine care or care for a chronic condition like asthma out of state? What will the costs be? You want to understand exactly how you are covered under your plan when traveling, especially when you are out of the country (although the good news is that most other countries have much cheaper care than the U.S., even at full price).
Your Insurance Can Cover More Than You Think
Your insurance most likely pays for a gym membership. It's not as widely known, but almost all over them offer some sort of coverage for it. After all, your health insurer wants you to be healthy. Healthy people don't file as many claims, which saves them money. Some work with specific gyms to give you a discount or even a free membership while others will offer your a set amount in reimbursement. Call your insurer to see what their policy is. It just might be worth switching gyms!
Further Resources to Understand Health Insurance
Why U.S. Health Care is so Expensive
Care in the U.S. More Expensive Than Other Countries
5 Things You Didn't Know Your Insurance Covered