The Best Ways to Keep Your Hair in Great Condition
This post may contain affiliate links. Which means if you make a purchase using these links I may recieve a commission at no extra charge to you. Thanks for support Miss Millennia Magazine! Read my full disclosure.
A lot of time and money can be spent on our hair. We might want to get it cut regularly and maybe
even highlighted or dyed. Then there is hairdryers and straighteners that can all cause a little damage to our hair. So if we spend a lot of money on it, we want it to last us a while and stay in good condition, right? I know some people do take extra time and effort with their hair and would never use things like straighteners on their hair. But for a lot of us, there simply isn't time not to do those things! Here are some top tips to keep your hair looking healthy and shiny.
How Often Should You Wash Your Hair?
This question often divides the hair care industry. The consensus seems to be that less is better; perhaps two or three times a week. Washing hair daily seems to be the thing to avoid (you need to wash your body daily, though)! There are natural oils on your hair, and you guessed it, as they are natural, they do much more good to your hair than an unnatural shampoo would daily do. If you wash your hair daily, these oils are washed away and with it, that natural shine.
If you have coloured hair, you might even need to consider washing your hair a little less, perhaps two times a week. The colour on your hair will fade if it is washed with shampoo a lot.
Massage Your Scalp
When you do wash your hair, it is important to massage your scalp. It can help the circulation of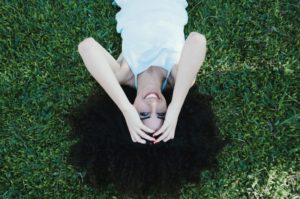 the blood and can help with dry scalp or dandruff issues. It is important to put the shampoo on the scalp too, rather than on the roots. The ends of your hair are drier, so using shampoo right on them will dry them out even more.
Drying Your Hair
When you are drying your hair, it is a good idea to move the hair around. Maybe start drying your hair with your head flipped upside down. Then flip it back over when those sections are dry. It will add volume which is such a good look. If you struggle to add volume to your hair, you could always consider something like tape in hair extensions. They are a quick fix and can be easily removed, so great for nights out or special events.
Heat Styling
Pretty much all of us will use some heat styling product on our hair. Not all of us have the time to allow our hair to dry by itself, so we need a little help. Not all of us have silky smooth hair, so something like straighteners helps to smooth it all out. If you are going to be using these types of things, is to use a protective treatment on your hair. There are a lot of heat protective oils and serums, so find one that is right for your hair type.