Killer Gifts For The Traveler In Your Life
This post may contain affiliate links. Which means if you make a purchase using these links I may recieve a commission at no extra charge to you. Thanks for support Miss Millennia Magazine! Read my full disclosure.
Before you do your shopping online this year, make sure to sign up for a free Ebates account and get cash back with every purchase. Use my link here to get an additional $5!
Oh, the travelers! Travelers will always have a special place in our hearts because they have the courage to pick up and go on a whim. No place can keep hold of them because they must follow their wanderlust.
But their love for constantly moving makes gift giving a bit difficult. As with anyone, you want to gift something that will actually be used/ useful. So what do you give a person that is always on the move to far off lands? Well, have no worries! Here is a list of gifts you can give this holiday season to the traveler in your life.
This article contains affiliate links, and we will be compensated for any purchase made by clicking on them. Thank you for supporting Miss Millennia Magazine!
So I will admit that I am a bit of a traveler. As I am writing this, I am sitting in my apartment in Ireland. I left my friends and family back in May to move here just because. So you could say I too am a bit of a traveler.
Nothing frustrates me more than going on a trip and not documenting the experience. I mean even though the memories of it now may be fresh, it won't be that way forever. Having something like a journal to archive my trips is SOOOO beneficial. So why not gift the traveler in your life a journal for all of their adventures? And not just any journal, but one with an antique map printed to make them look even more legit.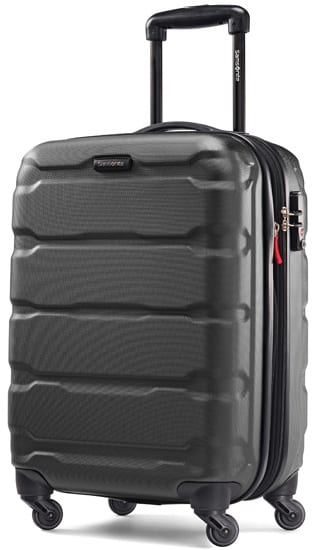 Having the perfect luggage is essential to any adventure! There is nothing worse than having unreliable luggage that will crap out on you during a trip. Plus, even if you're careful with it, you cant always trust that the baggage crew may be handling it properly.
So any traveler is going to want luggage that is sturdy and dependable. That is exactly what the Omni 20″ Hardside Spinner can give you. If you're hung up that luggage may not seem like such a cool gift just trust me on this. I have never seen a traveler, including myself, that has not cried when they received new luggage. You will definitely be the hero of the holidays.
Learn more about the Omni Hardside spinner here
There is nothing more annoying than being in the middle of taking a beautiful photo on your phone and "low battery pops up."  You quickly fumble for a charger but realize you are out in the middle of nowhere and will not be at an outlet anytime soon.
Portable chargers come very in handy when traveling because it lets you stay in the moment without having to worry about a dead phone. But what is so nice is that the Mophie Portable Charger is not just any portable charger. It will charge your phone back up quickly and keep you on the go. I have had some pretty crappy portable chargers that either take a long time to charge the phone or cant hold a charge for long itself. So you can rest assured that the traveler in your life is getting the best.
In case the traveler happens to be outdoorsy and a coffee lover, this is an amazing travel gift. Who says you cant have gourmet coffee on the road? Not the Handpresso Espresso maker. It comes fully equipped with a case, cups, and other espresso accessories to make a perfect cup. If they love to travel and coffee, they will also love you for buying this gift for them.
Check out the Handpresso here.
While most travelers would LOVE to have a nice fancy camera to take beautiful pictures of our adventures, it is not necessarily affordable or practical space wise. The bigger cameras can be much more expensive and take up too much space in your luggage. Nowadays, most smartphones are equipped with high tech cameras that take beautiful shots. So why not work with that?
You could gift your traveler with an Olloclip Lens Set that pops right over an iPhone camera. These lenses can do pretty much the same effects a fancy camera could and their so small they could be kept right in their pocket. This would be a practical gift that I see your traveler using forever.

If you don't want to send them any tangible gifts, stick with something you know they will need — accommodations. While traveling is so satisfying and exciting, finding a place to stat can be the hardest (and most expensive). But with Airbnb, you are almost guaranteed to find a place to stay for an affordable price.
It is also a great option because they get to interact with their hosts that know much about the area they are visiting. So an Airbnb gift card would go a long way for the traveler in your life and is guaranteed to be used almost anywhere they go. Plus, you don't have to worry about sending them anything. The gift card can be delivered electronically through email.
A Cool Tripod for Cell Phones
What good is all the travel if you have no proof you've been there. You have got to get great photos of yourself in the action! And what better way to do that than with a flexible and magnetic tripod with a wireless Bluetooth camera shutter.
Now you don't have to worry about running and being on time for a camera timer or having that goofy selfie stick in the shot. Take photos that are as awesome as you are with the full shot of your amazing experience in full view.
Learn more about this tripod here

For whenever your traveler is ready to settle down, you could gift them with a cool vintage travel poster from a place they have been. This could become a yearly tradition for every Christmas you give them a new poster.
Boom just planned Christmas gifts for you for the next few years! But really this would be a fun nifty idea for them to collect or hangup in their home after their many adventures.
Check out the vintage posters here
Yes, Yes, Yes, forget everything else. THIS would be the best gift to give the traveler in your life. The Apple iPad and Logitech Wireless Keyboard is so compact and easy to manipulate that it will definitely help to keep your traveler in communication. When you are constantly in and out of airports, you want something easy and light to travel with you and there is no better item than this one.
Plus you win a bit because you have a guaranteed way to keep your traveler in contact with you. I remember when I left, my mother gave me a tablet so that I could be reached by her. It is definitely working because I still talk to her at least twice a week.
Shopping for the traveler in your life does not need to be hard this holiday season. These are a list of amazing options you could gift. So get out there and get buying before they're all gone!
Happy Holidays!
Resources:
Antique Map Printed Italian Leather Journal
Omni 20″ Hardside Spinner Luggage
Mophie – Powerstation 20,000 mAh Portable Charger
 CORE LENS SET for iPhone 8/8 Plus & iPhone 7/7 Plus — FISHEYE, SUPER-WIDE and MACRO 15x Premium Glass Lenses