8 Gift Ideas New Homeowners Will Love This Christmas
This post may contain affiliate links. Which means if you make a purchase using these links I may recieve a commission at no extra charge to you. Thanks for support Miss Millennia Magazine! Read my full disclosure.

If you are still contemplating what to get your friends who also happen to be new homeowners, we have some excellent gift ideas for you. While they may have had a housewarming party, it does not mean they have everything they need. Here are a few things we think they would be delighted to receive.
A New Mattress

A mattress should be replaced every 5-10 years. And if you have a friend who has had their bed longer than their 12-year-old daughter, getting them a brand new mattress for Christmas may be a kind gesture.
Transporting a mattress while moving can be risky, too, if it is not adequately covered. This is how many people end up getting bed bugs. So if they just moved, a new mattress would be so beneficial.
The Nectar Mattress is a good choice because it is made of gel memory foam and has a breathable Tencel cover. The mattress has a lifetime warranty, and they let you try the bed out for an entire year to decide if you want to keep it. And the best part of it is that they do free shipping and returns.
Learn more about the Nectar Mattresses here.
A Homeowner's Manual
Let's face it: anyone who has ever owned a home and had to deal with a leaky faucet, check the roof for damage, and maintain a fence in the yard has thought about how great it would be to have a homeowner's manual. The good news is that such a guide exists and is an excellent gift for new homeowners (especially first-time homeowners.)
The Home Owner's Manual: Operating Instructions, Troubleshooting Tips, and Advice on System Maintenance is a guide filled with insight on how to fix any issues you may run into in your home and the benefits of homeownership as opposed to renting. Talk about a gift that makes you feel good. It can be read from beginning to end or treated like your home encyclopedia when needed.
Get the Home Owner's Manual Here
A Roku Box
A Roku Box is an impressive gift if they do not have one already. Not just because it allows them to stream Hulu and Netflix seamlessly on their TV, but also because it comes with many other apps you can download; a Roku can be used to watch YouTube,  Live Sports, Tons of free content, and paid content, such as buying and renting movies. If they have Wifi and a TV, this will make a great gift.
Learn more about a Roku box here
A Pretty Vase
A vase is always a great gift for a new homeowner. It can be used to hold flowers for decor or other items they want to include. And a bonus is if you bring them flowers, they can use their gift immediately.
This Marquis Sparkle Vase is a crystal vase made in Germany that any new homeowner could appreciate. The best part is that if you buy it at Macy's, it comes in a set of other beautiful Crystalwear you can choose from.
Get this Maquis Sparkle Vase here
An Amazon Echo
Here is the thing about the Amazon Echo. They are just friggin cool. Anyone would want one of these, which is why they are my go-to gift when I am unsure what to get someone. You can check the weather, play Jeopardy, or even make a phone call; It's fantastic to have around.
But the Amazon Echo is on the list of gift items for new homeowners because this little virtual assistant device has many home capabilities that can turn any house into a bright one. It can turn on lights, adjust the thermostat, and even lock your doors if you have the right equipment that is Bluetooth capable.
Bath Towels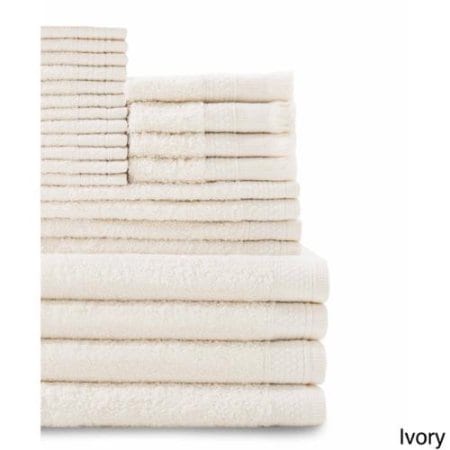 "I have too many bath towels!" said no homeowner ever. Bath towels are one of those items that are not replaced as often as they should be. And as soon as guests are around, there never seems to be enough.  That is why bath towels are always a great gift, especially for new homeowners.
Many tastes are out there, so choose the right colors for your house if you go this route. Get an idea of what their bathroom colors are. And if this is not possible, go with a beige or white color to be safe.
Lucky Bamboo
Did you know that bamboo is considered to be a lucky plant? What better gift to give a new homeowner than the gift of luck? Bamboo is a relatively low-maintenance plant, which means it's an excellent gift for anyone, even if they do not have a green thumb.
This 3-Tier Tower Bamboo has a unique design and even uses bamboo fertilizer. It's a simple gift, but it is a good one.
Go here to get this Lucky Bamboo arrangement.
Video Doorbell
They will love this next gift if you want to go full tech with them. This unique doorbell doubles as a security camera on your front doorstep. They can watch for their packages, neighbors, and any suspicious behavior on their doorstep.
The Ring Doorbell has a free app that sends alerts when they notice activity on your doorstep, no matter where you are. And it has two-way audio, so you can even speak with your guests- again, whether you are home or not.  And that is why this is an excellent gift for anyone. BTW this doorbell works with the Amazon Echo, so this could be a great gift if you decide to get the Echo!
Learn more about the Ring Doorbell here.
Owning a home is a big deal! And I am sure the person in your house would enjoy any gift on this list. Please give them a thoughtful and practical gift for their brand-new home.
Do you have other gift ideas for homeowners that we may have missed? Let us know in the comments.
Resources:
The Home Owner's Manual: Operating Instructions, Troubleshooting Tips, and Advice on System Maintenance
Baltic Linen Company Cotton 24-Piece Towel Set with Fingertip Towels
Mainstays Essential True Colors Bath Towel Collection
Made Here Towel Collection, Set of 2