'Zoolander 2': Shut Up and Take My Money!
This post may contain affiliate links. Which means if you make a purchase using these links I may recieve a commission at no extra charge to you. Thanks for support Miss Millennia Magazine! Read my full disclosure.
There are few things in life that make me happier than the blue steel look from Zoolander, and one of those is saying, "What is this? A center for ants?!"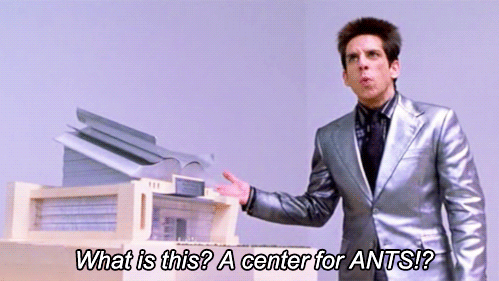 So imagine how happy I was when Ben Stiller brought blue steel back to the runway at Paris Fashion Week. He and Owen Wilson strutted their stuff as Derek Zoolander and Hansel at the Maison Valentino show, officially announcing the sequel to their beloved 2001 comedy, Zoolander. According to a tweet from Paramount Pictures, the film will be released on February 12th. Stiller confirmed the news on Instagram, where he posted a photo of himself and Wilson with the caption, "Apparently Derek and Hansel have come to terms on #Zoolander 2."
There are few things that Hollywood does better (and more often) than capitalizing on trends, and a brand new one has just entered the arena. Thanks to the success of Dumb and Dumber To at the box office this past weekend, there's a scent in the air that long-overdue comedy sequels are in, and now Paramount Pictures is looking to take advantage of it quickly by starting to move Zoolander 2 through development quickly.
Not only are the gears starting to turn on the follow-up to Ben Stiller's 2001 comedy, but casting is already underway as well. Deadline has word that Penelope Cruz has signed a deal to star alongside Stiller, who will be reprising his role as model Derek Zoolander. There have also been rumors swirling around that Zoolander 2 will feature the return of fan favorites from the first movie, including Will Ferrell's villainous Mugatu and Owen Wilson's Hansel. At this point there's no word on what character Cruz will be playing. Given that she's devastatingly beautiful, it wouldn't be a huge surprise if she wound up playing a fellow supermodel.
Additionally, news just broke that Kanye West is going to be appearing in the film as well. After being recommended for a role by his buddy Will Ferrell, the 37-year-old will reportedly star alongside Ben Stiller and Owen Wilson in Zoolander 2.
While specific plot details are scarce, Zoolander 2 will likely find Derek and Hansel trying to return to the modeling world after a long absence. In a 2010 interview with MTV, Stiller said, "In the fashion world, if you go away for a year, it's changed—it just happens so quickly. I think the idea in the beginning of the movie is that it's 10 years later, and Derek and Hansel are literally forgotten. Nobody remembers who they are, so they have to reinvent themselves."
The casting seems amazing but, of course, there is the looming question of whether or not we actually want to see a Zoolander sequel. The number of good comedy sequels we've seen over the years is a disturbingly low figure—and in this area, Dumb and Dumber To serves as an effective negative example. I'm not saying it's impossible for Zoolander 2 to be good, as it has a great group of smart people behind it. Just this year, we saw a great comedy sequel in 22 Jump Street.  The question still looms, but I will be at that theater the day of release telling them to take my money so I can see Zoolander 2. 
The sequel, coming 15 years after the original, is set to hit theaters in February 2016.