The Powerful Symbol of Inauguration Day and the Martin Luther King Jr. Holiday
This post may contain affiliate links. Which means if you make a purchase using these links I may recieve a commission at no extra charge to you. Thanks for support Miss Millennia Magazine! Read my full disclosure.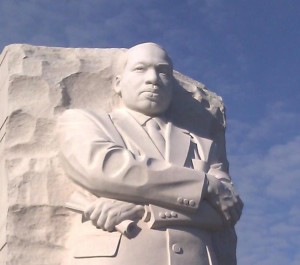 Today is the federal holiday honoring the slain civil rights leader and reverend who dreamt of a day when "this nation will rise up and live out the true meaning of its creed: 'We hold these truths to be self-evident, that all men are created equal.'" So it's fitting that President Barack Obama used a Bible that belonged to the Rev. Martin Luther King Jr. as he took his oath of office, and that he faced the Lincoln Memorial where Dr. King delivered his famous "I Have a Dream" speech 50 years ago at his own inauguration,  but it also serves a reminder of something much deeper than an interesting coincidence.
The start of President Bill Clinton's second term in 1997 was the only other time a presidential inauguration has fallen on the King Holiday, and he too invoked King's memory in his inaugural address, and events were planned throughout the inauguration weekend to commemorate King. It's also interesting to know that the second Bible Obama used during his own inauguration was owned by 16th President of the United States, Abraham Lincoln, which was used during his first inaugural ceremony.
"Two figures that I admire probably more than anyone in American history are Dr. King and President Lincoln. So for me to have the opportunity to be sworn in using the Bibles of these two men that I admire so deeply on the 150th anniversary of the Emancipation Proclamation and the 50th anniversary of the 'March on Washington' I think is fitting because their actions and the movements that they represent are the only reason it's possible for me to be inaugurated," Obama explained in an official inaugural video preview.
There is something so incredibly powerful about having the first black president getting sworn into office on a day that we as a nation are reminded about the civil rights movement. It's a reminder that a dream for the equality of all people is beginning to be fulfilled.
"It's almost like fate and history coming together," said U.S. Rep. John Lewis to NPR and the Associate Press, who worked alongside King in the fight for civil rights during the 1950s and '60s and who attended the inauguration. "If it hadn't been for Martin Luther King Jr., there would be no Barack Obama as president."
This instance of fate and history coming together, however powerful, is also a reminder that we haven't quite achieved King's dream. The inner cities that King hoped would be revisited and changed haven't been altered since he made his speech in 1963, and the amount of gun violence in the U.S. is astronomically well above the averages of other developed countries. There are also citizens who are still discriminated against and who have been denied certain civil rights.
Yes, it's both powerfully and fitting that Barack Obama's Presidential inauguration and the federal holiday honoring Dr. Martin Luther King Jr. land on the same day, but it also serves as a reminder that we've come a long way and yet have so much further to go in order to reach the level of peace and equality that King spoke about in his "I Have a Dream" speech. We've reached this amazing milestone, but we must still push forward to be the change King wanted to see in the world.