How to Organize a Kitchen on a Budget
This post may contain affiliate links. Which means if you make a purchase using these links I may recieve a commission at no extra charge to you. Thanks for support Miss Millennia Magazine! Read my full disclosure.
Organization:
Plan and layout:
When organizing your kitchen on a budget and before you commence on the planning of your kitchen, you should ask yourself what you are looking for and what you will need.  A timeless approach is always best when designing and organizing and looking for materials that offer easy cleaning and less maintenance should be at the forefront of your decision-making process. Store it where you need to make your cooking and baking the most comfortable, make sure your kitchen is laid out for maximum efficiency. There are several different pieces of software that can assist with the organization process including catering software from Inhouse Manager.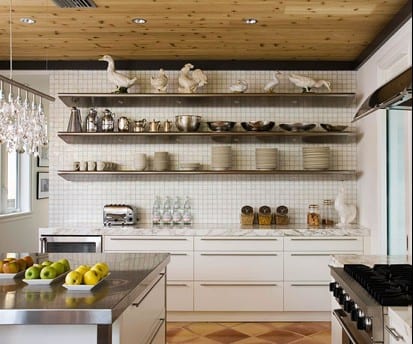 Better homes and gardens style blog
Storage:
Create a storage plan:
By Identifying storage problems of items such as messy stacks of pots and pans, trash can or your packaged foods that are in disarray, you then take stock and inventory of the items that you have in your kitchens work triangle of sink, stove, and refrigerator. By deciding which things you can relocate, lets say cookware, for instance, is best kept near the stove and cleaning up supplies should be stored near the sink. By doing this you are creating a storage plan that suits your needs; Slide-out baskets are also a great way for organizing pots and pans and packaged items of food.
Storing your longer and larger cooking utensils can be done effortlessly in a drawer with a diagonal divider, helping you find what you are looking for quickly. Hanging baskets are also very helpful for organizing kitchen utensils and by no means are you only limited to cutlery as you can use this method to also store your pots and pans.
 Easy budget friendly ways to organise your kitchen
Plan your space:
Cleaning materials:
Keeping your handheld gadgets and mini/small appliances with their cords, in their own inexpensive (plastic type) storage baskets. This keeps them off valuable and usable counter space.
Whilst organizing your kitchen keep the area underneath the kitchen sink in mind, this is where you toss cleaning supplies and other miscellaneous items.   Create a space for your cleaning materials by adding a curtain rod that will fit below the sink, hanging your cleaning bottles thereby opening up space at the bottom of the cabinet.
By losing the excess packaging that all your fresh items, dishwasher tablets, and your sponges get to you from the store, allows you to make better use of the space beneath your cabinet and will keep all your items stored efficiently.
To free up more space, think of using a bookshelf, by putting the shelf up near your kitchen to store all your cooking odds and ends, this helps you to stack the shelf high with dishware, spices and cookbooks to free up cabinet space.   Spices can be kept in the fridge or you could invest in a lazy Susan to do the job for you.
Hutch:
Ideal for more storage:
A hutch is also a good idea to maximize storage. Hooks can be screwed in on the sides and your mop and broom could be hung from this to make it look neater as well.   Scissors and oven mitts can also cheerfully share this space while being easily accessible.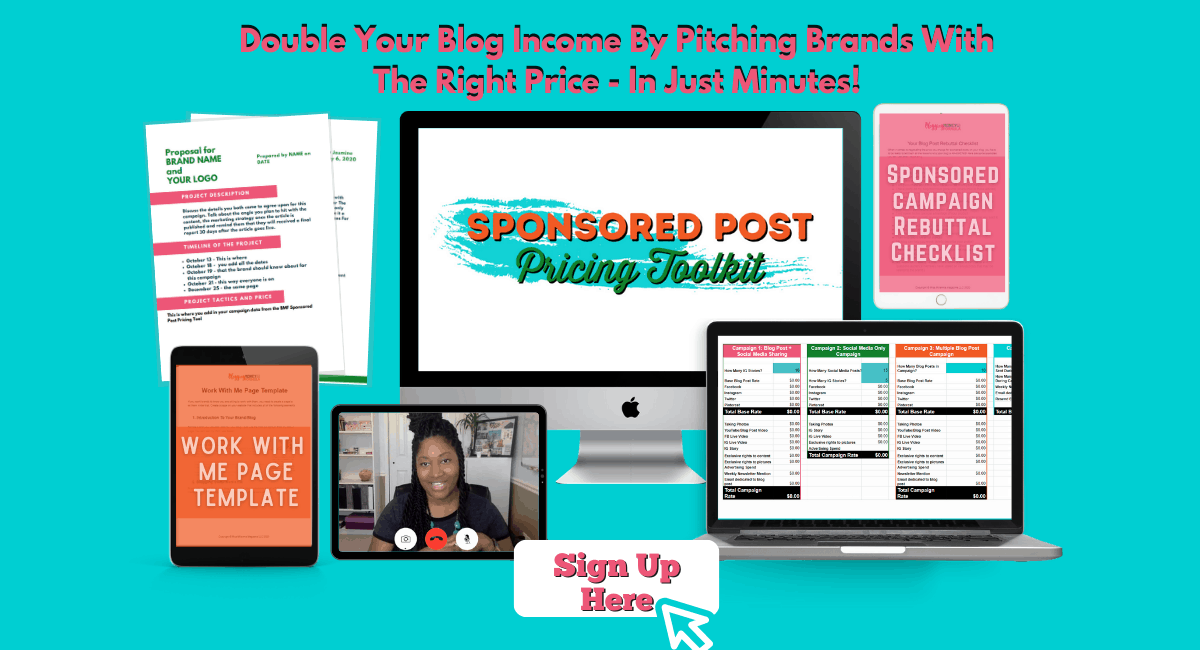 By fitting a paper towel holder on the inside of your cabinet door you will be saving space and not taking up precious counter space and by doing so, you keep your paper towels hidden from view, clean and fresh.
By stacking baskets on a countertop, you can store linens, dishware or any other items of your choice. Vintage wicker baskets are a nice compliment to any kitchen and when visiting a flea market close to you, keep your eyes open for them.
Storage on wheels is also of paramount importance as rolling storage shelves and carts can fit into weird nooks and crannies, can be pulled out when needed and pushed away when their task has been completed.
A table can be folded and stored up onto the wall, creating more walking space, cutting boards, cookie sheets, muffin tins, and other utensils can be stacked neatly on their sides by converting a cabinet with dividers. This allows these items to stand upright and keeps them conveniently close to the area which is designated for preparing your foods.
Above cabinet storage is usually decorated with dust collectors, rather avoid this practice by using this space as extra storage for boxes or baskets that can hold the things you use but dont need all the time such as light bulbs, batteries, and repair tools.
One kitchens budget style makeover
Choosing your appliance:
For daily use:
Over the range Microwave oven give you fast cooking which is an ideal addition to your kitchen, make sure the one you choose has a high wattage as this ensures that your food cooks quickly.
The coffee maker should be checked for pod compatibility, also look for one with an adjustable temperature and also auto shut off valve. Slow cooker, rice cookers, and steamers are really a must-have in any home, and by simply adding all your ingredients you let the cooker do all the work. Make sure yours is dishwasher safe.
Toasters take up minimal space but only provide a single function. Consider a toaster oven which can toast, bake and broil eliminating the need to preheat an oven to cook or bake in. Mixers are also a definite must if you enjoy baking, this appliance can do anything from beating eggs to blending and kneading dough.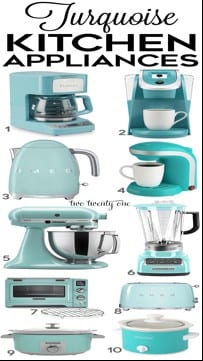 Other standard appliances you will need are a stove (range), a refrigerator and of course the all-important dishwasher.   Refrigerator stove.
Turquoise kitchen decor appliances
Conclusion:
The kitchen is the heart of the home, and usually where you spend a lot of your time. An organized and tidy kitchen will most definitely assist with your cooking duties, with a few boards and a little of your time you can put an end to all your storage problems in the kitchen.
Hunt down kitchen appliance bundles that include multiple attachments or multiple appliances that will help you save money on extras and if you are constrained by space, look for appliances that can perform multiple functions, for instance, a blender that can perform the function of a juicer, coffee grinder, and food processor. Or mixers that process, chop and make ice cream
Remember its all in the details and this is your happy space.