13 Frugal DIY Ideas That Are Easy To Do
This post may contain affiliate links. Which means if you make a purchase using these links I may recieve a commission at no extra charge to you. Thanks for support Miss Millennia Magazine! Read my full disclosure.
Easy and frugal DIY ideas can be hard to find, especially for self-proclaimed non-crafty people like me. When it comes to DIYs and crafting, I wish I could say I was more skilled. I save tons of adorable seasonal crafts and decor inspiration to my Pinterest boards but rarely get around to actually making any of them. The reasons: time and money.
Though I love creating, I'm actually not very artistic when it comes to execution of projects, so I rarely want to spend multiple hours and lots of money on something that will probably turn out wonky. Thankfully, there are crafty bloggers out there who get me.
Keep reading to learn more about all 13 easy-to-make DIY projects!
1. Tassel Trim Pillows
Tassel details have become quite the trend in home decor. Now you can bring this fun and colorful look into your house without dropping a ton of money! Your house will be Instagram-worthy and all your friends will be asking where you got your pillows.
All you need is a pillow, needle and thread, a hot glue gun, and some tassel garland to make these magazine-worthy home accessories. If you want to work on your sewing skills, try your hand at this DIY. You can practice a few stitches without having to sew an entire huge project.
Learn More at From Play Dates To Parties.
2. Chalk Paint Projects
In case you don't know, chalk paint is a favorite of DIY queens. It has a super durable formula and dries with a matte finish, making it ideal for rustic-looking crafts. You can make it yourself or buy chalk paint at most craft and hardware stores in an array of color.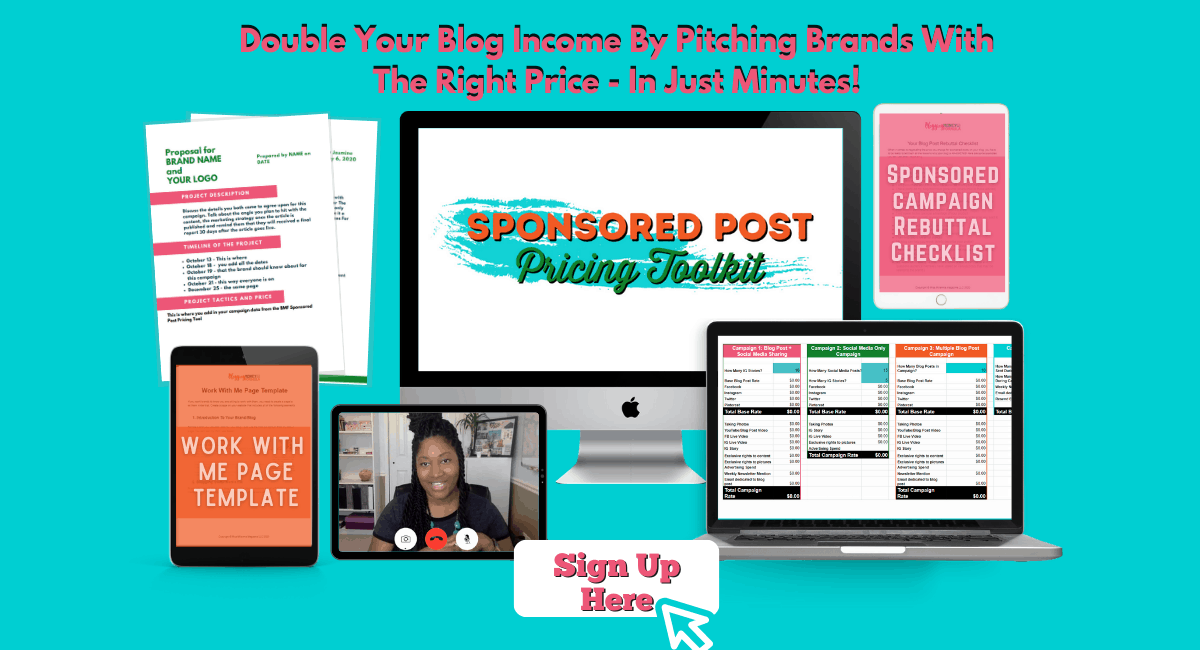 Just apply a few layers of chalk paint to the outside of the jar, then sand it if you want a distressed appearance. Then add your favorite flowers, plants, pencils, or even cooking utensils for instant, stylish organization.
These jars would also make cute centerpieces for a shabby chic wedding, baby shower, or bridal shower. Use upcycled jars and you have super inexpensive decor pieces that look amazing!
Learn More at From Play Dates To Parties.
3. Photo Magnets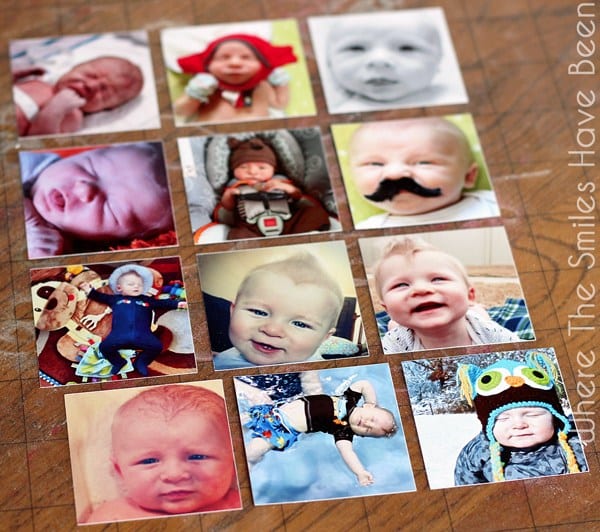 These cute magnets are some of my favorite frugal DIY ideas on this list. I love decorating my refrigerator with magnets and collect them from my travels. But store-bought magnets can get expensive and aren't as unique as these creations!
This craft puts all those stellar Insta shots to good use and is pretty darn easy to make. Simply arrange the pics you want to print into a grid and print them out on photo paper. Stick to a sheet of adhesive magnet sheets, cut into squares, and voila! Your favorite photos are now displayed for all to see without making any nail holes in the walls.
The best part?
You could even use this idea for one-of-a-kind holiday cards, birthday party invitations, or save-the-dates! You won't have to worry about the recipients losing their card when they can stick it right on their fridge.
Learn More at Where The Smiles Have Been.
4. Chalkboard Flower Pot
Want a quick project that will look cute indoors or out? You can make this sweet flower pot craft in under an hour and with very few (very cheap) supplies.
All you need is some black chalkboard paint and either colorful paint or paint markers. That's it! When you're on a budget like me, not having to buy a bunch of random craft supplies is a major win.
These are so simple to make, you'll want to create one for every season and holiday! You could paint flowers for spring or snowflakes for winter. Plus you can personalize the pot with a chalk message. So cute!
5. Easy No-Sew Throw Pillow
If you're like me and have no sewing skills, you're not automatically out of the crafting game! This pretty throw pillow will give even the grungiest couch a touch of class, and it requires zero sewing. Just whip out that hot glue gun and you're good to go.
Don't like the country feel of burlap? Try making this project with a different fabric (think denim or corduroy) instead. If you can glue it, you can use it to make a fun pillow! To save even more money on this DIY, search through the scrap bin at your local craft store to find cute fabric at a huge discount.
Learn More at Ann's Entitled Life.
6. Upcycled Tray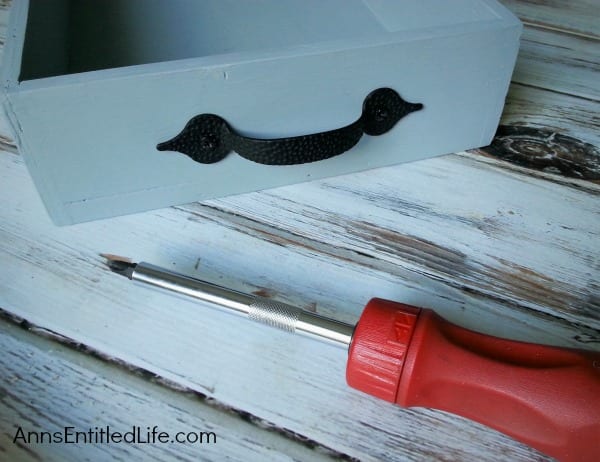 One of the most fun parts of crafting is making something out of something else. Also known as upcycling, this process can turn a rusty old antique store find into a unique decor piece. Upcycling is one of the best forms of frugal DIY ideas!
This simple project transforms an old wooden tray into a pretty and practical decor item. With a little paint and a drawer handle, a piece of junk becomes a functional display piece!
If you're the kind of gal who wants to experiment with power tools, this DIY is for you. With sawdust, screwdrivers, and drilling involved, this isn't a project for your typical prim and proper craft room. You can really get your hands dirty with this one!
Learn More at Ann's Entitled Life.
7. Galvanized Metal Summer Door Hanger
Equal parts rustic and chic, this door hanger looks complicated but is stupid easy to make. Just hot glue some floral foam into the hanger's opening, pop your favorite artificial flowers and greenery in there, and hang! Using a pre-bought hanger makes this one of the simplest of the frugal DIY ideas on this list.
But there's the catch.
If you're on a super strict budget, this might not be the craft for you. Purchasing a metal door hanger, plus a variety of flowers and foam can add up fast.
But if you can afford it, this DIY will really brighten up your home! Because this project uses artificial flowers, you can hang your pretty creation inside or out for a touch of color all year round. Just change out your flowers for a seasonal look!
Learn More at Huckleberry Life.
8. Framed Pincushion
Another awesome upcycling project, these pincushions are both fun and functional. Made from scraps of fabric and any old photo frame, these will help you utilize all of those fun antique store or garage sale finds.
Even if you don't sew, you could use them to display your fun pin collection or just as handmade art. Whether you hang your cushions on the wall or set them on a table, they'll add a cute, shabby chic vibe to any room.
These pretty pincushions would make a cute gift, especially for moms, grandmas, or aunts. They look so pretty and your family member will love that you made the present yourself. Plus making gifts yourself can save you mega dollars!
Learn More at Huckleberry Life.
9. Trick or Treat Bags
I don't want to play favorites amongst all these amazing frugal DIY ideas, but these spooky bags have stolen my heart! Inspired by the Oogie Boogie, the villain from The Nightmare Before Christmas, these easy-to-make sacks have so many possible uses.
They are the perfect size for trick-or-treating and the burlap fabric gives them the perfect "autumn in the country" feeling. If you're a Disney fan, pack these in your suitcase for when you attend Mickey's Not So Scary Halloween Party! The seasonal event at Disneyland and Walt Disney World lets you collect treats around the parks.
Not only are these sacks ideal for storing sweets, but they would also work as fun gift bags! Wrap up goodies for guests at your Halloween party or use them to wrap holiday gifts to your favorite Tim Burton fan. Your friends and family will scream with delight!
10. Fall Burlap Ribbon Pillow
Need a cheap and easy way to spruce up an old pillow? Try making this fall-inspired ribbon. You can use your creativity to customize your project and add an instant autumnal touch to your home, too.
Grab a spool of cheap burlap ribbon, a paint marker, and let your imagination soar! This project costs next to nothing but will give your home a major crafty vibe.
That's not all.
This project proves that frugal DIY ideas can also be a snap to make! In just a few minutes, you can turn a pillow, lampshade, basket, or anything else into a festive decor piece. It's so easy, you can make multiple ribbons you can swap out for the seasons.
11. Easy Monogram Pumpkins
I love all things fall, especially pumpkins! I know it's basic, but having grown up in the country, I just can't get into the autumn spirit without seeing harvest fruits and vegetables in the fields.
This simple DIY project gives your regular fall decor a chic makeover. Monograms instantly make everything look classier! This cursive font looks fancy, but you could choose a more whimsical sticker for a cute, kid-friendly fall vibe.
All it takes is a letter stickers and a pumpkin, so this project fits into even the tightest budget. The awesome thing is that you can customize this DIY to what you want to spend, too. Buy more stickers to spell out a whole word or just one for a monogram. Grab a cheap fake pumpkin or splurge on a real one from a farm. The possibilities are endless!
12. DIY Brushstroke Lamp
I am not too proud to admit that knock-off versions of designer items are ok by me. Who can tell the difference? Get the look of a super fancy lamp for a fraction of the cost with this DIY project.
With a little paint and a bit of ambition, you'll soon have a unique and beautiful piece all your friends will be jealous of. This project is perfect for those who want to unlock their artistic side. The hand painting technique gives each lamp its own unique look, so no one will have the same exact piece that you have.
This DIY is like house flipping, but for home decor. Just grab a cheap, boring lamp from a discount or antique store and release your creativity!
13. Money-Saving Throw Pillow
One of the easiest frugal DIY ideas on this list, these pillows are both cute and comfy! Whether you want to make fun throw pillows for decoration or a cozy body pillow to cuddle, even novice seamstresses will love this project.
Because they can be made in one afternoon and don't cost much, you can make cushions to match every mood, holiday, and season. They also make a fast and easy gift idea. Grab a fabric that fits your recipient's aesthetic and get sewing!
Want Even More Ideas?
If you have a Dollar Store budget but Pinterest dreams, that's ok! There are tons of amazing DIY projects you can make on a dime. All of the blogs above are amazing resources for frugal DIY ideas, so give them a read!
Check out the video below for more DIY room decor ideas!
One of the best things about DIY art projects is that they allow you to be creative and save money at the same time!
The 13 frugal DIY ideas listed here are perfect for those of us working with both time and monetary budgets. Each one is quick and easy to do and won't cost you an entire paycheck! Whether you want to make indoor or outdoor decor, something for fall or the whole year round, there's something on this list for you.
Which of these frugal DIY ideas are you going to try? Do you have any cheap and easy projects to share? Let us know in the comments below!