The holidays are around the corner. Before you know it, it's Thanksgiving with Christmas tailing closely behind! Why not start on a few small DIY additions to your holiday decorations? You can enjoy these candles and their scent all year long.
Cinnamon Candle Supplies:
Glue (Rubber Cement or Spray Adhesive)
Twine
Candle
Cinnamon Sticks
Grab your cinnamon sticks and candles! I chose a short candle, so I measured how tall the sticks are against the candle. I simply broke the cinnamon sticks to give a nice rustic look.
Use the rubber cement or spray adhesive and apply to the side of the candles. Then, simply set sticks against candle with the flat side down. They should stand by themselves. Watch out, this will get messy!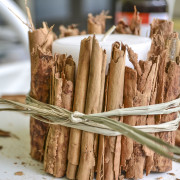 Wrap twine around candles and sticks a few times and tie tightly. Voilà! You are done! Let the cinnamon scent surround you. If you want to light this candle, simply forgo the glue and the twine will keep the cinnamon attached! Simple and beautiful.
Happy Holidays! If you're looking for more DIY projects, check out my previous DIY project: stone wire bracelets.
Charlotte Waters
Founder, To Dream 3D
Check out To Dream 3D on Facebook!