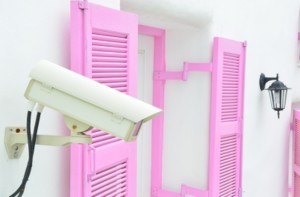 There's an old saying that goes "An Englishman's home is his castle," and while that saying sounds rather quaint today, there's a lot of truth to it. Our home is probably the single most expensive purchase that we will ever make in our lives. We spend many years improving and decorating our property, and filling it with treasured possessions. It makes sense to protect that financial and emotional investment. What point is there in having a home if it does not feel safe and secure?
There are many simple precautions that you can take to protect your home, from intruder detection systems to fire alarms and secure door locks. Installing the latest security gadgets will make your home a much safer place to be at. Here's a quick run down of the best security innovations-
1. CCTV For All
CCTV was once something that only businesses could afford to install and maintain, but today there are wireless security cameras available for homeowners, at affordable prices. Many CCTV installations offer IPTV features, which means that they can stream the footage they record to a secure server, allowing you to check in on the status of your home while you are at work or away on holiday.
2. Burglar Alarms
Intrusion detection systems have come a long way too. In addition to detecting when doors are opened, intrusion detection systems can also detect motion inside the property, and it even sends alerts to your phone when the alarm is enabled or disabled. This feature is handy if you have older children, and you want to make sure that they get home from school OK. If the alarm doesn't get disabled when you expect it to, you can text your kids to make sure they're safe.
3. Outdoor Lighting
Outdoor lighting is a useful addition to any property because it acts as a deterrent. Burglars are not likely to want to spend much time scouting your property if they know that they will draw attention to themselves every time they approach the property. Bright lighting that goes off when someone walks close to your property is also useful for people who live in the house, especially in the winter. The light will illuminate the pathway, helping them to navigate when it is icy or has been snowing. In addition, having a light come on as you approach the door makes it easier to find your keys!
4. Fire Alarms
Every household should have at least one fire alarm and carbon monoxide detector per floor, if not more. Make sure you have enough detectors to cover the house, ensuring that any fires or carbon monoxide problems are detected promptly.
Not every threat to the safety of you and your property is caused by people. Fires, flooding and extreme weather can threaten your home too. If you aren't sure what sort of threats are likely to occur in your area, check the Environments Agency website or speak to your local council. They will be happy to advise you on the most important security measures for your area.