No Boys Allowed: 5 Women In Extreme Sports
This post may contain affiliate links. Which means if you make a purchase using these links I may recieve a commission at no extra charge to you. Thanks for support Miss Millennia Magazine! Read my full disclosure.
Extreme sports have long been dominated by men, but that's changing fast. Women are gaining ground and showing men how it's done. These five female extreme athletes show us how adrenaline transcends genders. Here are five of the most talented women in extreme sports.
Kelly Clark
Clark was born in the village of West Dover, Vermont. She started snowboarding when she was 7 years old, and began competing in 1999. Now, she is a two-time Olympic medalist – gold in 2002 and bronze in 2010. Kelly Clark is a trailblazer and dominant force in the sport. She continually pushes the innovation and amplitude of her riding to new heights, making history and setting new records in her wake. In 2011 Clark continued to bridge the gap between men's and women's half-pipe, as she stomped the first 1080 in women's competition history.
Holly Budge
She is like superwoman! Most people have just one or two things that they are good at, but she seems to excel at everything, including skydiving, horseracing, rock climbing, and snowboarding! Holly Budge of Hampshire reached her glorifying moment when she set two world records in less than 12 months. First, in October 2008, she had an incredible bird's eye view of the world's highest mountain. She entered the record books as the first woman ever to jump at 29,500ft out of a plane over Mount Everest. Second, in August 2009 Budge completed the world's longest horse race, 1000kms across Mongolian wilderness, in just nine days. That's what we call a multitasker!
Clair Marie
BASEgirl, aka Clair Marie, was born and raised in a small mountain town outside of South Lake Tahoe, California. Clair's love of the outdoors and athleticism lead to her becoming one of the youngest BASE jumpers on record. 16 years of age she got a taste of life on the edge. Clair's BASE jumping has taken her throughout the US and overseas to the big walls of Norway, Switzerland, and an Indoor BASE jump which few have experienced just outside of Berlin, Germany. Recently, she completed another jump in Tonsai, Thailand. Although there was a small village below the cliff with food and bars, there was no direct access to emergency care, which made it one of the remotest locations she's jumped in. Beside BASE jumping, Clair enjoys girly things, such as modeling and acting, as well.
Lucy Adams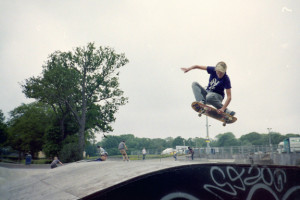 In the world of skateboarding, Lucy Adams, is a well-known figure and is the top female skateboarder in her home country of the UK. She got on a skateboard when she was 13 years old and has been inseparable with her board for 15 years now. During those years she developed her signature moves, such as Fakie Flip and Sal Flip. She was also featured in the first European girls skateboard film. Now, she is a proud coach of newbies in the skateboard industry. In terms of competitions, throughout the year 2009 she came 1st in the UK Skateboarding Championships, 1st in Malmo Women's Miniramp Jam in Sweden and 1st in Girls Skate Jam in St Albans.
Layne Beachley
Layne Beachley is a former professional surfer from Manly, New South Wales. At the age of 16 Beachley became a professional surfer. By the age of 20 she was ranked sixth in the world. Beachley became the first woman in history to gain 7 World Championships, six of them consecutive. In 2004, Layne was given a wildcard entry into the Energy Australia Open held at Newcastle, one of the rare occasions a woman has competed in a men's surfing event. Now retired due to her age, she was inducted into the Surfing Hall of Fame in Huntington Beach, California.
What's your favorite extreme sport? Share with us in the comments below.
This post brought to you by the experts in sports predictions.