The Ultimate Guide to Military Careers
This post may contain affiliate links. Which means if you make a purchase using these links I may recieve a commission at no extra charge to you. Thanks for support Miss Millennia Magazine! Read my full disclosure.
There are few careers that are as challenging and rewarding as a career with the military. Few people who are looking for direction in their life pass up an opportunity to visit a military careers office. A job in the Army or Navy could give your life the boost it needs, particularly if you've never felt like you fit in. The best thing about working in the military is that it is a career, and not just a job with no progression.
There are five active duty service branches to choose from. Each offers dozens of different jobs, training, and skills, some of which may not be found in any other career. The idea of serving your country may seem daunting. But a job in the Army, Marine Corps, Air Force, Navy, or US Coast Guard can be incredibly rewarding.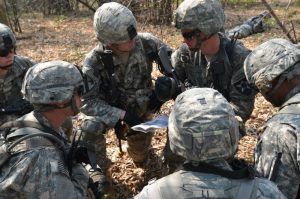 Benefits of a Military Career
There are many other benefits of a military career. Firstly, you can work your way up the salary ladder throughout your career. There is also a pension scheme and compensation for any injuries you may sustain on duty. Military housing is one of the most appealing reasons for joining up. You can find out more about the kind of housing you are entitled to at Ultris Courthouse Square.
There is also plenty of annual leave available when you are enlisted in the military. You can earn extra days of leave when you are serving overseas or in conflict zones. There is also the opportunity to take leave for family reasons.
What is a Military Career Like?
To be eligible to train for your first job in the military, you will need to be at least 17 years old. You'll need to be physically fit enough to take on the training in full. Help is provided at all stages to improve your fitness. Your basic training lasts seven to twelve weeks, depending on what you've enlisted for. Basic training, or "boot camp," is intense. It will provide you with the skills and attitude you need for a successful military career. Simple things like being on time and paying attention to detail in your appearance are crucial skills for any job. Also, you must be able to do sit-ups, push-ups, and run on a daily basis.
The types of work you may qualify for during your career vary. Some you may not have thought media and design, counseling, and legal services are all possibilities. There are substantial opportunities for training and earning qualifications during your career. A good level of educational achievement is welcomed. However, there are service personnel who don't have outstanding academic records before enlisting. Much of what you will learn and excel at in the military can be used in the the civilian world too.
A career with the military, however long, is certainly something to be proud of for life. You will build relationships with colleagues based on trust and camaraderie. There will always be someone you can rely on, and you too will be called upon to take care of your own team of colleagues. Whatever field you work in, your career will make a difference.