Girl's Night at Paper Mill Playhouse: An Evening with "The Bandstand", a New Musical
This post may contain affiliate links. Which means if you make a purchase using these links I may recieve a commission at no extra charge to you. Thanks for support Miss Millennia Magazine! Read my full disclosure.
Between work and school, it's been quite some time since I've been able to snag a night away to see my guilty pleasure, the musical. However, recently my friend Amanda and I were lucky enough to see the newest musical to debut at the famous Paper Mill Playhouse in New Jersey.
Paper Mill Playhouse within itself is an amazing place to visit. A not-for profit organization, Paper Mill Playhouse has been supporting the community for years, especially young artists. Paper Mill is also known for celebrating all types of patrons of the arts. They feature world-class productions with A-list Award winning access services for disabled and autistic patrons along with a variety of children's shows in addition to their featured performances. My favorite part about the theater is the history. Since 1938, Paper Mill Playhouse has been entertaining their audiences with live shows.
Paper Mill is
currently launching its exciting 2015-2016 Season with The Bandstand, a brand new musical from Tony- winning Director and Choreographer of Broadway smash hit, Hamilton Key. This is why I was so excited to be able to plan a girl's night to go see it.
Getting to the theater was extremely easy. No need to take the train into the city or stress about parking garages. The playhouse is conveniently located in Millburn, NJ and quite commonly called the "Broadway in Your Backyard." Just one simple trip up the parkway brought me to Broadway-quality production at half the price and none of the hassle of traveling into the city.
Amanda and I were awed at the beautiful grounds of the playhouse, which almost transported you back in time. Even in the rain we are able to see the architecture of the buildings.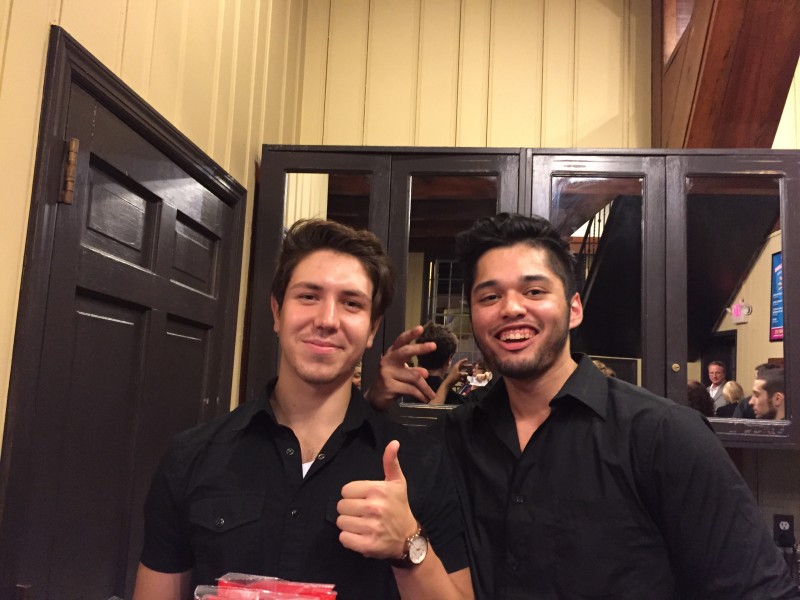 We even managed to snag a drink at the onsite restaurant, Carriage House Bistro & Bar before the show and take a photo of the very accommodating staff. The lobby was packed and we both knew
that this new musical must be something good. Immediately going to our seats we were captivated by the set stage before the show. However, we did get a few good selfies as well.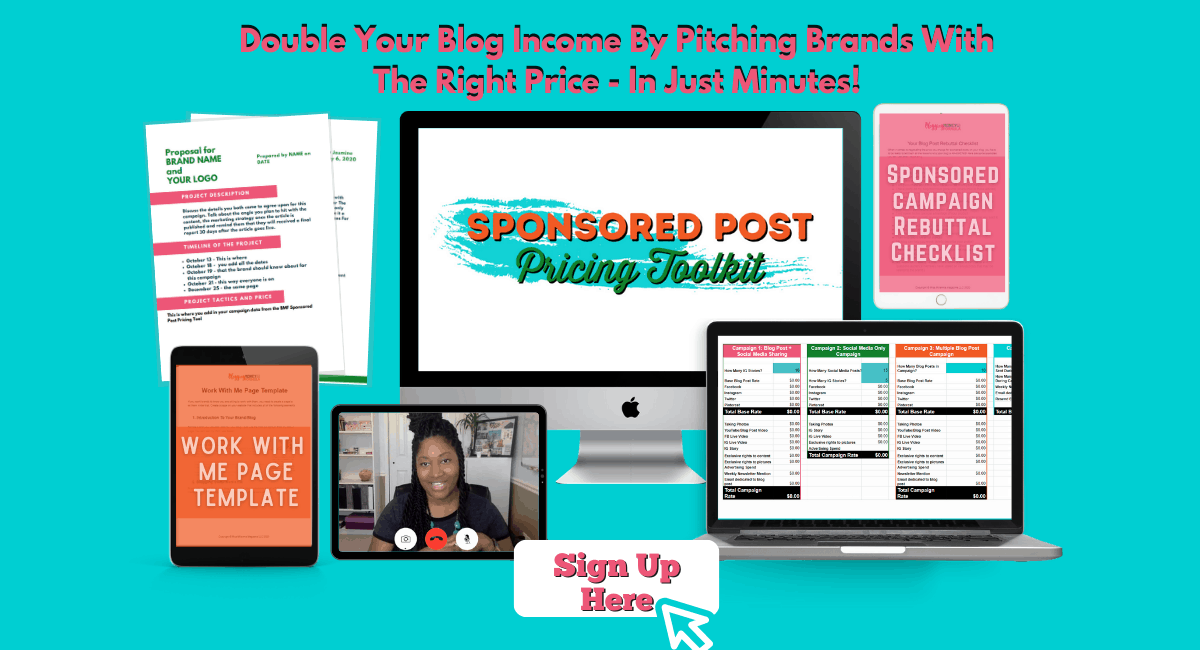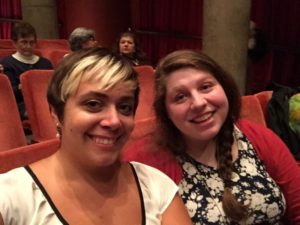 The lights went down and the orchestra swelled, Amanda and I were thrown into the era of our grandparents. I was impressed to see that several of the actors were playing instruments live on stage, something I have never seen done in a musical. Each song struck a deep chord within you, echoing the often unspoken struggles of the men who came back from war. Particularly one scene, where each character went through how they got rid of their demons was not only visually striking but a beautiful representation of the human psyche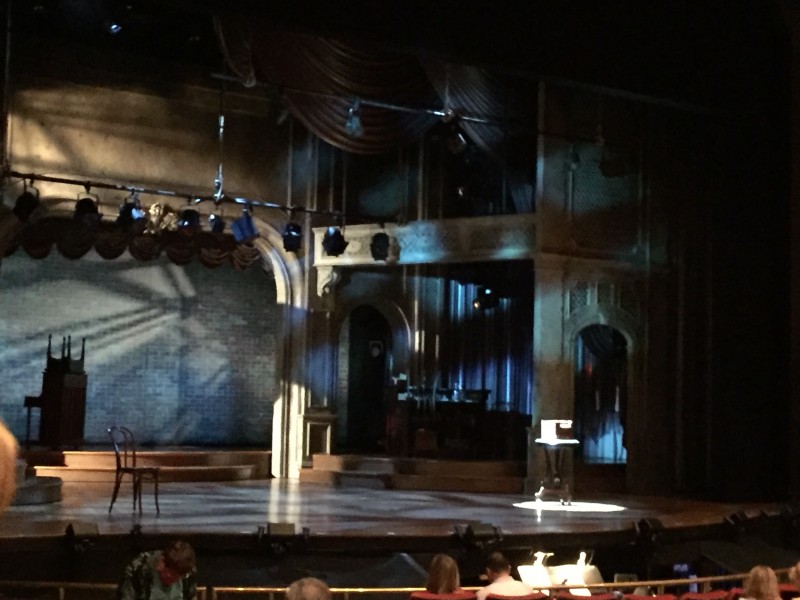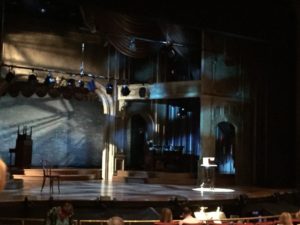 that can be relatable in any generation. While the subject matter is rough, the bright costuming of the characters and boisterous big band music swept up your sorrows into the exciting adventures of the characters.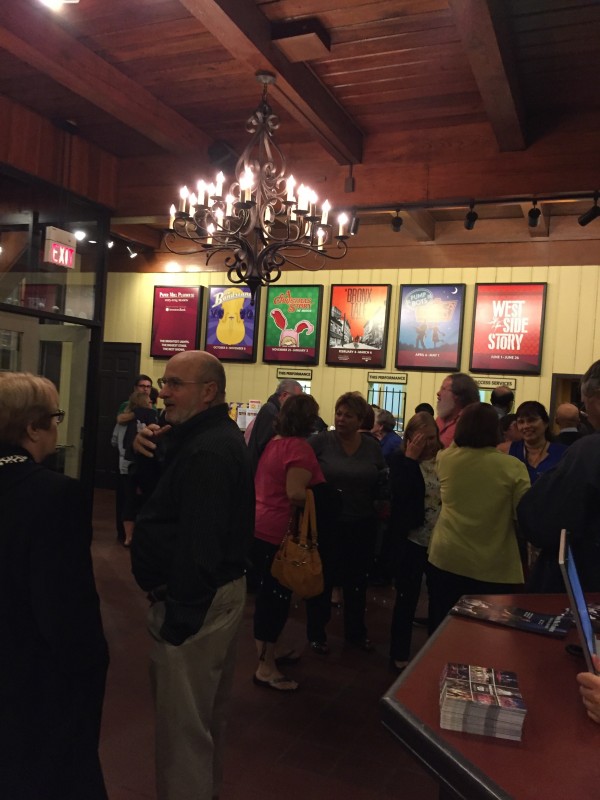 Make sure to check out The Bandstand and be a part of theatre history. Disclaimer: The Bandstand Contains strong language and adult themes. Recommended for ages 13 and up. Don't forget Paper Mill Playhouses upcoming shows, A Christmas Story, A Bronx Tale, Pump Boys and Dinettes, and Westside Story all within this season.
Whether you are going out with the girls or having a date night, get a pair of tickets for Paper Mill Playhouse, support the arts and create special memories.
This is a sponsored post on behalf of Paper Mill Playhouse. All opinions are 100% my own.