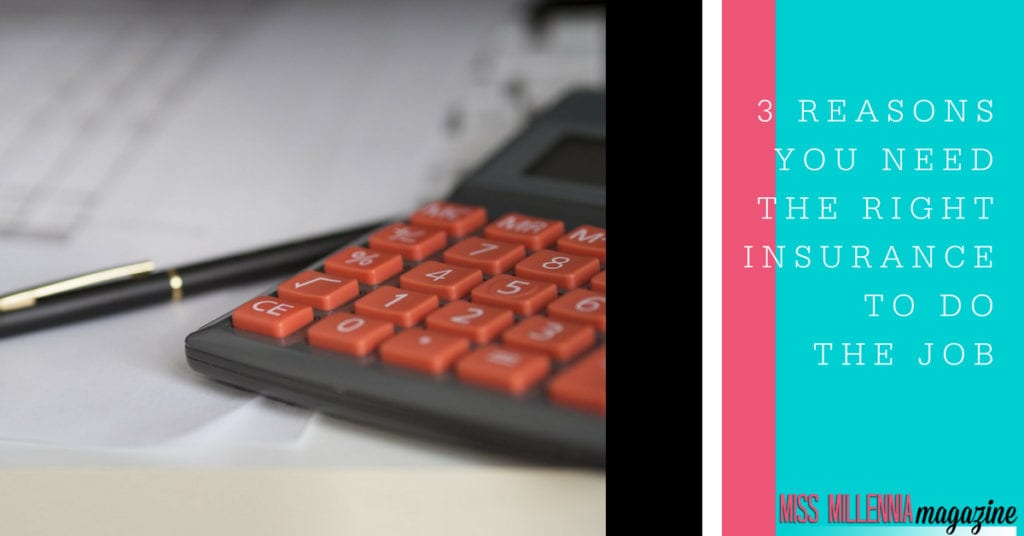 When you first purchased insurance for your business, did you take a close look at your policy? Often, we go along with any basic plan we can find at a decent price and move on to the next thing. But insurance is no formality; it's the decision that keeps us going through the ups and downs of running a business.
Will your next business challenge be a bump in the road or a mountain you could never hope to climb? Here are three reasons your policy needs to be designed to fit your business.
1. You can't predict the future.
Is your plan comprehensive enough to cover you as you grow? Successful businesses with their eye on expansion don't settle for general liability alone. That said, a good provider makes it easy to update and include more coverage when you need it.
However, there are plenty of events you've never conceived of that can come up. Online retailers are a good example of this. If your customer data is breached, will your current plan cover this? You should also look up the average settlement. If you get sued, will your policy pay enough?
If not, you need an umbrella policy. It adds more value, and steps in where liability falls short. Lawsuits involving injuries are an excellent example of this. On occasion, the injured party can receive a multi-million dollar settlement. A lot of policies will not cover this amount, meaning you might eventually have to liquidate and close up shop.
An umbrella policy will pay out after your foundational liability policy hits the limit. Do note that umbrellas are commonly recommended for those businesses whose total worth meets or exceeds one million dollars.
And above all, don't assume such a massive lawsuit could never happen to you. Few businesses would say they saw it coming.
2. Your reputation determines future success.
Any good businessperson learns to see their business from the customer's point of view. Let's imagine you want to hire a contractor to do some work on your home. Two companies end up on your short list, and only one of them proudly states how much insurance coverage they have. Which one are you more likely to go with?
When your coverage is incomplete, you could fall into situations where your insurance can't do anything to help. If it's led to damages to a customer or their property, your failure to make things right only intensifies the damage. And in an internet age, word gets around.
It is estimated that as of 2016, 90% of consumers read reviews for businesses they were thinking of using. What will they read when they consider yours? It can be complicated enough to manage your online reputation while maintaining your daily routine. Don't let an insurance shortage complicate matters further.
The average consumer might take note of how much insurance you're carrying, but if you want to bid on a larger contract, they'll be looking even closer. Getting a huge contract is a victory that can thrust your business to the next level.
In these cases, your insurance coverage can help get you noticed and boost your eligibility for contracts with your dream clients.
3. You want to stand the test of time.
Looking into tailored insurance plans at Next Insurance has multiple benefits. You can choose what type of coverage is best for your industry, and receive a certificate of insurance right away. There's no faster way to build customer confidence. But more than that, you won't be locked into paying for more than you need or can afford.
Keeping expenses right in your business's unique sweet spot prevents profits from steadily being whittled away at. Biting off more than you can chew – even with very important factors, like insurance – doesn't bode well for the future. You want insurance you know you can afford, even when you don't have a good month.
Customizable plans are more likely to allow for this. Listen, we don't always see the same prompt ROI on insurance that we would for investments like equipment upgrades. Still, it only takes one negative event to make all of those premium payments worth it.
Half of all new businesses are done three years in. The difference between those and the businesses that make it comes down to strategy. Make insurance part of your strategy to provide safe, quality services, stay present and involved in company finances, and you'll have the strength and stability to continue on your business journey.
Conclusion
Insurance is only partially about meeting a requirement. In most places, the law mandates that, depending on what kind of work you do, your services are safe for employees and customers alike. If the unexpected does occur, insurance is there to make things right.
But beyond that, you want to make sure your insurance supports the three principles we discussed today. Your business needs room to grow, a solid reputation, and the strength to carry on for years to come. The security and confidence that come with your unique policy to help make it all possible.