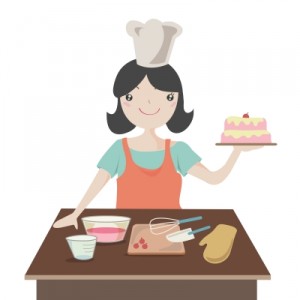 In today's economy it is almost impossible to be a mom and not work. If you are a non-working mom, then consider yourself lucky. But for the rest of us, listen up for a few tips to make your life that much easier. I am a mother of two, and I have almost mastered being a mom, having a career, and still preserving my sanity.
Organization
The first step to not going absolutely bonkers after waking up in the morning, is by having everything already done. My rule of thumb is to get as much done on your days off as possible. I, for example, have the weekends off so on Sundays I iron all of my and the little ladies' clothes for the entire upcoming week. Another helpful organization tip is the night before, I lay out everything needed for the next morning, such as socks and outfits. I have the kid's coats and book bag packed at the front door as well. Having everything organized and already completed helps to cut down on about an hour of unnecessary searching and frustration. We take only about 30 minutes for our daily routine before going to work/school by being prepared.
Cooking
Cooking on the weekends helps a great deal. Not only can you continue to eat leftovers from Sunday dinner or that Saturday evening barbecue, but the leftovers can double as your work lunch. After having my little ladies I absolutely fell in love with my crock pot. I am able to work, sleep, run errands and do it all while dinner cooks itself. I have teamed up with other crock potting moms to trade easy recipes and pointers. I have cooked everything from ribs, roast and veggies, to meatballs in my crock pot. One great pointer I was given by frugal Super Mom Deborah Davila was, "Do not cook your ribs with the barbecue sauce on them because it will cause the sugar to evaporate and ultimately turn the barbecue sauce tangy." Now this is a really great tip considering I was wondering why my barbecue ribs always tasted so tangy when using the crock pot. Being able to walk in the door and the food is already cooked helps knock off 1-2 hours of food preparation and cooking time. I also stay stocked in easy to cook items such as Chef Boyardee, frozen chicken nuggets, canned veggies, and noodles for days when I have totally missed the boat with the crock pot.
Set a schedule
Just as you have a work schedule, keep a 'sanity schedule.' No matter how minimal, always spend time at work, with the kids, and also with YOURSELF. I was once told I would be of no use to my kids if I worked myself to death. I honestly couldn't agree more, so now I have 'me time.' It seems hard at first because your time seems to always be taken up, but even if you have to get up early or go to bed later you can find some time. I have recently taken up Zumba at the local YMCA. It's an added bonus because I can take the kids with me for stay and play, which is childcare, while I exercise. My kids go to bed around 8, so after they go to bed I will treat myself to a long bath with just me and some slow jazz. If I really feel like spoiling myself I will light some candles as opposed to turning on the lights. Also become acquainted with other moms so while the kids play, you can have good conversation and a few laughs. About two years ago I had a mommy group and we used to have more fun than the kids at the kids play dates. We loved Chuck E Cheese for their Cherry Coke and we would even split the cost of the pizza and drinks, making everyone's out of pocket cost cheaper.
Remember to keep a leveled head and remain calm since becoming organized is a process. Also, remember not to take your frustrations out on others; especially your kids. Kids have no idea what being organized or having a budget is all about. So they will still request everything in the store and throw things where they don't belong from time to time. Happy working!