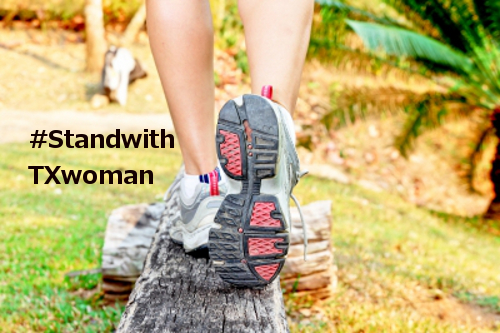 Many Texans have gone up in arms the past couple of weeks to fight for the rights of women in the state. The Legislature's Republican majority has been pushing the Senate Bill 5 bill through, hoping to not get much opposition. During the first special session on Tuesday, June 25th Wendy Davis, a Democrat who represents District 10 of the Texas Senate, took a stand for all Texas women. She led a filibuster for more than 10 hours, where, by senate rules, she was required to stand the whole time without bathroom breaks and without anything to drink or eat, while continuously talking on the issue. It was a revolutionary stand for women's rights that caught the attention of the whole state and more.
The major provisions of Senate Bill 5 state that an abortion may not take place after 20 weeks, or fetus viability. And it puts strict limits on abortion facilities, which would ultimately close down 37 of the 42 abortion clinics in Texas. For those who don't know how big Texas is, it's 268,820 sq. miles. It takes almost 11 hours to drive from El Paso to Houston, and you still wouldn't be out of the state. With only 5 abortion clinics open, many women would have to drive hours to get to the nearest facility.
Many have been able to see how this is just the legislator's behind the bills way of getting as close to banning abortion as they can. They hide behind their excuses of being interested in women's health and safety, while they are really forcing their own beliefs on the women of Texas. Wendy Davis and her Democratic colleagues organized the filibuster to fight for women's right to choose, and they continue to fight.
On Monday, July 1st Rick Perry and others tried to push Senate Bill 5 through again. They were met with more than 5,000 protestors on the capitol buildings steps showing them that Texans won't stand for Senate Bill 5. There were some who were for the bill attending also, but their numbers were far less than those who opposed the bill. The Senate ended the day with a recess, and protestors came back again on Tuesday where women lined up to give live testimonials to the House to argue against, and some for, the bill. After hearing a small percentage of the testimonials the House State Affairs Committee approved the bill 8-3. However, the fight continues because there are more legal actions that can be taken.
Opposing Senate Bill 5 has nothing to do with forcing women to have abortions or promoting the killing of fetuses, but it is giving you the freedom of choice: a freedom that women all over the nation have a right to. Wendy Davis herself was a single mother; she knows the hardships of being a woman, and she knows that no one should have the right to tell us what we can do with our bodies. This is an issue not just for Texas women, but all women. If you are for or against abortion that is your business, but people must realize that not everyone has the same beliefs or lifestyles, where you can fit everyone into a black and white box. As women we should stand for each other's rights and support each other in times when our freedom of choice is being threatened.
For more information visit these sites: