Nothing is better than discovering new fabulous makeup. A lot of people, myself included, rarely change the brands of cosmetics that they are used to. Beauty products are expensive, so we don't like to spend money on products that may or may not work well. But when Victoria Jackson Cosmetics reached out about me reviewing their product, I figured, I do not get a lot of chances to try new beauty products, so why not try this out? And as a plus, they gave me a choice of three bundles too!
Which Bundle Did You Receive?
Victoria Jackson Cosmetics graciously sent me a whole bundle of new makeup to try out. I received the foundation duo in tan, the bronzing powder in medium, the mineral blush, and mascara. Presentation always counts when trying a new product, so when I opened the box, I was pleasantly surprised with the care and the extra attention to detail.
When I first opened the box, there is a lovely note that says, "Some of our favorites—hope you LOVE, XO Team VJC." Cute, right? Once that was removed, including a short letter, the cosmetics are wrapped in brown tissue paper with a Victoria Jackson sticker and bubble wrap. Under that, you have your new beauty makeup in neat black boxes.
How Did You Apply Your Victoria Jackson Makeup?
Step 1) Start with a freshly washed and moisturized face!
Step 2) Apply the foundation duo all over your face. Make sure you do not go over your lips or eyebrows. Because I have dark circles under my eyes, I really focused a bit more there.
Step 3) Apply the bronzing power to where the sun naturally hits your face. So the cheeks, nose, and the chin is a definite. I love this step because bronzer can be used in different ways! It can make me look more tan, add a dewy look, contour, or make my skin look luminescent.
Step 4) Adding a hint of color with the mineral blush to the balls of my cheeks is simple and classic.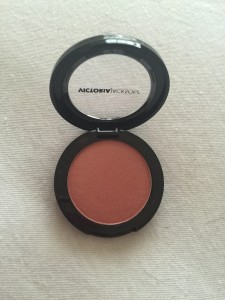 Step 5) And finally, using the Victoria Jackson mascara, with a touch of light eye shadow, I finished off this look that is perfect for everyday wear!
This makeup lasted all throughout the day! I did not even have to do a touch up! These are awesome products that let your natural beauty shine through! I have received compliments on my makeup left and right, and I don't feel like I'm wearing a mask on my face either!
Where Can I Buy Victoria Jackson Cosmetics?
All of the Victoria Jackson Cosmetics are available on this website! Use this code: LOVEVJC to get an awesome 25% discount on your order! And the good news is, it is valid until April 4, 2015! So start ordering ladies, and find out what Victoria Jackson Cosmetics can do for you!
I participated in this sponsored campaign on behalf of Victoria Jackson® and One2One Network. All opinions stated are 100% my own.