Love is an intense feeling of deep affection. We encounter it in real life, read about it in books, and watch about it on the big screen. Throughout time, love has been one of the main plot foundations in cinematography. I've put together a list of the top five movies about relationships.   
Pretty Woman is a modern twist on the classic Cinderella story. Edward and Vivian come from two entirely different worlds; he's a luxurious business man from the high society, while she's a prostitute with a heart of gold. Their paths meet, when he decides to purchase her services for an entire week. What started out as a business transaction grows into passion and genuine affection for one another. Vivian taught Edward that there are far more enjoyable things than chasing after money. However, when Edward's friend discovers Vivian's occupation, his behavior and reaction causes a problem between the two. Vivian is left with the realization that she and Edward don't belong together. But ultimately, love conquers all in a real-life fairytale-like ending. It is hard not to want to be her while watching this movie and while you enjoy the play of a real-life Cinderella story.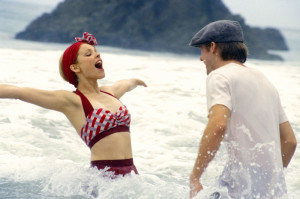 The Notebook is a touching love story of two young people who weren't supposed to fall in love. He is a country boy and she is a city girl. One summer, Allie and Noah became inseparable and deeply absorbed in their own world.  Her family's disapproval of the relationship, however, separates the two of them in hopes that Allie would forget about Noah. Years later, Allie is happy and engaged to an elite, high-ranked military man, when she sees Noah's photograph in a newspaper, and all the feelings come rushing forward. She comes back to Noah, and they reconnect, realizing that their love was never really gone. After many years of marriage, Allie gets a rare disease where she loses her memory. Even then, Noah spends his entire time trying to make her remember. And he succeeds right before they both fall asleep together, forever. This story shows that true love lasts a lifetime and beyond.
This story has a more realistic outlook on love because it really shows the behind-the-scene insight on a seemingly perfect relationship. The movie also shows how different men and women operate, which is presented in smart dialogue. Despite the sad plot of the movie, it presents it in a comedic light. The future once looked promising for Brooke and Gary, but lately, it seems like a series of arguments have snuffed any semblance of romance in their relationship. Their relationship hostility rises to the point where the two become unwanted roommates, trying their hardest to drive the other out. Even though the title of the movie suggests the end of their relationship as the outcome, when you get to the end, the split-up couple realize all the things they've done wrong and there is a slight hope of them learning from their mistakes and getting back together. The Break-Up is a great guide of things not to do in a relationship.
This is a story about love that transcends even death. A classic for many reasons, including the iconic pottery scene, this touching tale is the perfect date movie and a must see for any romantic movie lover! Sam and Molly are happy and very much in love. Walking back to their new apartment after a night out at the theater, they encounter a thief in a dark alley, and Sam is murdered. He finds himself trapped as a ghost and realizes that his death was no accident. He must warn Molly about the danger that she is in but as a ghost he cannot be seen or heard by the living, and so he tries to communicate with Molly through a psychic. This love story has a surreal and magical feel to it.
The movie is about a recently graduated Lelaina, who is hungry to achieve her dream of being a pronounced documentary filmmaker. One of the central ideas of the plot, however, is her falling in love with her best friend, Troy, who is a rebellious musician. At the beginning she resents him, which proves that she is trying to hide her real feelings for him. But then she meets another guy, Michael, and the classical love triangle twist is set in motion. Lelaina and Michael begin dating, and now it is Troy's turn for resentment. Even though, Michael seems to win Lelaina's heart, she can't deny her feelings for Troy. With Troy, Lelaina learns that being happy doesn't mean you have to chase after your ambitions and that you just have to remain true to yourself.
This list includes a variety of movies that portrays love and relationships in different lights, from a lifelong love to a complex break-up. What is your favorite romantic movie? Share it with us in the comments below.