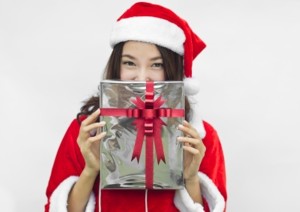 With a million and one things to do this time of year, gift shopping has to be the most taxing. However, if you set yourself in the right frame of mind, it can save you endless hours of aimless walking around the shopping centers. We've come up with a list of what we think are the best tips for making this task a lot easier, so that you can be sure that you'll quickly get into the holiday spirit, without worrying about those few, last forgotten presents.
1. Make a list
And stick to it, just like you would if you were out in the real world of shopping centers. It's really easy to get carried away when you're just clicking a few buttons, but you won't be so enthused when your credit card bill arrives. Pay close attention to your budget, so then you won't have any nasty surprises at the checkout.
2. Take advantage of gift sites
The great thing about shopping online, especially at Christmas, is that most gift websites do all the hard work for you in terms of inspiration. Sites like Getting Personal provide lots of Christmas gift ideas for all of your recipients, taking any extra stress away from you. Buying from sites like this will often give you the opportunity to personalize your gifts, with your own photos or engraved messaging, to make those presents extra special and unique.
3. Give yourself plenty of time for delivery/returns
There's nothing worse than going through all the trouble of ordering your entire gift list online, only for it to arrive on December 27th. Make sure you check out the site's delivery policy, and therefore if there are any problems, you will have their guidelines at hand when solving them. If you're buying something you're unsure of, be sure to check the refund and return procedure too, as well as how long it will all take.
4. Encourage your loved ones to make a 'wish list'
This is a really useful feature on most top websites. They allow you to make a list of the things on the site that you would like, and share it via email with your family and friends. This is a good way to guarantee that you are getting your loved ones something that they truly want, as they will have picked it out for themselves. If you want to surprise them, you could ask them to choose a few things, and then, you decide between their choices.
5. Secure your payment method
Paying online is something that frequently puts the more safety-conscious of us, off online shopping. However, if you check the website's secure payment policy, you will have the reassurance that your details are safe. If you really dislike the idea of using your card directly, you could also use money sites like PayPal, where your details are not sent to other sites.
6. Don't forget the greeting card!
With the world at your fingertips, it can be easy to get engrossed in the present frenzy, and forget all about the cards. If possible, look for gift sites that also do Christmas cards, as this will not only make your life a lot easier, but it will also cut postage costs.
7. Go for gift wrap
If you don't exactly value your skills as a gift wrap artist, and you have no idea how to get the ribbon to do 'that curly thing,' take advantage of the sites that offer gift wrapping services. Some of them will be complimentary, but most offer the service for an extra charge, which is well worth the investment, if it saves you valuable hours of looking for the end of the sticky tape. This article is