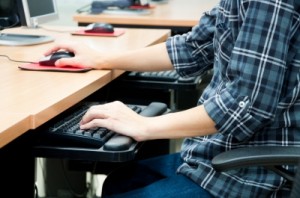 Choosing a college, taking a tour of the campus and figuring out how to pay for it are the just the first bumps along the road of higher education. Then there's dealing with a roommate, affording textbooks and choosing the right classes.
Of course, we can go to family members for advice, but they're already so worried (and their own college experience is so far behind them) that it might be easier to turn to our good friend, the Internet. Here, we have a few sources that could really help you out of a collegiate crisis:
This is the website that ranks colleges in categories like best liberal arts colleges, best value schools,  and top public schools. The rankings use data from SAT scores, course and faculty profiles and location. Choosing a college is more complex than going with No. 1—you have to figure cost, location, programs and faculty—but it's not a bad place to start.
This website gives you the opportunity to chat and interact with students at your prospective college. A recent story in the Chicago Tribune allowed that, even though the site charges for its services, these services can be invaluable. For example, talking to a school guidance counselor can be both impersonal and ineffective, given the sheer number of students assigned to most counselors. Maybe it's worth it to pay a little extra.
A blog from The New York Times, The Choice offers advice for everything from choosing a college to how to live with a stranger. It deals more specifically with the decisions and necessary actions leading up to college – which classes juniors should take and SAT prep advice – hence its name.