There is a good chance that you have never been up on the roof of your home. After all, unless you use a flat roof for some sort of seating area or for growing plants there isn't really a lot to do up there. Or is there?
Well, the following examples show us some of the strange things people have done on their roofs in the past. Maybe one or two of them might inspire you to get up there more often in the future.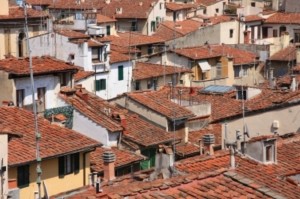 1. Perform a Concert
On the 30th of January 1969 The Beatles performed their last ever public concert. Of course, the Fab Four decided that ending their long public performance exile in a club or stadium was just too boring. So what did they do? According to Ringo Starr, the Palladium and the Sahara were options at the start. Eventually, they decided to climb up onto the roof of the Apple building in Savile Row and play a set running at just over 40 minutes. Looking back at this event some 40 odd years later it is hard to imagine the mayhem this bonkers concert caused. Many workers on their lunch break stopped to look up at the world's most famous band playing on top of a London roof, causing traffic problems down below. The police eventually arrived and called an end to one of the most famous impromptu concerts of all time. U2 also famously filmed the video to "Where the Streets Have No Name" on a Los Angeles rooftop.
2. Spend the Night There
The idea of spending a night up on the roof of your home might not appeal to you at all. That being the case, you are even less likely to want to sleep on the roof of your local school. Yet, this is exactly what a bunch of teachers did a while ago. Some of the teachers at Myers Middle School agreed to do this in return for students raising a good sum of money for cash. Thankfully, they didn't suffer too much in the process, as they climbed up there with a tent and lots of food and drink. Actually, when you consider the great view you probably get from up on the roof of most schools it doesn't sound like that bad of an idea. Here's a thought; when you next have someone at your house from a company like Marcus Roofing you can ask him to take a photo from up there to see what you are missing.
3. Land a Car There
There are some funny stories on the internet of drivers ending up on the roof of a house with their car. One from a couple of years ago involved rally driver Juho Hänninen. He was driving a Skoda Fabia in the 2012 International Rally Challenge Sanremo when he rolled the car and ended up on a roof. There's a YouTube video of the aftermath if you don't believe me. Perhaps even weirder was the fate of the German driver who ended up on the roof of a church in Saxony. The photo of the scene of the accident is pretty spectacular, as his car juts out from the church's roof. It seems that he was driving at 170 kph (150 mph) when he veered onto a field and then flew 30 metres onto the roof. They had to use a special giant crane to get the driver down, and initial reports suggest that he was seriously injured in the crash.
4. Perform a Ballet Show
Clearly not every roof is ideal for a top class ballet performance but you'll probably agree that the top of the Four World Trade Centre in New York isn't bad. Maria Kowroski and Ask la Cour were the dancers from New York City Ballet who got the chance to dance After the Rain in this spectacular setting. It was called a performance in the clouds and was a sort of memorial event 12 years after the 9/11 tragedy in this same place. Of course, if you have a flat section of roof you can use then you might like the idea of going up there for a dance. This is a fantastic place to get moving while seeing a wonderful view. If you need to get some flat roof repair work done before you can get dancing then maybe this will be an incentive for you to get it sorted out quickly. Now where did you put those dancing shoes?
What other weird things that have happened on a roof have you seen or heard about? Let us know by commenting below.