I love Halloween. The hay rides, haunted houses, and endless marathons of Hocus Pocus and The Nightmare Before Christmas all hold a special place in my dark heart. However, sometimes a girl wants to break out of the pumpkin spice routine of the October month and do something a little different. Hey, what pumps your adrenaline more than trying something new, especially if it has a spooky twist? So here are some different types of fun activities you can do this October.
Thrilling Zombie Walk/5k
I'm a Jersey girl, and every year Asbury Park transforms into the walking dead. Zombie walks are exactly what they sound like. Hordes of people dressed up to simple ripped-up T-shirts to actual full done makeup walk through Asbury and get their drink on at the local bars. They even broke a world record too. But Jersey isn't the only place to get your spooky Zombie on. Plenty of states have Zombie walks that include every age and even have competitions on who is the best zombie. If you love to run, there are even zombie 5K's and marathons where you can dress up as well. Some 5K's like Zombie Race, the runners actually have to run through areas filled with zombies. Each runner gets three ribbons on their person and if they can get through the course without losing all their ribbons they have survived the zombie apocalypse.
Spooky Escape Rooms
Escape Rooms actually originated in Singapore, but they are starting to pop up all over the country. Escape Rooms are perfect for people who love video games because you use the same analytical skills in a real life setting. Most locations have a certain theme, and you have an allotted time to escape the room by solving multiple puzzles. They aren't easy, though, CNBC quotes that most Escape Rooms have about a 20% success rate. These are a great way to change up the usual Saturday night because of the ability to bring a large group of friends. However, even if you and your date go, you get to meet a bunch of people and put your brains together to solve the puzzle. Escape Room facilities like Trap Door, in Red Bank, NJ creates an overall story that completely immerses you into a new world where the pressure is on. Sometimes themes are action packed and sometimes they have a spooky vibe. Grab your friends and see who is the smarty pants in the group with this excited new type of entertainment perfect for the creepy side of October.
Exhilarating Rocky Horror Performances
You may remember that scene in Perks of Being a Wallflower when Charlie becomes part of the Rocky Horror show and it's basically the best thing ever. Well, guess what, those aren't fiction. Rocky Horror Picture Show, the cult classic 1975 film, is performed quite widely in community theatres, especially during October. If you're not familiar, Rocky Horror is the story of newlyweds Brad (Barry Bostwick) and Janet (Susan Sarandon), who find themselves stranded with nowhere to go except a strange mansion. Inside they find Dr. Frank-N-Furter (Tim Curry), a transvestite scientist. Both Brad and Janet meet the various strange characters of the household all through musical dance and rock numbers. You can go see the theatre performance of Rocky Horror Picture Show or you, like in Perks of Being a Wallflower, go see the actual movie and the performers who change the way you watch a movie forever (Note: Emma Watson is not included).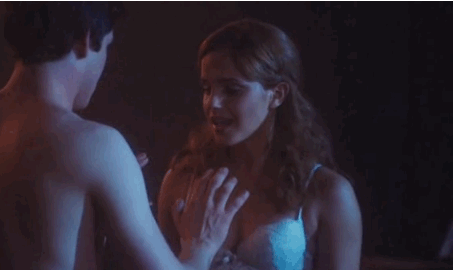 Do you have your own Halloween tradition? Comment below and make sure to check out all of Miss Millennia's Halloween-inspired articles. Scare ya later!
Resources: Guinness World Records, RockyHorror.com, ExitGames.co.uk