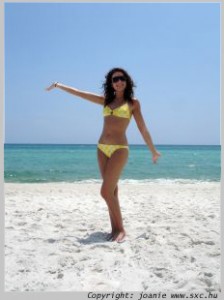 Summer is right around the corner, and now is the perfect time to start getting in shape for the sunny days to come. With this in mind, here are a few eating tips for attaining and maintaining your summer beach body:
Smaller Portions
Try eating smaller meals throughout the day. Research has shown that eating six smaller meals as opposed to three large meals will keep your metabolism (your body's calorie-burning system) running at higher levels daily. Eating more frequently will also allow your brain to function more smoothly because you aren't as likely to be hungry or constantly thinking about your next meal.
Snacking is OK
You may have heard that snacking is a bad thing. On the contrary, snacking is a great way to rev up your body's processes and break up the day's monotony. Try healthier alternatives to those potato chips, like fruits. Pretzels are great, and keep you feeling fuller longer. Goldfish and Wheat Thins are great too. These foods are also high in fiber, which will keep your bowel movements regular. If you are having trouble straying from the less healthy choices, try finding the 100-calorie servings of your favorite snacks at the grocery store.
Variety
Eating the same foods over and over can become rather boring very quickly. While you may have acquired tastes that draw you to the same meals, try mixing things up in order to help your body get a feeling for something new. You can make this even more fun by buying a cookbook to help get the ball rolling. Try having a Chinese, Italian, or Mexican night to spice up the kitchen.
Drink Milk
Research indicates a few glasses of milk each day can help you maintain a healthy weight for your body type. This is especially important because women are at a much greater risk for osteoporosis, a brittle-bone disease, than men.
Essential Vitamins
Get all of your vitamins. I would advise you to avoid supplements (pills), as they just can't provide the same natural benefits that foods containing them can. Cereal such as Total provides nearly all of your daily vitamin needs, as well as being high in fiber.
Drink Water Every Day
Stay hydrated. This is especially important in the hotter months. Sixty percent of people go through life dehydrated. Make sure you get your eight glasses in each day. If you find it difficult drinking from the tap in your area and don't feel like spending your money on bottled water, try buying those tiny Crystal Light packets. Also, there is a new, 0-calorie additive called MiO that comes in a few different flavors.