Lady Lennia Sha'da Wafer:
Who are you?
"The way I do anything is the way I do everything!" This is a quote that I know many of us have used and/or heard for a while now, and I am finally understanding its true meaning. By nature I am confident, caring, polite, respectful, and just nice. I smile at people and have a flirtatious personality; not flirtatious with a sexual motive, just very friendly and free. I have noticed in my past that people have not understood my niceness or they have taken advantage of that particular trait or seen it as weakness. But the more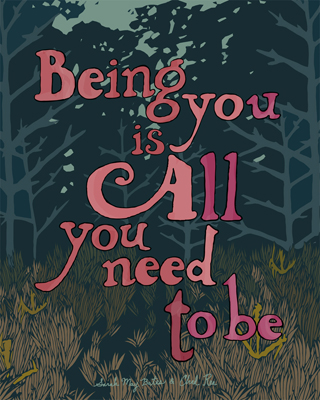 and more I tried to modify who I am (for others), I smiled less, and my heart was heavy like I was weighed down because I was trying to be someone that I wasn't. So I stopped. Now I see that being this way was not a disadvantage, but has actually worked in my favor. I can be social with just about any type of people regardless of status, color, or sex, which is a HUGE advantage when entering the "real world" because people naturally respect people who are themselves, and don't have to put up a front to be in the presence of others.
Since graduating, I have interned and now work in a very corporate setting with very important and influential people in the city of Cleveland, Ohio. I am realizing just how important it is to be YOU at all costs. You don't want one group of people to see you as one way and another to see you totally different. You may have absolutely no idea that these groups of people were affiliated with one another and now here you are acting for one and acting for the other! I thank God that I have not had to learn this lesson by experience, but only by observation. So the way I do anything is the same way I do everything. I don't change the inflection in my voice to talk to one group of people that I would not for another, I don't dress differently for one group of people than I would for another, I don't wear my hair natural for one group and straight for another, etc. I have learned that who I am is acceptable for any group of people because who I am is acceptable to God.
So for example, if your job requires you to be a bit more professional than you are naturally (I know mines does) it's important to adopt professional attributes into your own personality. What's wrong with being professional? You would hate to come off as "fake" or "phony" or "untrustworthy," especially if your position demands a certain amount of respect or authority, or if you have to gain the trust of your clients or co-workers. I realize that we show our families and friends a more relaxed and open person, but that person should not be so different that if you ever bumped into your boss while you were out that they would become concerned about your character in a way that threatened your job.
My advice…BE YOU!  If you do not feel that YOU are who YOU want to be and you feel a change is necessary, change for you, not because it will make so-and-so happy or you will fit in with such-and-such's group. People are fallible and living up to their standards is pointless. I am becoming a very spiritual woman daily, so a lot of my advice is based on my relationship with God, and His standard is all that matters to me.
Be blessed.
Sha'Da
*Freedom first starts with a hunger*