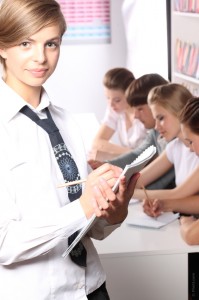 Are you interested in studying fashion? Although several annual rankings may have added fashion as a disposable field of study, don't get discouraged. The Bureau of Labor Statistics estimated that job growth in the industry has seen little to no change, however other fashion-related industries like wholesale and retail trade has seen some growth and change. It is not too late for you to find a career in this exciting industry. The various areas in fashion provides you with plenty of options to decide on; whether it be designing, merchandising, management, retail, trading, or fashion marketing degrees.
If you're just starting out, there's a batch of colleges and universities to choose from, and if you have firsthand experience in designing clothes, there are always positions that rely mostly on work experience.
Some quick research on the fashion academia, shows that most people working in fashion are more likely to study for a two-year degree. However, some of the best schools also offer four-year degree programs. There are several areas in fashion that is strongly centered on work experience and unique talent, but attaining some sort of degree also makes you an attractive candidate for future employers. Whether you decide to go to a junior or senior college, the benefits of going to school can give you a fresh leg up, and help you network with other novices, potential mentors and employers.
Here's a list of some of the top ten schools for Fashion Studies:
Parsons The New School For Fashion Design
Kent State University
Savannah College of Art and Design
Drexel University
Pratt Institute
California College of the Arts
Fashion Institute of Design and Merchandising
Academy of Art University
Massachusetts College of Art and Design
University of Cincinnati
One of the benefits of attending a few of these schools, is that some of them are also located in the best cities for fashion in the world (e.g., New York City and Los Angeles). Several of the above schools are also participants of the scholarship partnership program with the Council of Fashion Designers of America (CDFA), and most schools offer study abroad programs that can aid you in exploring your education in international fashion.
If you're not able to attend any of the top schools, some other options would be attending affordable colleges that offer fashion-centered programs that can prepare you for entry-level positions, and learning to network. The advances in technology have made networking easier, not only locally, but internationally, especially in the evolving world of fashion. The usage of sites like Twitter, Tumblr and LinkedIn, will connect you with people and jobs in the industry. Networking is also ideal for showcasing your creativity if you plan to be a designer.  The art industry in general, heavily relies on networking. People won't know your work, if you don't show what talents you have. Therefore, if you're specifically going for design, sharing your ideas can assure yourself a job or internship after graduation.
Lastly, the double-major programs many colleges today offer allows you the opportunity to study two areas of interest. Every year, plenty of fashion magazines seek interns who are writers, photographers and journalists. If you have other passions or talents that are fashion-related, broaden them and market yourself.