This is a sponsored post in partnership with The Motherhood on behalf of Texas Department of State Health Services.
Ah, Texas! There are so many things I love about being in the Lone Star State. There is plenty to do, so many cool cities to see, and it's warm pretty much year round. But one of my favorite things about Texas is also what makes Zika prevention a concern. Since we have warm weather all year, there is an elevated risk of Zika transmission beginning in the summer that continues through the fall.
Since there are cases of Zika here, it is our responsibility to do our part to prevent the spread of Zika by protecting ourselves and our families. Today I want to share some tips on how to do just that!
Why You Should Be Concerned
Despite the decrease in media coverage, the Zika Virus is still very much a threat in Texas. In Texas, the peak of mosquito season is considered late summer through the fall. And according to the Texas Department of State Health Services (DSHS) and the Centers for Disease Control (CDC), the threat of Zika transmission remains high, especially along the border, the Gulf Coast and in urban areas where the mosquito that carries the virus is commonly found. There have been fewer cases reported this year of Zika, but the truth is, we are still in the middle of mosquito season.
Year-round warm weather in many parts of Texas leads to a year-round mosquito season. Where cold weather may have limited mosquito activity, the return of warm weather will mean a resurgence in mosquitoes. Texans also will be spending more time outside as the weather gets warmer or planning trips for Spring Break and summer destinations where mosquitoes carrying the Zika virus may be prevalent.
How Zika is Contracted
The most common way people become infected with Zika is from an infected mosquito. But it can also be spread through blood transfusion and sexual transmission. The disease can also be passed to a child during pregnancy which can lead to severe birth defects. The scariest part about this is that there currently is no vaccine for the Zika virus. So this is, even more of a reason to protect yourself from contracting it. For more information on transmission, visit texaszika.org/transmission.htm.
Symptoms Associated with Zika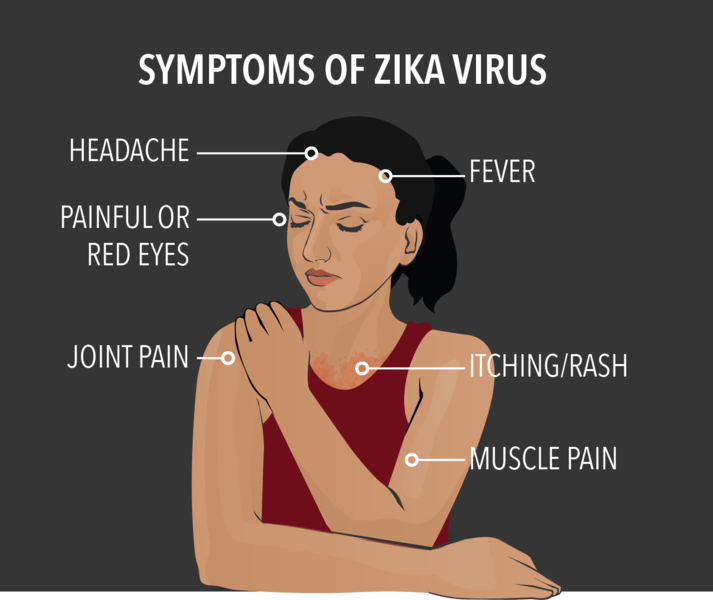 Now if you live in Texas and are wondering about symptoms, more than 80% of people won't have any symptoms at all. For those that do experience symptoms, they can include fever, rash, joint pain, and conjunctivitis. We can all do our part to prevent the spread of the Zika virus by taking simple steps to protect ourselves, our families and our communities, and making them a part of our daily routines.
How to Protect Yourself
There are many ways to protect yourself from contracting Zika. From wearing bug spray to preventing mosquitos from breeding in your yard. Check out the video below as well as my tips on how to prevent Zika in your home.
1. Wear Bug Spray
This has to be the most simple way to prevent Zika. The difficult part is consistency. EPA-approved insect repellents, when used as directed, are proven to be safe and effective for children and adults, even pregnant and breastfeeding women. This includes those with DEET. For children two months or younger, use a mosquito net to protect them from mosquito bites instead. Women who are pregnant should talk with their doctor if they have any questions or concerns. If the spray doesn't float your boat, there are repellent wipes that work well and 
2. Close Doors and Use Screens 
If you are looking to get a fresh breeze in your home, it's best only to do so if there are screens in the windows or the door. This will keep the mosquitoes out of your house, so you don't have to worry about wearing bug spray in your home.
3. Drain Standing Water
Draining standing water in and around the house will help eliminate mosquito breeding grounds. This is particularly important because the mosquitoes that carry the Zika virus prefer to live near people. These mosquitoes also can breed in as little as a tablespoon of water, making it vitally important that each of us looks around our homes to remove any standing water, if possible.
4. Treat Standing Water that Can't be Removed
To help reduce the risk of being bitten by a mosquito, that could carry the Zika virus, take a few minutes to clear all standing water. Even if it's just a little bit – from places such as:
Gutters

Pet water bowls

Toys left outdoors

Kiddie pools

Spare tires and tire swings

Plant pots and saucers

Watering cans

Bird baths

Areas around outdoor faucets
Make sure you continue to dump out any standing water at least every three days to keep mosquitoes from using it as a breeding ground. For ponds and other bodies of water too big to drain, use a commercially available larvicide to prevent mosquitoes from becoming biting adults.
5. Protect Yourself on Vacation
If you're traveling to areas where the Zika virus is active, protect you and your family by wearing long sleeves and pants. If the weather is hot, wear light-weight clothing.  Applying EPA-approved insect repellent to prevent mosquito bites. Using screens or closing windows and doors at hotel rooms or places you're staying. 
If needed, use a mosquito net around your bed to keep mosquitoes away.  When preparing for an upcoming trip, be sure to visit TexasZika.org/travelers.htm for more information and resources to help protect you and your family from Zika.  When you return from your trip, continue using insect repellent for at least 21 days to prevent spreading the virus to your family and community, just in case you were infected.  If you were infected while traveling, mosquitoes near your home may bite you and then transmit Zika to others through a mosquito bite.  Men and women should either not have sex during and after travel to areas where Zika is active or use condoms to prevent sexual transmission. 
Steps to Take if You are Pregnant
Pregnant women and women seeking to become pregnant can protect themselves and their families from the Zika virus. By taking simple steps, such as wearing long sleeves, pants, and EPA-approved insect repellent to prevent mosquito bites, they too can keep Zika at bay.
If a pregnant woman or her loved one is traveling:
If you're pregnant, don't travel to areas where the Zika virus is active.

 

You can find links to travel information at TexasZika.org.

If you've traveled to an area with a risk of Zika, talk to your doctor about the risks of transmission and whether testing might be beneficial.

Use condoms or don't have sex during pregnancy if your partner lives in or has traveled to an area with ongoing Zika transmission.

For additional resources and recommendations for those who are pregnant or trying to become pregnant, visit

texaszika.org/pregnantwomen.htm

. Or check out the video below.
I hope I did not scare you too much with my precautions. But keep in mind that this is a real thing, and it can have heavy consequences. Remember there is still no cure for Zika. So stay vigilant!
Resources
TexasZika.org
For more information on transmission, visit texaszika.org/transmission.htm.
For additional tips and resources on Zika prevention, visit texaszika.org/prevention.htm.
For additional resources and recommendations for those who are pregnant or trying to become pregnant, visit texaszika.org/pregnantwomen.htm.