Every couple wants a wedding reception that they will cherish and remember for life. It can be an elegant wedding or a rustic wedding or a beach wedding or an evening wedding or a garden wedding. Whatever the theme and the decor each couple wants to have something unique.
Flowers and decor make any wedding unique. Here I curate some unique flowers and themes to make your wedding truly unique.
The Vineyard Decor
If you are wine aficionados, then one of the unique flower decorations you can add is a vase full of wine corks topped with any style of flowers that matches the rest of your theme. You will have to start a few months in advance to gather the many wine corks needed, and you can always ask your friends and family to chip in. This unique decor is participative and fun.
The Sports Enthusiast
If you and your fiancée are die-hard cyclists, then nothing says it better than this cycle tire mounted on a stand and topped with beautiful flowers. You can, of course, adapt the theme to include Racquets or Car wheels or Golf clubs or any sporting equipment and use it creatively with the flowers at your wedding and make it look unique. Your local florist can help you choose the right color for flowers and styling based on your sporting hobby.
An Evening Rustic Look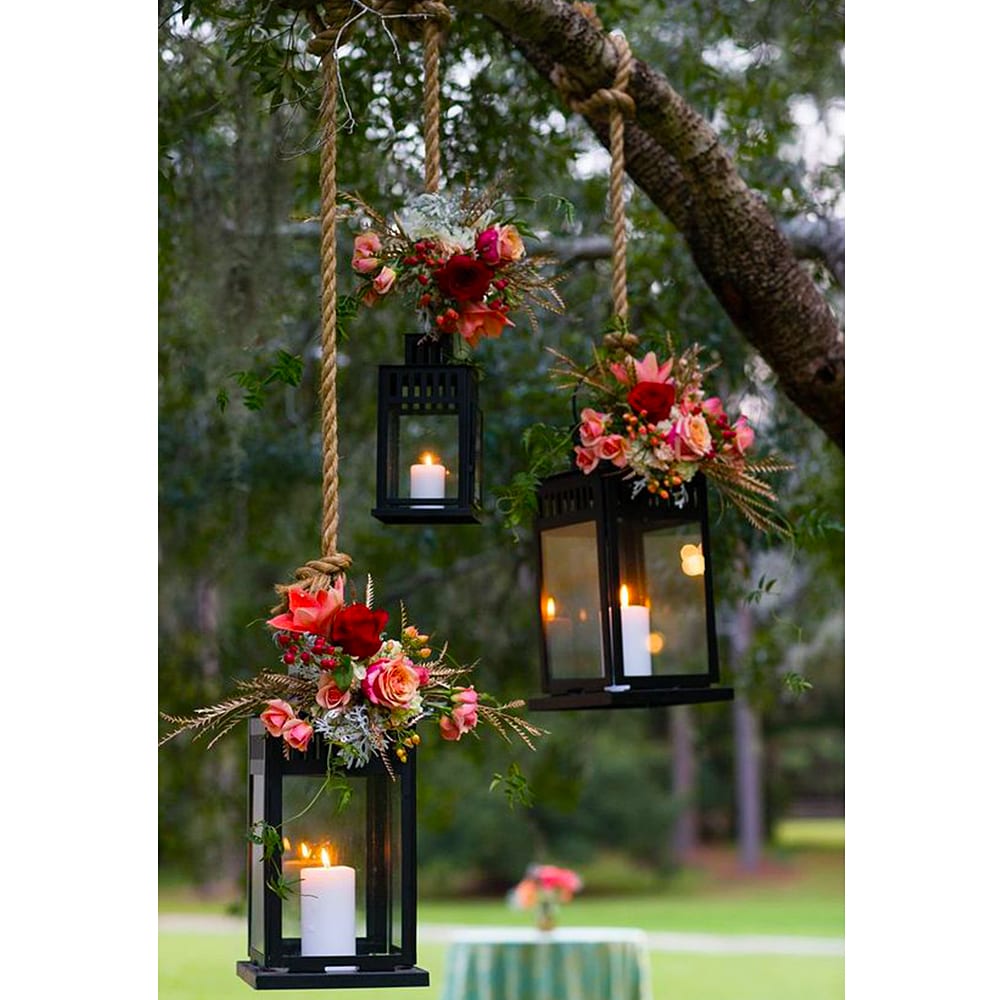 If you plan an evening wedding in your garden or an outdoor location, you can jazz up an entire corner under a tree with these beautiful lanterns. Use thick shipping rope to add a touch of more outdoor to this decor. If you buy large enough lights, then you can use pillar candles like the ones here so that they will last well into the celebrations and not douse out before your holidays are over. I liked the contrast that is used, of black lanterns and white pillar candles and topped with very bright pink and red flowers, wisps of ferns and grasses have also been added to complete the rustic look.
Outdoor Infinity Look
This unique look can only be satisfied for a countryside wedding. This requires the backdrop to be rolling hills or slopes of grass or as in the picture tea gardens. It creates an infinity look and is stunning yet very very easy to create.
One can adapt the look using a decorative door and dress it up with elaborate flowers. The backdrop can then be an artificial scene created beyond the door.
Grand Island Wedding
This elaborate and unique look can only be achieved by a professional florist decorator. The backdrop of the tropical sea and the islands beyond give the white floral decor a grand look against a tropical blue sky. The large stands for the TREE effect need specially fabricated positions and the delicate white flower work on it is the work of a professional florist. The beautiful pathway of orchids is enhancing the starkness of the ocean behind.
Unique Wispy Trees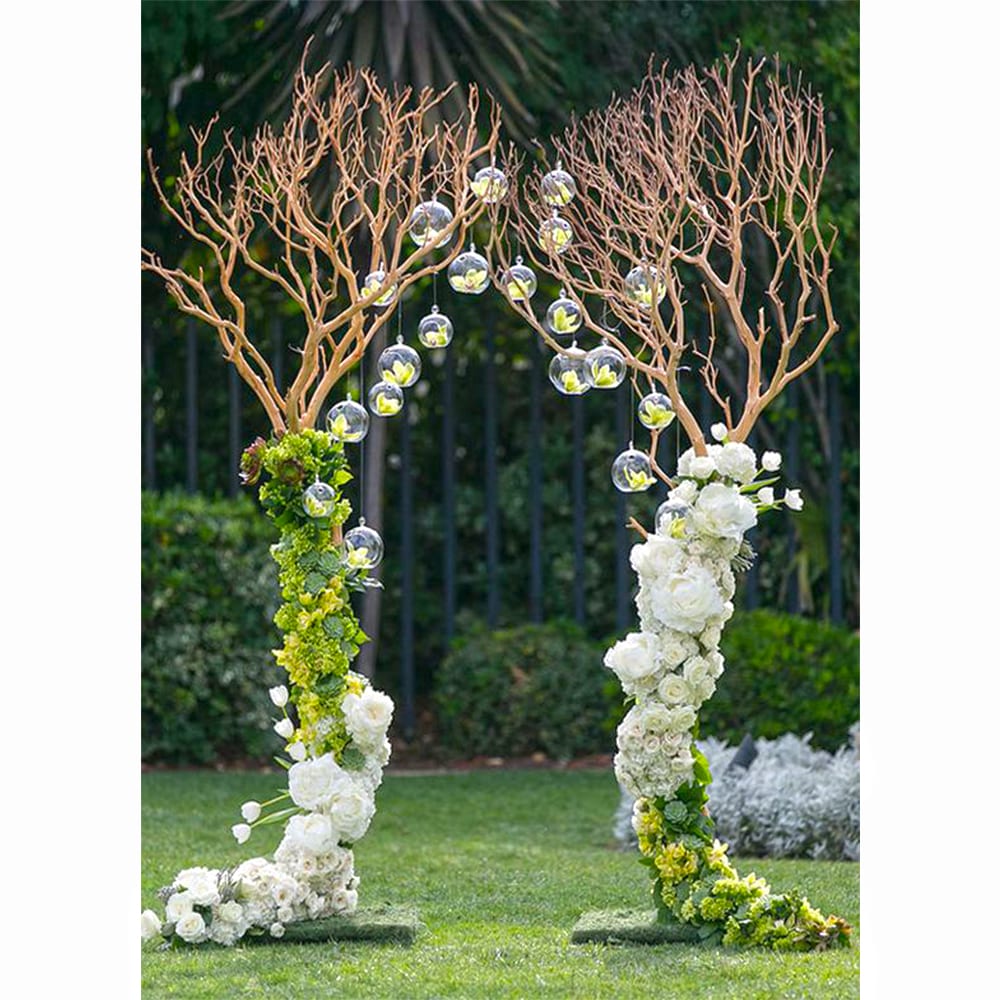 This backdrop can easily be created in a smaller outdoor space. The dried tree branches have been used very efficiently with little glass ball hanging down from them, adds a festive look without being too overpowering. The touch of a single Cymbidium Orchid bud in each of these glass balls is an elegant touch. The final finish is the unique to the designer who has alternated the green and white foliage flowers with an unexpected flourish.
Floral Chandeliers
If you are a couple that loves the outdoors but is stuck in an urban setting for your wedding reception, this is the best way to bring the outdoors inside. This decor can easily be adapted to a commercial reception room or a restaurant. The trick is in using lots of green foliage and using drooping floral designs.
Contrast the green foliage and grasses with bright flowers and use an unstructured design of the flowers and foliage in clear glass containers on the tables. This will give you a very chic and contemporary look and help bring the outdoors in. You can also add some hanging roots on the sides of the restaurant walls and make it a slightly wild and natural garden.
Here is my final piece of advice, every personal touch that you add to your wedding flowers will make your decor that much more unique. Try and blend what you enjoy doing in life with your wedding flowers using various props and floral styling available today.
It could be sports, gourmet food exotic travel or the great outdoors, there is always something that ties the couple together, and this is what will make your wedding flowers unique when used as part of the overall theme.
Author Bio:
Laxmi Lobo is a Singapore trained floral designer. She is now a retail florist in Mumbai and specializes in flower delivery in Mumbai. Her online bouquet delivery in Mumbai has won accolades from the press and has interviewed on TV for CNBC & ET NOW. Visit Spring Blossoms to know more about Flower Delivery In Mumbai.
https://www.facebook.com/spring.blossoms
https://www.instagram.com/mumbaiflorist
https://plus.google.com/+SpringBlossomsFreshFlowersDeliveredMumbai
https://in.pinterest.com/laxmilobo/send-flowers-to-mumbai