When it comes to buying sunglasses, style usually plays a significant role.  There are also very practical variables to consider when buying your next pair, especially when you are willing to spend a lot of money.  You may be concerned with the color, shape, and brand for fashion purposes.  Perhaps you may also want to take into account the type of lens if they come with a warranty, and how they fit your face.  The combination of these factors may help you in your next purchase.  If you wanted to get technical, you could weigh these factors according to how important each is to determine the outcome.  Creating this type of a decision matrix is frequently used in business and can also be utilized when selecting your next pair of sunglasses.
Choosing the Right Style:
Let's start with some of the fashion trends to help in this consideration.  Depending on the size and shape of your head you may like the aviator style of sunglasses or maybe the sleeker square frame.  The best, and usually only, way to determine what will look good is by getting in front of the mirror to test them out.  When it comes to style, it is easy to trick yourself about what may look good on you.  Avoid the guesswork and shop around to try some different pairs out for yourself.  Only then will you be able to solidify what style works for you and be able to move on to color, price, and other details.
Depending on your budget you may decide to go cheap and get a standard lens that you do not care about beating up at the beach.  An excellent durable frame that is thick and doesn't flex is best for these outdoor situations.  Also, plastic tends not to get as hot as metal and will keep nice and cool for your face when stored in a heated or outdoor environment.
For the everyday casual wear, a sleeker and stylish frame can be considered.  They will sit on your face lighter and have an excellent feel to them for daily use.  In addition to the frame, it is nice to have a polarized lens.  This helps tremendously in blocking the sunlight and UV rays that can damage your eyes.  If you can afford it, polarized sunglasses are the better option to go with.
Manufacturer Choice:
There are many designer frames such as Gucci, Versace, Prada, and others that are made with exceptional quality, but also come with a hefty price tag.  Some middle of the road brands that do the job just as well. Ray-Ban, Oakley, Maui Jim, and Bole are usually my category to shop in.  If you are looking for a pair just beat up and not be concerned about losing, then stop by your local convenience store and you will have a wide selection of cheap glasses to choose from.  When you are spending under $20 you are far less concerned about losing or damaging them, however as I've found this will never happen and you will have them for life ironically.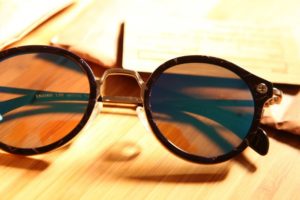 Many brands of sunglasses will also come with a manufacturer's warranty.  It may only be to replace the lens or the frame, but sometimes both can be replaced.  Also, many vendors will offer a warranty or a cheap replacement if you choose to utilize them again for your next pair.  Ask about any warranty that may be offered when considering your next purchase because they do pay off in many cases.  Take the time to weigh in these factors and most importantly be happy with the way you look in them.  If you do not like the way they look on you then nothing else matters.
I encourage you to go out and find your perfect pair of sunglasses for the summer! Warmer weather will be approaching soon.
Resources:
www.amazon.com
personal experience