"Le vent se lève! . . . il faut tenter de vivre!"
   "The wind is rising! . . . We must try to live!"
  –   Paul Valéry, "The Graveyard By The Sea"
The Wind Rises is the final masterpiece of Japanese animator Hayao Miyazaki. Creator of mega hits like Spirited Away and My Neighbor Totoro, The Wind Rises bids a beautiful and bittersweet farewell to the beloved director.
The movie follows the story of Jiro Horikoshi, designer of World War II's Japanese fighter planes, and his poisoned dream. Jiro cannot fly a plane because of his bad eyes and decides to design them instead. He dreams of creating beauty but the only purpose the world has for planes is war. Jiro finds himself designing weapons instead. His life takes an unforeseen turn upon meeting Naoko Satomi, but not all dreams can come true.
Emotional and gripping, the characters are easy to love and their lives will leave tears on your cheeks. The characters are real, flawed, and brilliantly written. While some of the English dubs fall a little flat, it does not take away from the amazing story of Jiro Horikoshi.
   This movie defends the dying art of 2-D animation, astounding audiences with incredible colors, details,  light, angles, and movement. An incredible fact about Hayao Miyazaki's films in general is that he  does not allow more than 10% digital retouching. What you are seeing is thousands upon thousands of pictures drawn by hand. The earthquake scene leaves the audience breathless in possibly one of the best-animated scenes of all time. With many shots of the sky, incredible dream sequences, silhouettes of the German secret police running across walls, and—for anyone who is familiar with Hayao Miyazaki—lots of flying is a feast for the eyes.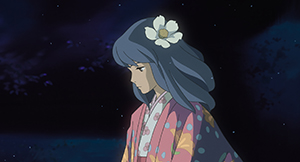 Joe Hisaishi returned to create another score for the Miyazaki film and brings the movie to life with beautiful music filled with enough emotion to make you cry. While not a movie for children, The Wind Rises will leave you thinking long after you've left the theater. It tugs at the heartstrings with a tragic story of love and loss. It teaches you that one must live and seize their dreams no matter what life throws at them.
I highly recommend this movie to everyone who loves a good, honest story about characters you can cheer for, even if it leaves you teary eyed. While I'm crossing my fingers that this is not Hayao Miyazakai's last movie, if it is, he leaves on the wings of a dream and a collection of movies that will stand the test of time.