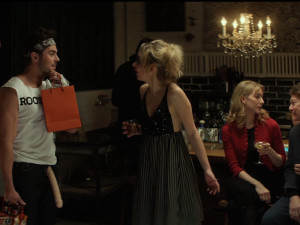 A girl, you are looking to get serious with, is at the uptown dress-up party, and you decide to drop in to surprise her. But what dress-up party goes without a witty costume? So, you suit up, wearing a white crop tank top with "Rock Out" written on it, you tie a fake man's penis around your shorts, and finish up your outfit with a headband to bring the 80's style into the room. Pretty clever? For Halloween, yeah. When you show up, you find yourself among the posh elite of New York City at a cocktail party. Umm…awkward! This seems to be the motto of That Awkward Moment.
Tom Gormican's debut romantic comedy That Awkward Moment told from a male perspective, released in theaters on Jan. 31, left the audience unaffected and wishing for more.
The story revolves around three twenty-something friends of Manhattan Jason (Zac Efron), Daniel (Miles Teller) and Mikey (Michael B. Jordan). It all starts when a married Mikey hits a rough spot in his marriage, and his wife decides to leave him. To cope with his situation he moves into the "den of testosterone" with his buddies, Jason and Daniel, who are scared of getting tied down. Mikey's misfortune prompts the three friends to make a pact of staying single no matter what.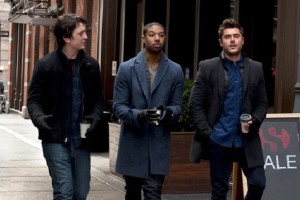 Easier said than done! All three fail to follow through with their agreement when they end up falling for ladies in their lives. Daniel's friendship with Chelsea (Mackenzie Davis) grows into real relationship with romantic feelings. Jason meets a beautiful and quirky Ellie (Imogen Poots) and can't stop thinking of her. Meanwhile, Mikey is tied up in a newly found love affair with his own wife, Vera (Jessica Lucas).
So the streak of breaking the rules and white lies begins. The trio constantly finds itself in the predicament of lying to friends and to their ladies, causing a number of awkward moments and staying true to the movie title.
There's just enough comedy and romance to make That Awkward Moment watchable. Even though this comedy was meant to be told from the male perspective on relationship, the girls, Poots and Davis, out stage the boy trio by delivering outstanding performances. The viewer is left to wonder why Poots and Davis' characters are sticking around with their love choices.
That Awkward Moment draws an accurate picture of a contemporary dating scene and all the tensions young adults have to go through in their romantic lives. The movie shows a modern story of how love is done in 2014 with the clash of a growing impersonal culture and a person's need for love.
Even though That Awkward Moment is easy to like it falls flat with genre clichés at the end, unfortunately making this movie good enough for just a one-time watch.