Christmas Day attracted a large number of people to the movie theaters due to several premieres, including American Hustle. David O. Russell's film, American Hustle, was released in theaters nationwide on December 25th, combining drama and black comedy for a great ride.
The action of American Hustle's storyline takes place at the end of the disco 70's era in New York, where the protagonist Irving Rosenfeld owns a chain of dry cleaners. As a hobby on a side, Irving engages in con-artistry by selling forged and stolen art work. He, later on, pairs up with a stunning and cunning former exotic dancer, Sydney Prosser, in his scams as well as a love affair.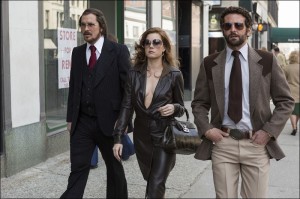 The couple faces a challenge, when they get caught by a wild FBI agent, Richie DiMaso, who forces them to work for him. Richie leads unlucky criminals in the world of Jersey mafia, where danger is inevitable. In addition, other characters keep standing in the way of the recently formed trio – not to mention the other obstacles that continue to put a wrench in their plans. Passionate Carmine Polito, a New Jersey political operator, is stuck between con artists and the Feds and Irving's unpredictable wife, Rosalyn Rosenfeld, always shows up at the wrong time, posing a threat to sabotage Irving's operations.
For this motion film, director Russell picked an exceptional cast. Christian Bale as the main character, Irving, is almost unrecognizable with his bearded face and unusual heavy complexity. He skillfully portrays a cynical con artist who awakened a range of emotions for the viewers, from disgust to sympathy. Bradley Cooper, as Richie, is also in an unusual role as a wired, not-so-bright FBI agent. who still lives with his mother.
Amy Adams, however, steals the spotlight as the irresistible Sydney. Adams carries out her part with grace and skill as a home-wrecker and a fake British aristocrat. The viewers will be left enchanted by her precise British accent, and will feel the impatience in the air to see her next stunning appearance.
Despite Adams being the starlet of the movie, Jennifer Lawrence, who plays eccentric housewife Rosalyn, has a lot of fun with her supporting actress role. Lawrence engages her talent to present a wife who is unhappy with her unfaithful husband. Her character spends her time fueling up on alcohol and cigarettes and going on the emotional roller-coasters in order to gain her much needed attention, but her almost psychotic state injects a lot of humor in the movie.
American Hustle is a movie that is rich on raw emotions. Watching it, one is dipped in the world of love, sex, passion, ambition, and corruption. The movie recreates the excesses of the 70's era and puts on a great show.