If you're a vintage lover then I'm sure you've heard of ModCloth before. They have plenty of variety with their range of clothing pieces, shoes, accessories and even fun apartment decor. Many pieces are vintage inspired, creating very cute and feminine looks. Personally, I'm a huge fan of vintage, and therefore, ModCloth as well.
Recently, ModCloth has expanded their inventory to include plus sizes which is a fantastic endeavor. Many times, stores or brands will only offer smaller sizes, leaving the plus-sized girls behind. Not only is it harder for a plus size woman to find trendier pieces because of this selective stocking, but I believe it's also derogatory to woman. Today we live in a society where looks have become one of the most important things out there, which is why things like anorexia and bulimia are seen so often. Therefore, I love to see when a store makes plus sizes part of their inventory. It gives hope to society and to the women that regular store stock has neglected.
 I've always thought that  vintage inspired classic cuts can be extremely flattering on a plus size woman. With ModCloth, you get a lot of these types of pieces. I've gone through their inventory and chosen some of my favorite and most flattering pieces they have to offer.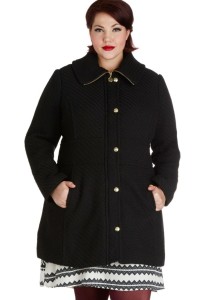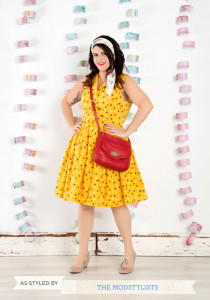 With Fall in season, I wanted to pick out a nice coat. This one (to the left), as you can see, fits nicely on her frame. It's a classic black that goes with everything and the gold buttons add a nice touch. Just picture it with a royal blue classic cut dress over some lace print tights. It's perfect! Even if you wanted to go for a more casual look, it would pair off nicely with black skinny jeans and diamond studded flats.
Next, I chose  a dress (right), because what girl doesn't love a good dress for all events? Remember that itsie-bitsie teenie-weenie yellow polka dot bikini? Well, here's the dress version of it! I just absolutely love how it looks on the model. The cinched waist and flared bottom give the illusion of a more defined waist. It's something to keep mind when picking out other dresses for this body type.
Now, leggings can be a tricky thing to choose for any body type or size, but I came across this pair which is extremely flattering. It's not low-rise so it helps give a more defined shape and it's not your typical legging. It's not all black, and instead has the gold buttons and zippers which add a little "oomph" to them. They can easily be dressed down with a plain white tee, black cardigan and leopard print scarf or even dressed up with a black and white striped empire waist tunic and some bright red pumps.
We can't forget about a cute top! Here, I've chosen a sheer vertical zig-zag striped button-up. Now, as much as I love stripes, it's definitely a pattern to be very careful with. For a woman with a wider frame, you want to try to stay away from horizontal stripes. They'll give the appearance of a wider frame as opposed to a vertical stripe which will give the appearance of a longer torso. With this top, you have the zig-zags going vertically and the stripes are thinner, which reduce the appearance of width.
 These are only a few of the many lovely pieces that ModCloth has to offer. They have a lot of choices, especially with their dresses, so if you're the "girly" type, then you can definitely be sure to find a new, classy, and flattering outfit here. With the holidays coming up, there's no doubt we'll all be in need of a new outfit, so make sure to check this site out!