What I Learned About the Hope for Marriage Equality in America From A Trip To Ireland.
I was blessed enough to be in Ireland during the month of June 2015. Dublin is a vacation hotspot all year round, but was it was especially moving to be staying there this month. On May 23rd, 2015, the country of Ireland held a public referendum to vote on the approval of marriage equality, adding in these words to their constitution:
'Marriage may be contracted in accordance with law by two persons without distinction as to their sex.'
In Ireland, changes to the Constitution cannot be made without a public referendums, which is a direct vote in which an entire electorate is asked to vote on a particular proposal. Essentially, it says that the Constitution cannot be altered unless by a public vote.
Ireland is the first country in the world to pass marriage equality by public vote. 62.1 percent of the vote was YES. Nearly 63% of the Irish population voted on the issue. It was a historic day for Ireland.
The effects of which can still be felt, even almost a month later. The city of Dublin, and the people there, are still buzzing with happiness. Pride merchandise can be found on almost every corner.
During a conference at DCU, they played a video montage of the referendum vote made by GAZE. The video showed not only the truly moving power of the vote, but the effort that has been put in by the Irish people to mobilize the voters for the public referendum. On May 23rd, #HomeToVote was trending on Twitter as countless people flew home to Ireland to participate in the vote.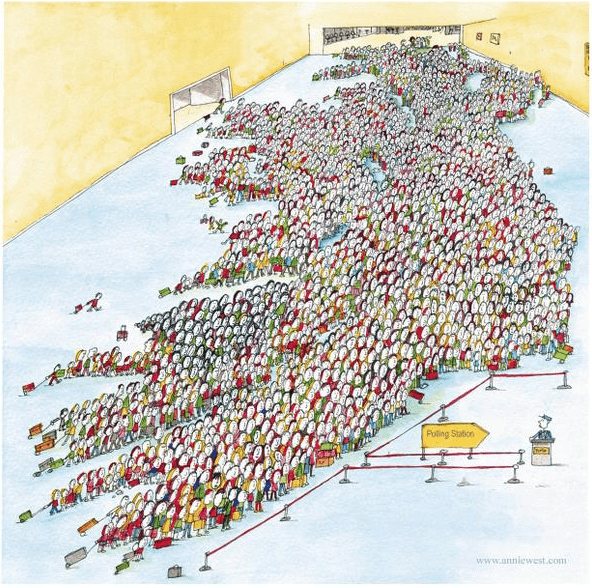 People in America were slightly shocked to hear of Ireland's decision. Ireland is known for it's Catholic identity (almost 85% of the country identifies as Roman Catholic), and that religious stand point has been used heavily in opposition to marriage equality in America over the past few years. When organizations, such as Vote With Us, began to look into people's reluctance against marriage equality, they began to see that it wasn't so much about religion as it was about a lack of understanding. Vote With Us started a call for online videos from ordinary Irish citizens to show the reasons for a positive vote.
One of the most popular videos was from an elderly couple known as Brighid and Paddy, who state that they are "Romain Catholic… and will be married 50 years this year." They go on to say that they will be voting yes in the election in hopes that other couples can experience the love that they have experienced.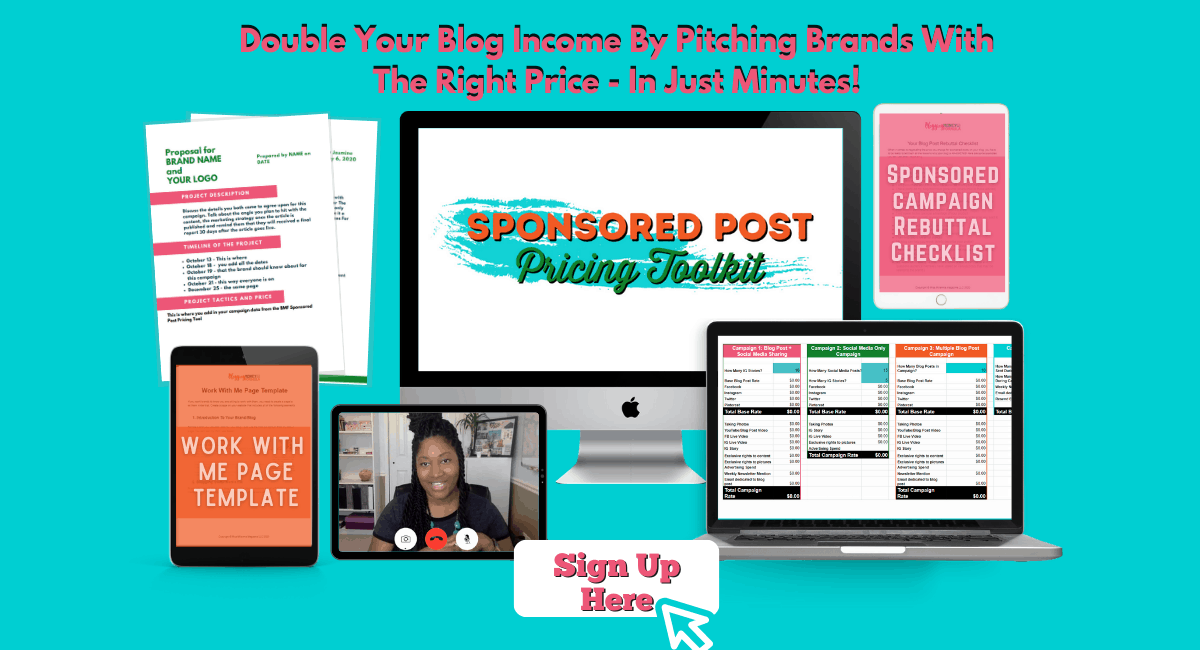 They end the video by saying that "We have an opportunity to change things for the better. I know the ever-loving God that we believe in will say we did the right thing, and the Christian thing, by voting yes for marriage equality."
As an American, it was a bit of a surreal thing to experience. America is unique in the fact that marriage equality only exists in some places, but not at a federal level, due to the fact that marriage equality has not been directly addressed at a federal level.
"Currently, 37 states and the District of Columbia issue marriage licenses to gay and lesbian couples. Statewide prohibitions against marriage for same-sex couples are in place in 13 states — either in the form of statutory law or voter-approved amendment to the state's constitution." (VIA hrc.org)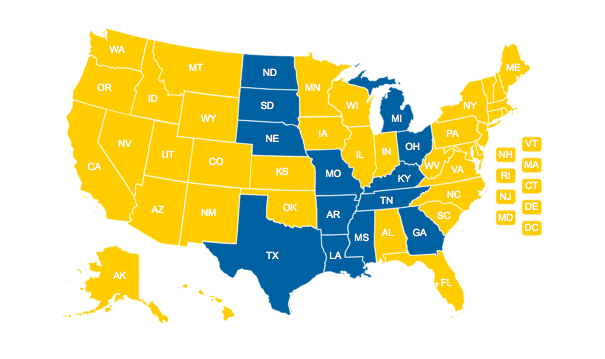 It is an issue that has been avoided at the federal level for years. Fears of religious and political clash have kept it from the U.S. Supreme Court up until this summer. In April of 2015, the Supreme Court heard oral arguments for Obergefell v. Hodges. They look to answer these 2 questions from that case.
Question 1: Does the U.S. Constitution require states to perform same-sex marriages?
Question 2: Does the Constitution require states to recognize same-sex marriages performed in other states?
The questions leave many options open for the court's answer, and could lead to a few outcomes, one being that nothing changes, and marriage equality remains in only select states, another being that marriage equality is legalized and recognized in all 50 states, and a few options in between.
The fight for marriage equality in the States has been a vehement one, pitting Republicans and Democrats against each other. It's not surprising to anyone to see that the states without marriage equality are located most in the South, and along the Mason-Dixie line. These are states where religion is still a large factor in politics. Take Rick Scarborough, a Baptist pastor and Christian political activist, has said he would be willing to be burned to death in his fight against gay rights.
It was disheartening to see Scarborough make a statement like that after seeing what Ireland has managed to accomplish in the country. We grow in America thinking that we are one of the most advanced (if not the most advanced) countries in the world, and then to see first hand how one country progressed so far ahead of us left me feeling a little downtrodden.
I felt that way for most of my trip through Dublin. Then, I took a day trip up to Belfast, in Northern Ireland (Northern Ireland is a separate country from the Republic of Ireland). I went on the trip mostly in the hopes of spotting some Game of Thrones filming, but it ended up being much more than a simple trip.
Some History on Northern Ireland:
Many people are familiar with The Troubles that plagued the island of Ireland during most of the 1900's, but especially the 1960's and 70's, as the Irish people fought over  discrimination against the Irish nationalist/Catholic minority by the unionist/Protestant majority, as well as the question of Northern Ireland's status within the United Kingdom. It was mostly a civil war between Catholic and Protestant as Northern Ireland decided if it would remain part of the United Kingdom or join the Republic of Ireland.
During the height of the conflict, walls were constructed between the neighborhoods to keep violence down.
What no one knows is that the walls remain up to this day, and have actually gotten bigger. Sections of it are three times the size of the Berlin wall, and cover 25 miles of the city of Belfast. They exist in other Northern cities as well.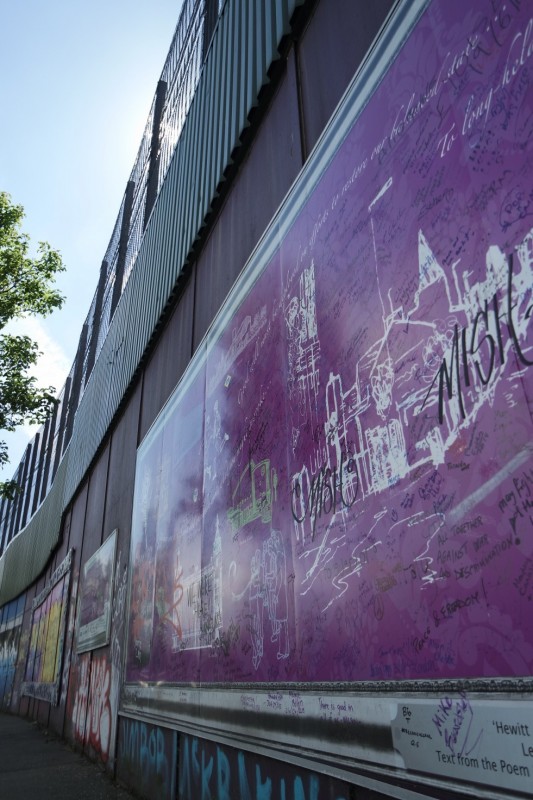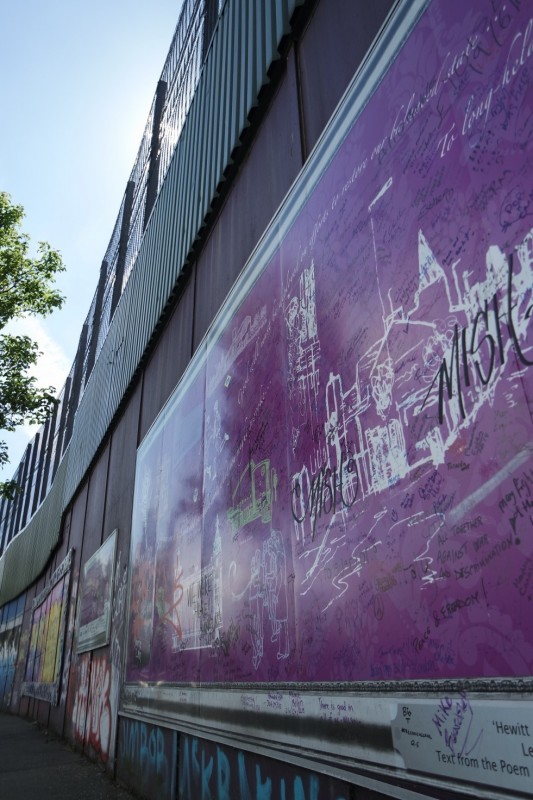 It was immensely sobering to see the large structures  so clearly dividing the two groups of people. It was even more sobering to hear how the tensions have impacted the politics of Northern Ireland.
During conversation in Dublin, I chatted with a local student who was raised in Belfast. She told me that while she loved her home town, she can't ever imagine living there after living in the Republic of Ireland – "The North just has this grip on distancing itself from the Republic. It opposes them on things just to be able to keep themselves separate from them. They are so afraid to lose their past, that they will prohibit themselves from moving forward."
She was not the only person to warn me that Northern Ireland didn't hold the same regard for marriage equality as the South did. As she talked, I couldn't help but compare the strained relationship to that of the Republican South here in America. Some days, it seems as though Republicans will oppose anything that the Democrats favor. We have seen the GOP become so scornful of compromise that they would rather see the government shut down than easily work with the Democrats on a resolution. And I get that politics have a tendency to be extreme, but vehement extreme that some politicians are wiling to go for to oppose marriage equality go beyond logical.
Take Texas for example. Just days after Ireland passed their marriage equality bill, Texas attempted to pass a slew of anti-LGBT laws, fearing a likely Supreme Court ruling in support of same-sex marriage. From "religious freedom" bills to adoption curtailment to protecting "ex-gay therapy," to actually defunding same-sex marriage, they have been frantically trying to reaffirm their anti-LGBT stance.
In a document called a Pledge in Solidarity to Defend Marriage, Christain leaders, such as former Arkansas Gov. Mike Huckabee, former U.S. Senator Rick Santorum, stated that gay marrige would be the "beginning of the end of Western Civilization" and that they "would not obey" it if the Supreme Court does decide to pass it over the summer.
It seems so obvious to me now that the recent surge of human rights activism in America is threatening the way of life for some people, but most especially for the Republican South. Similar to the way that Northern Ireland opposes Ireland on things purely for the sake of keeping their identity, so has the South. Unfortunately, unlike Ireland and Northern Ireland, which are two separate countries, America's divide between politics can actually prevent a national agreement. I can't help but ask myself how far some politics will go to remain separate. How far will some American's hold progress back for the sake of hanging onto the past?