Happy Monday to all, and I hope everyone has a greatly blessed week. I started my morning off by waking up 20 minutes late, but I still made it to work early. Yesterday was a good day . We had a family day just as I had planned. We went to see "Kung Fu Panda 2" and it was hilarious. I didn't believe that "Kung Fu Panda" could be topped, but by golly they did it. We made it to the movie theater over 30 minutes before the movie started, so we could get great seats. I wanted to share a few tips for time management which can greatly reduce stress due to lateness, rushing, or totally forgetting.
I pick and iron my and the kids' clothes the night before. Yesterday, I even took the initiative to iron their clothes for the entire week and two outfits for me. This will allow me to skip ironing for my kids for the entire week.  It only took me an additional 20 minutes, if that. Even though we woke up late today, because our clothes were already done we still made it everywhere on time.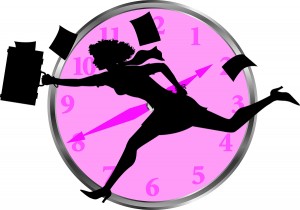 Another great way to help with time management is by planning your meal before you get home. If possible take out your meats and defrost while at work. Remember meats need to be refrigerated so do not leave meats out, simply put them in your fridge to avoid illness.
Don't be afraid to use Post-Its, or alarms. For taking medication make sure you have a reminder set to avoid skipping doses. Also for your fitness class set your alarm/reminder approximately 45 minutes to 1 hour beforehand. Setting your alarm early will allow you enough time to change into activewear, and get to the facility on time.
I also fast forward my clocks 10 minutes early. I am never late to work, in fact I am usually 15 minutes or more early. Arriving early at your gym will allow a few minutes to stretch properly.
Well, I am going to get back to doing what I do best, and I hope you enjoy your Monday. Happy Monday! -Ms.C (Missy)