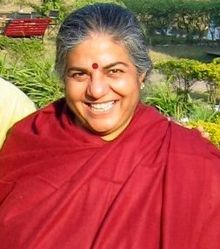 A little over a year ago, world renowned scientist and environmentalist Dr. Vandana Shiva came to Cal Poly Pomona with a talk entitled, Hunger in a World of Plenty. I thought to myself, "What does this have to do with nonviolence?"  In this presentation I found that institutional violence exists at all levels.
In the 1980s genetically modified (GMOs) seeds were patented by international law. The World Trade Organization exerts the highest level of control across the planet by qualifying life as intellectual property. What do you do in the context of such control?
In trying to follow Gandhi's sage words, Shiva reminds herself and her team, and ultimately everyone, this is not about one or two leaders. This is about everyone and what everyone can do. Gandhi had asked all Indian citizens to make their own clothes and get their own salt from the sea, both peacefully defiant acts directed toward British monopoly. The symbolic spinning wheel tells us everyone can and must participate. Today we must resist a global corporate monopoly.
Today's version of the spinning wheel is the seed, the bearer of life. Chipco women, "tree huggers" began the idea of a seed collection. In previous Hindi folklore, navdanya  means "nine seeds" and they represent the nine planets that give you all the nutrition you need. Unfortunately, our planet has been diseased with monoculture, eliminating the rich diversity we were meant to have. When did uniformity and monotony become a sign of progress and diversity the enemy? We must respect the millennial of diversity and not defy its natural occurrence.
The huge farming supplier/conglomerate Monsanto touches any seed and zaps the knowledge and intellect given by that seed. Monsanto takes from years of seed breeding by women. We have the power to replace extinction with the culture of conservation.
Now, I thought this was a very powerful approach. Shiva stated that we can make conservation a part of production. We need not eliminate certain energies but simply redirect them, and receive an even more bountiful outcome. Due to the cost of chemical and seeds, a quarter of a million farmers have committed suicide with shame of not being able to provide for their family and falling deeper into debt. Where are the human rights organizations and where are we?
There are many discrepancies that make Monsanto an oversized entity. Ninety-five percent of cotton seeds in India are Monsanto seeds. Any farmer that saves his own seed both here and in India can be prosecuted for threatening their finances. Actually, since this presentation, I watched the documentary Food, Inc. and learned more about Monsanto insane, yet legal, practices. Shiva went on to explain that the Gujurat seed provides double the produce when cross bred. Farmers could start saving this seed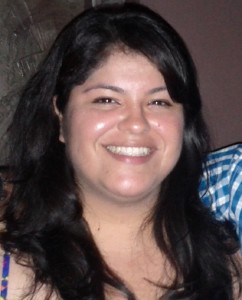 without the need of chemicals. There is a history of diversity in agriculture in all ancient civilizations. In India, for example, there are 200,000 species of rice with names that reflect their use, history and knowledge (I felt this was similar to the Chinese language and also started to think it very probably that my Latin American ancestors also had such diversity before European discovery). But GMOs wipe this knowledge out completely. GMOs destroy farmers, healthy food and ultimately families. How can we accept GMOs over millennia of knowledge instilled in us?
Our nutritional labeling is directly related to the suicides in India. Both are related to the absolute power and monopoly instilled by Monsanto and common interests. If we pass on the richness and diversity of the simple seed, we can eliminate Monsanto and GMOs. In 2004, there was a seed replacement law which would punish Indian farmers for saving their own seeds. With Dr. Shiva and her team's efforts, parliament has not succeeded. The partnership between the government and private business is so shamelessly blatant!
The political problems arise through the social media versus normal media. There is excitement and enthusiasm for reducing the American and Canadian farmer from a community to an individual, from producer to a consumer. For example, there was a plant that was genetically modified to be smaller. When they realized they wanted it bigger, they genetically modified it to grow bigger. The irony is if you just let it grow naturally, it would have given them the result they wanted!
Her presentation came at the right point in my life where I had a lot of questions about the food chain. We do not have to let our farmers endure corporate violence. We can make conscious decisions for ourselves, our families and our global community by looking at nutrition labels and not opting to buy items that contain GMOs. My heart truly does go out to independent farmers around the world.