So you're in a relationship. Maybe you're just starting out, basking in the glow of the first few months spent together in what is basically like a honeymoon period but early on. Or, just maybe, you're months, possibly even years down the line and you're already hunting through diamond engagement rings to take your relationship that step further. Whatever stage you're at, there is always the age old question that plays on our minds any time an important occasion comes up – what gift is suitable? Taking a jewelry theme, we're exploring just what jewelry you should be hinting at from your significant other, or even splurging out on yourself!
It's nothing serious
When you're at the 'casual' dating stage of your relationship, you probably shouldn't be spending hundreds on diamond rings or platinum chains just yet. What you can do if you truly want to spend on your new significant other, is go for something simple and classic. If jewelry is their style, a dainty pair of earrings or a subtle necklace is a safe bet for that perfect birthday, Christmas or Valentine's gift if you happen to find yourself face to face with the stress of buying a gift for these significant events. It can be tempting to opt for the chocolates or the teddy bear, and we hardly blame you for that temptation, but trust us when we say that picking out that little something special could start your relationship off on the right foot!
You've Made It Facebook Official
You've lasted the casual dating period, and you've finally reached Facebook official status. Yes, you two have finally taken a big ol' leap and have announced your total unavailability! With just a click or two on your respective profiles, you're guaranteed to pull in likes from relatives you weren't even aware your other half even had. Here is where getting the gift right is essential. You're official, but there's still time to fail, so opt for something cute, maybe a little flirty but still on the safe side. You'll know them better now, so you can usually work out what it is that they want, but a pendant or a simple bracelet that they can wear regularly is a great way to let them keep a little reminder of your commitment with them at all times. Cute, right?
You're Moving In Together
The nervous first date seems like a lifetime away because you're finally moving in together! Whether you're both moving into one of your parent's houses until you can find somewhere of your own, or you're packing all of your belongings into a little flat, now is the time to start spending. Things are getting serious, and so should your gifts! You're investing in a home, so why not invest in some jewelry that can steal the show at those countless dinner parties you'll be invited to now as a "serious" couple. A statement bracelet or chandelier earrings are a great way to not only wow your partner, but all of your partner's friends, too! Bonus points. Alternatively, a dress ring of sorts could give you the opportunity to find out their ring size early on – hint, hint!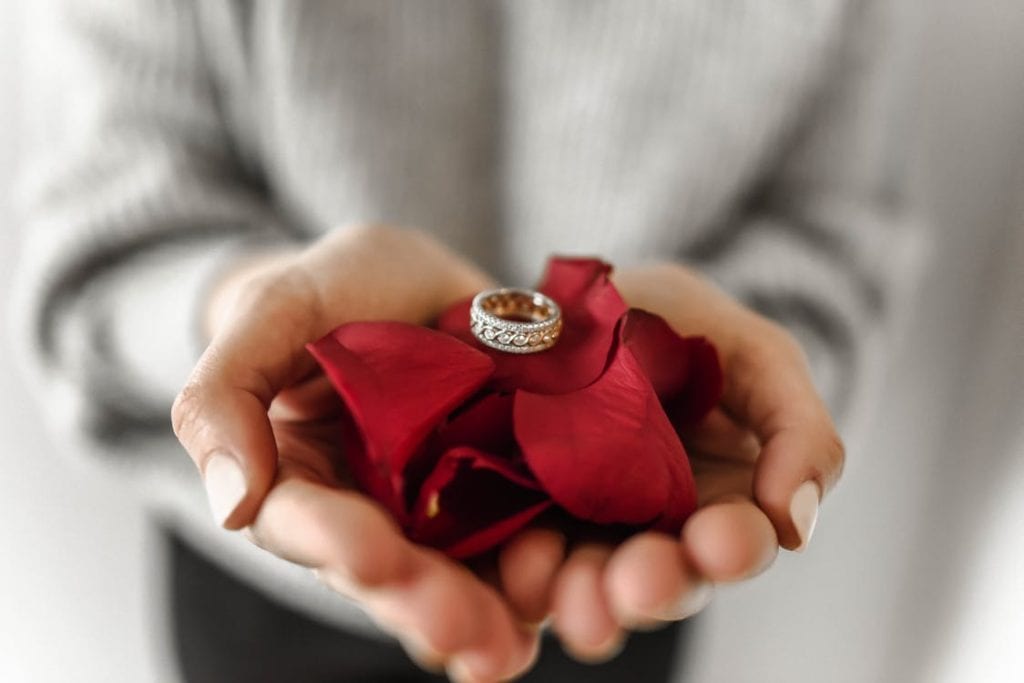 You're Ready To Pop The Question!
Remember we told you to get the ring size? You'll be thanking us by this point. When you're ready to pop the question, it's finally time to start sifting through those jewelry shops for the right ring, so you're pretty much guaranteed a yes. Make sure you adhere to your partner's tastes here, as buying something too small for someone that likes to show off, or something too big and flashy for the more reserved partner can be a big no-no. This ring is an investment not only in a monetary sense but into your relationship, so make it count!
You've Made It Legal.
You've made it legal, you're married to the perfect wedding rings, and the honeymoon is over. Now what? You've used up your dainty necklaces, your diamond rings… what now? Well, this is where you pay attention to their personality and get out there and find something that they'll truly love. Necklace, ring, bracelet, pendant or otherwise, you should very much know what your partner will like by this point, so it's your time to shine! Show off how much you still know and love your partner, and invest in a gorgeous piece that they can cherish for your many years to come.
Whether you're just starting out your relationship, or you're looking for the perfect give for your long-time husband or wife, there is a jewelry gift out there for every occasion. Getting gifts right the first time may not be the be all and end all of your relationships, but picking the perfect present doesn't have to be a struggle. Hopefully, with our guide, you're ready and raring to go when the next big occasion comes around, or maybe just when you feel like buying your loved one the perfect gift.