Each year, Hamilton College selects around forty applicants to start their studies in the spring semester, beginning in January rather than August. These forty students (known by the campus as "Jans") are given the opportunity to spend the fall studying abroad in London. It was the scariest thing I had ever done, and by the end, the most incredible.
What I didn't realize upon boarding that eight-hour flight was that I wasn't just going to London; I was going to all the places London could take me. I was unaware of the ease with which I could travel around Europe—made even easier by the fact that I had no classes Mondays or Fridays! Therefore, I took advantage of my geographical status, traveling almost every weekend, either internally around England or to nearby European countries. Here are some suggestions of places to go and services to utilize:
Trains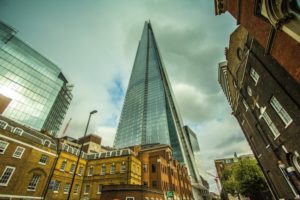 Great Britain: A wonderful thing about being in Great Britain is that, because Scotland, England, and Wales are all principalities (versus individual countries) within the United Kingdom, you don't need a passport to travel between them! Plus, because all three are connected so close together, you don't have to fly from one to another; simply take a train. I recommend thetrainline.com as a wonderful resource for train times and prices within Great Britain and Ireland. Yes, trains will take longer than planes; however, they are also cheaper and easier for luggage, security check, etc. I took a weekend trip from London to Edinburgh by train and was back early Sunday night! Also, if you are in Scotland—no matter what city—you MUST visit the Highlands. It's an easy day trip and so scenically worth it! 
Paris: You may think you'd need a plane to get from Britain (which is really one big island) to France, as it's across the English Channel; however, there's a train for that too! The Channel Tunnel, more colloquially known as "the Chunnel," is an underwater rail tunnel that runs from London to Paris. It's an easy hour ride and as safe and simple as any subway. For reduced prices, I recommend booking through Eurostar (eurostar.com). 
Planes
The only thing better than the proximity of European countries is how inexpensive it is to travel them! After Scotland and Paris, I decided to go a bit "farther" from London, taking two, weekend trips to Barcelona and Amsterdam, followed by a weeklong ski trip in the French Alps (Chamonix) after finals. By booking all my flights on easyjet.com, I never spent more than 2.5 hours or $75 on a plane! Another very cheap airline (although I never flew it myself) is Ryanair (ryanair.com). From what I hear, the service may be a bit lower quality, but the rates are unbeatable. 
Accommodations 
Part of the true travel experience is finding cheap hostels to stay in. I'd like to clarify for anyone nervous about the quality or security of youth hostels that they are completely OK! I stayed in a hostel on every trip I took from London and was pleased with everyone (except for a questionable blanket in Paris…). I never felt uncomfortable physically or emotionally. Some of them were actually quite nice; one Barcelona hostel provided a full breakfast and nighttime activities! Keep in mind you have the option of staying in a private room for just yourself and/or travel companions, or a dormitory, a typically 4+ person room with twin or bunk beds for random people to room together—seems sketchy, but it's actually a great way to meet new and interesting people! Every hostel I visited, I booked with HostelBookers (hostelbookers.com), which allows you to filter your searches based on price range and user rating. It provides a master list of hostels from which you can book your stay, without even having to go through the particular place.
Tours
You may want to discover the world on your own terms; however, to ensure you see everything at your destination, I'd recommend at least one guided tour. These come in all different forms—bus tours, walking tours, boat tours, etc.—depending on where exactly you are. If you're in London or any other city in England, I recommend International Friends (internationalfriends.co.uk). For reasonable prices, they provide guided day and weekend bus trips. I booked my Edinburgh/Highlands trip with them and had an absolutely amazing time. Groups can be anywhere from two to fifty people, personal enough so that you can get acquainted with everyone else, but without the pressure to conform (no group activities or anything). Other good tour services include Viator (viator.com) and Premium Tours (premiumtours.co.uk). 
What's so amazing about London (or anywhere in Europe for that matter) is that in just 1-2 hours, you can be in Austria or Belgium or Denmark or France or Germany or Ireland or The Netherlands or Scotland or Spain or Switzerland! That's ten different countries, cultures, customs, histories, languages, topographies, foods, etc.—all accessible in less time than it takes to fly from New York to Chicago. Many people don't realize that the US is practically the same size as the entire continent of Europe! And while different parts of the US are certainly scenically and traditionally different than others, there is no comparing the vast diversity of lands and peoples in Europe to the 238-year-old USA. 
If you have vacation or study abroad plans anywhere in Europe, I highly recommend breaking out of whatever city or country you're in and exploring other areas! Of course, there is so much to do in one city (Rome could take months, I'm sure) but I truly feel that experiencing even just a brief bit of another land allows you more of a cultural comparison. Never lose sight of the ease of European excursions, or the simple fact that you are in Europe! My advice: if you can, do it. Don't hesitate. Don't be afraid. Maximize your trip and maximize your life experience, because honestly, it's too easy not to!