Sunday, March 8th marked the 104th anniversary of International Women's Day, a day dedicated to celebrating women's political, professional, social, and economic achievements worldwide. Despite women's monumental accomplishments of the last century, there is still much to be done to ensure that all women worldwide have the same opportunities their male peers are afforded. To celebrate this year, IWD urged women to use the hashtag #notthereyet to illustrate that while we've made progress, well, not there yet.  The following video is one of the many wonderful celebrations of International Women's Day that helps to raise awareness about the struggles women face worldwide. Amy Poehler, Sienna Miller, Padma Lakshmi, and Cameron Diaz lend their voices to this touching tribute:
The Guardian notes that the first International Women's Day was actually organized by the Socialist Party of America "in remembrance of the strike organized by the International Ladies' Garment Workers union the year before. In case we forget amidst all the celebrations, IWD is a product of working women who wanted change. We should still be campaigning for that change." A century later, some women and men may question why we need a day to remind us of what we fight for as women, but the statistics speak for themselves:
One in three women worldwide will be beaten or raped during their lifetime.
More than 130 million women have undergone female genital mutilation, a procedure in which women have their clitoral hood, clitoral glans, and inner labia removed. Sometimes, the outer labia is removed while the vulva is almost completely closed, only to be reopened for sexual activity or child birth. The procedure can result in an assortment of health complications, reduced sexual feeling, and painful physical intimacy.
Every year 15 million girls will be married before the age of 18. Child brides in developing countries marry as young as eight years old.
Women in the United States earn 78 cents for every dollar a man makes for the same work.
Girls star Lena Dunham posted this image to her Instagram account only days ago. Lena paired up with the #notjustastat campaign to highlight some of the real issues women face everyday. Although the facts may be illustrated with statistics, they are representative of real women whose lives have touched by these issues.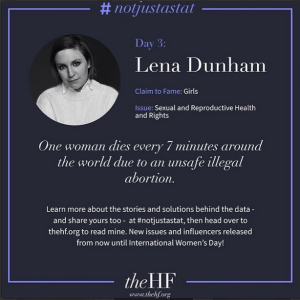 Even when it's not International Women's Day, let's not forget the women who still face injustices worldwide every day. March 8th is a day that aims to highlight issues we, as ethical human beings, should be paying attention to all year round. Women make significant strides every year, but that doesn't mean we don't have more to accomplish. The tasks sometimes seem daunting. If history has shown us anything, though, it's that if enough people care about something and fight for it, they will make a difference.
The following image has been circulating through Facebook the last few days. It's definitely an appropriate way to conclude this article:
Resources