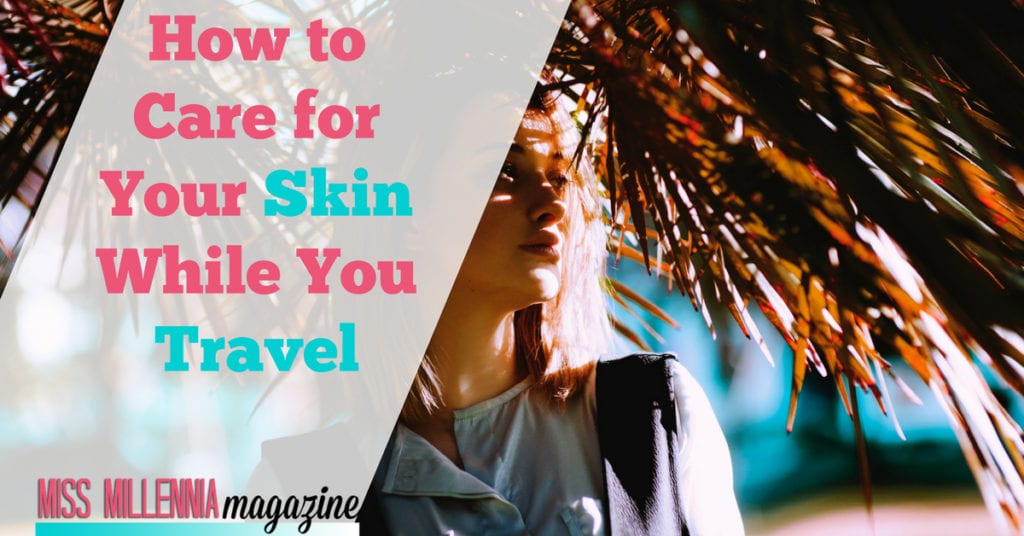 Your skin always deserves attention, even when you are traveling, but you should know that the skin acts differently during traveling and vacations when compared to how it acts when you are home. This is because merely traveling changes your natural rhythm. It brings changes to your diet, you get exposed to the elements and forget to hydrate regularly.
This doesn't automatically have to mean that you will end up with worse skin. Make sure to follow the list of tips we have compiled for you to keep your skin soft and healthy.
Start the Vacation Prepared
You are the one who knows your skin best, so you already have an idea of how your skin will react to travel and the climate in your target destination. The common thing many travelers need is some skin moisturizer because during travel all of us tend to drink far less water. As well as airplanes tend to dry out our skin due to the air pressure.
In any case, make sure to check your cabinet before packing and see if there is enough of each product you want to bring to last you until the end. Trying to purchase skin products that work best for you while abroad can be very difficult and incredibly expensive. This is why restocking prior is a far better option.

To get on top of this, Premier Deas has excellent skin moisturizing products that are great for traveling and were used by Mariah Carey to defeat aging with Premier Dead Sea products.
Don't get lazy and rely on Duty-Free to purchase your skin care products, have them ready to go with you in your bags.
Treat Your Skin Before Traveling
To start your travels prepared, you have to give your skin one last epic treatment before hitting the road. Especially if you are visiting a place with a dry or windy climate. To get the best results, you should do this a few days before your vacation. Nothing too complicated.
This treatment should include gentle exfoliation, followed by your favorite hydrating mask. Starting your vacation with healthy and glowing skin is essential. This specifically applies to those of you with oily skin. Why? Because the effects of the travel can easily cause your skin to overreact.
Don't Forget your Sunscreen
UVA rays can damage your gentle facial skin. Some of the skin experts even advise putting it on during the flight. You can be the judge of that, but if you are traveling on a cruise ship, or visiting the Dead Sea Premier recommended by Tripadvisor– sunscreens are a must-have, and other forms of sun protection are encouraged.
A good sunscreen will not only protect your skin from UVA rays, but it will also hydrate it. Don't forget your lip balm! Often our lips slip under our radar and suffer burns, cracking and dryness. Your lips are also exposed to the elements, and they require proper care.  Make sure you always have a lip balm with you to keep your lips looking healthy. Purchasing a lip balm with SPF would be a bonus!
Don't Put Too Much Makeup On
Makeup can quickly become your enemy while you travel. Why? Because makeup fills in the pores in our skin. This prevents the skin from breathing, and it can also lead to an excessive amount of microorganisms building up in the pores. Irregular hydration already makes the skin dry, and foundations for makeup will cause it to dry out even more.
If you have to wear your makeup, we advise you to put it on before arriving at your destination instead of wearing it throughout the entire trip. This is why it is handy to bring a cleanser and moisturizer in your hand luggage. Feel free to watch Premier Dead Sea reviews by Niki Murphy, a company offering fantastic skin moisturizing products that you can comfortably fit in a bag when you are traveling.
Dryness is your Worst Enemy
The main problem you have to address when traveling is possible skin dryness, especially if you are traveling by plane because the air in planes tends to be too dry. Don't worry; you can quickly overcome it. All you need are two things: a moisturizer and refreshing mist.
Your regular moisturizer will probably do the trick, but if you are going to travel in extremely hot, dry or windy conditions, we urge you to consider any of the oil moisturizers. Merely because they penetrate deep into your skin, keeping it hydrated over more extended periods of time. Refreshing mists are a good option for several reasons.
First, they are small and handy. Second, they're great moisturizers. And, lastly, they pack a severe antioxidant kick to keep your skin healthy even in extreme conditions.
Time to Travel


In the end, let us remind you that organization is key. Invest in ensuring your toiletry bag has all your essentials before departure. Help keep your skin to stay glowing and healthy not only by using skin care products but also by staying on a healthy diet even while traveling. And of course, make sure to drink enough water. If you follow each of these tips, your skin will look amazing, and you will feel wonderful on your travels, leaving you prepared for wherever they may take you.