Genre: Fiction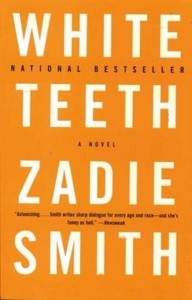 Publisher: Vintage Books, a division of Random House, New York
English author Zadie Smith packs a serious punch of wit, sarcasm, quirkiness, wisdom, and hilarity in her first published novel, White Teeth. Smith showed her ability to blend satire, philosophy, and street smarts with comical and existential ease. It really is a journey through the ages and compels you to look at situations from all different standpoints. With themes of religion, war, terrorism, sexism, racism, drug use, sex, and even simple family values, there is no lack of imagination here.
The book describes the lives of three separate families over three generations: the Jones, the Iqbals, and the Chalfens. Smith interconnects their lives for a roller coaster ride of a novel. It begins with how the Jones and Iqbal families came to be, unconventional as they are. The heads of each family, Archie Jones and Samad Iqbal, served in World War II together and had been friends ever since. Archie is a polite English man who was stuck in a loveless marriage for thirty years, yet he is extremely naive and oblivious. After an life-altering divorce, he finds and very quickly marries Clara, a Jamaican Jehovah's Witness, and they have a baby girl named Irie. Samad is Bengal and has a bum hand that forces him to be a waiter because he cannot find work elsewhere in England after the war. He marries Alsana, also from Bengal, through an arranged marriage, and has twin boys, Magid and Millat. Irie and the twins are the same age, and meet Joshua Chalfen at their school later in the novel and this in turn brings Marcus and Joyce Chalfen, his parents, into the cycle.
A major issue the Iqbals most of all go through is that of tradition. A lot of tradition is spoken of in the novel, talk of how things are supposed to be and what could be done to change them. But strangely enough, things never change the way they are supposed to. Most of the talking is done by Samad who is a proclaimed Muslim, yet does not practice the religion. From Samad, we get the "what if?" character. The one who always saw himself destined for greatness, yet never came close to it. He ends up pushing his sons to be all that he is not, ultimately causing more strife and unhappiness. Irie, Magid, and Millat especially, provide a teenage platform for rebellion and angst in their own separate and unique ways that almost drives every main character crazy, especially their parents.
Smith gives you everything you could want in a novel about family. The over-protective, over-bearing parents (Samad and Alsana, but mostly Samad), the laid back boring, yet very odd parents (Archie and Clara) and the intrusive, intellectual, and snobby parents (Marcus and Joyce Chalfen). Each parent succeeds and fails in their own ways, but each also makes as many mistakes as their teenagers do. It's a novel for all ages. It has something that can appeal to everyone, male or female. It's one of those novels that you will read over and over again. An extravagant success.
Read it today!