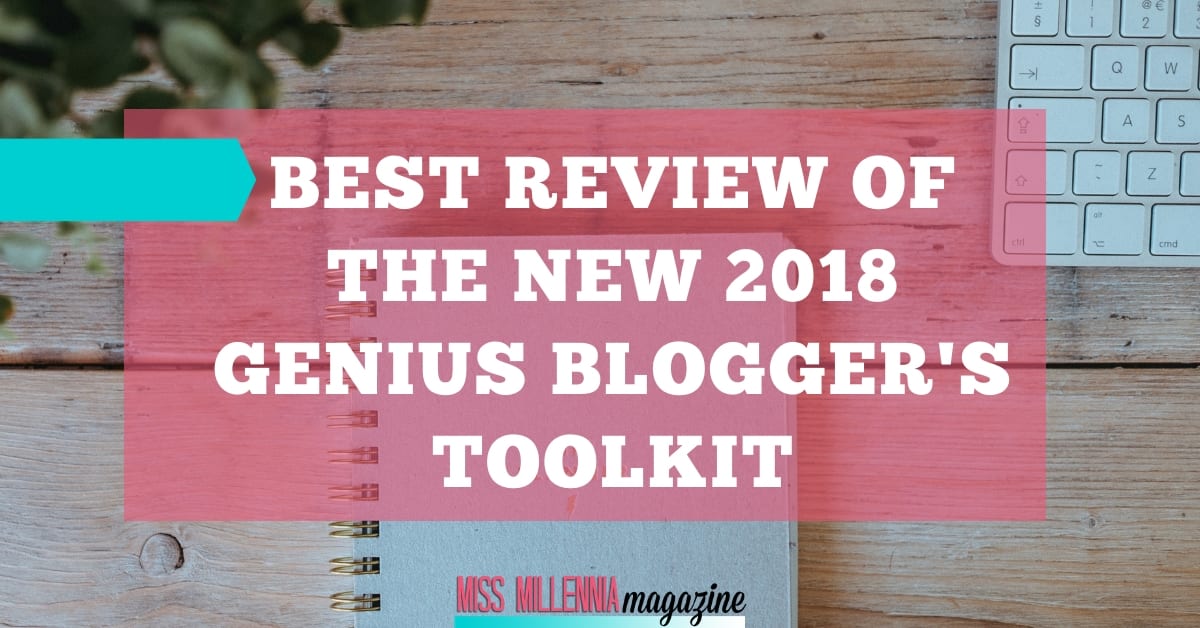 If you are considering buying the 2018 Genius Blogger's Toolkit, You may want to read what I have to say about it first.
The 2018 Genius Blogger's toolkit is scheduled to go on sale on October 10th, 2018. If you are unfamiliar to what the Genius Blogger's toolkit is, it consists of a bundle of 77 resources for bloggers from courses, to ebooks, to membership sites at a ridiculously low price of $97. 
While I've purchased the Genius Blogger's Toolkit in the past, I am always cautious about buying until I've had an opportunity to get an idea of if the resources included this year will be helpful or not.
Don't get me wrong; blogging courses are my jam! They are indeed one of the key reasons why my blog is so successful today. I have taken a number of courses from driving traffic to my site to monetizing my blog. And since I've taken those courses, it has put my blog growth into hyperspeed. 
The tricky part about choosing blog courses is knowing which ones are actually good. While I've been pretty lucky with the overall value of my blogging courses in the past, I've had my fair share of crappy ones. You know what I mean; Courses that give very basic knowledge that you could've found in a blog post and no real insight into anything new. And with some blog courses that are upwards of $900+, it is vital that you do your research before buying.
So what is included in this year's kit you ask? Let me tell you!
What is included in the Genius Blogger's Toolkit this year?
There are 77 products included in the bundle this year. And they are categorized as:
Business Setup – 8 products worth $347

Community & Support – 2 Products worth $201

Content Creation – 4 products worth $200

Design & Branding – 5 products worth $348

Getting started – 5 products worth $517

List Growth – 6 products worth $717

Monetization – 7 products worth $615

Product Creation – 10 products worth $739

Productivity – 9 products worth $490

Social Media – 14 products worth $1,255

Tech Help – 5 products worth $383
They come in a variety of formats from worksheets, templates, courses and even membership sites. So If you learn better from videos as opposed to printable PDFs there is a little something for everyone. But what makes this year's Genius Blogger's Toolkit so interesting it that there is a large number of interactive content. When I say interactive I mean content that requires your participation rather than just watching a video or reading a PDF.
For example, there are a number of templates you can use in Canva created by Kara Fidd. In this toolkit, she has one for ebooks, workbooks, and a yearly planner. There are also two blog membership groups you can join in this bundle so you can work with other bloggers to build your business. But there are many things I love about this toolkit this year. Let me tell you more about those things.
What I like about the 2018 Genius Blogger's Toolkit
This time around there is way more information on product creation and tech help. As someone who recently just launched my first product, I can confidently say that I have a lot to learn in this arena. If you are planning on creating a new product this year or are in the midst of launching a product, I think you have some great options in this kit.
Having the right tech help to develop your product and funnels is golden.  The Sales Page Anatomy by Lindsay Maloney is a template that will help you have product launch success and is pretty easy to implement.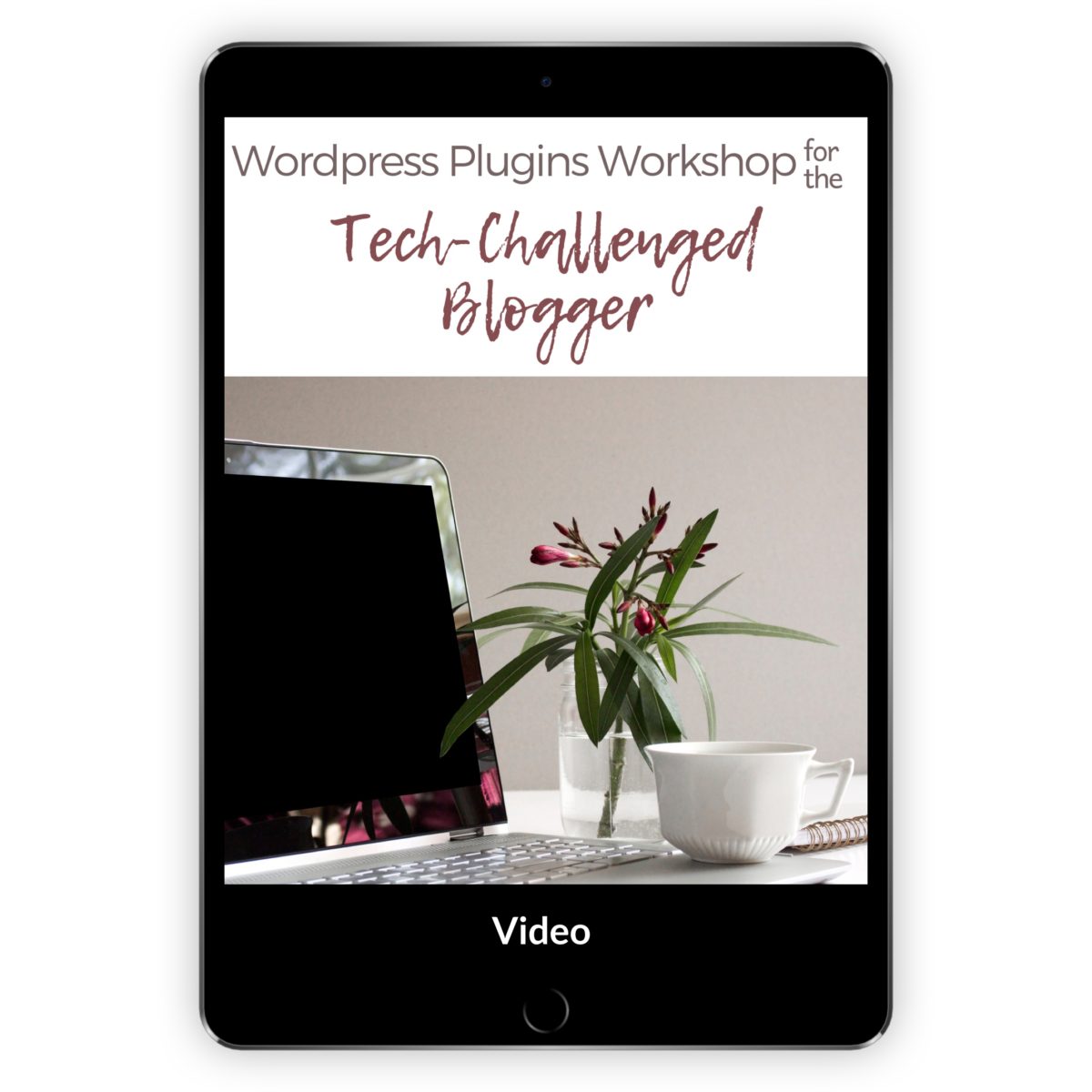 I am also a big fan of the WordPress Plugins Workshop for the Tech-Challenged 
Blogger by Deja' Cronley since she includes many plugins about landing pages and having your product on your site.
I was also really excited to see my friend Tasha Cochran's YouTube Made Simple Quick Start: Growing Your Blog and 
Business. Having personally learned so much from her about video creation, I knew this course would be phenomenal.
What I don't like about the 2018 Genius Blogger's Toolkit
Something that I was not as big a fan of is that there was not much content around monetization this year, only seven products.
I love looking into the monetization courses since I love finding new strategies to make money with my blog. So I was a little disappointed that there were not more resources on this excellent topic. But as I mentioned earlier, there is quite a bit on content creation that did not fall into the monetization category, so I am thinking it is okay.
I did enjoy the How To Work With Brands (& Make Money) by Jessica Festa since she gave me some terrific ideas on contacting brands using her email template.  There were quite a few courses on affiliate marketing, even one for the UK. But I am still going to check these out as well since there are always new things you can learn in this arena.
And if you are counting growing your email list as a monetization strategy, Grow Your Email List Using Pinterest by Kate Ahl is seriously worth its weight in gold. I loved every minute of this course and implemented so many strategies from it right away.
So Should you buy it?
The overall value of the 2018 Genius Bloggers Toolkit is worth $5,867.88 with its 77 products.  I've only scratched the surface with what I've gone through so far. Of those products, there are 41 eCourses, 15 eBooks, 9 printable packs & workbooks, 5 templates, 5 stock photo packs, and 2 membership sites.
If you are wondering if this year's kit is for you I would say if you are focused on improving any of the following skills with your blog this year, I would say yes: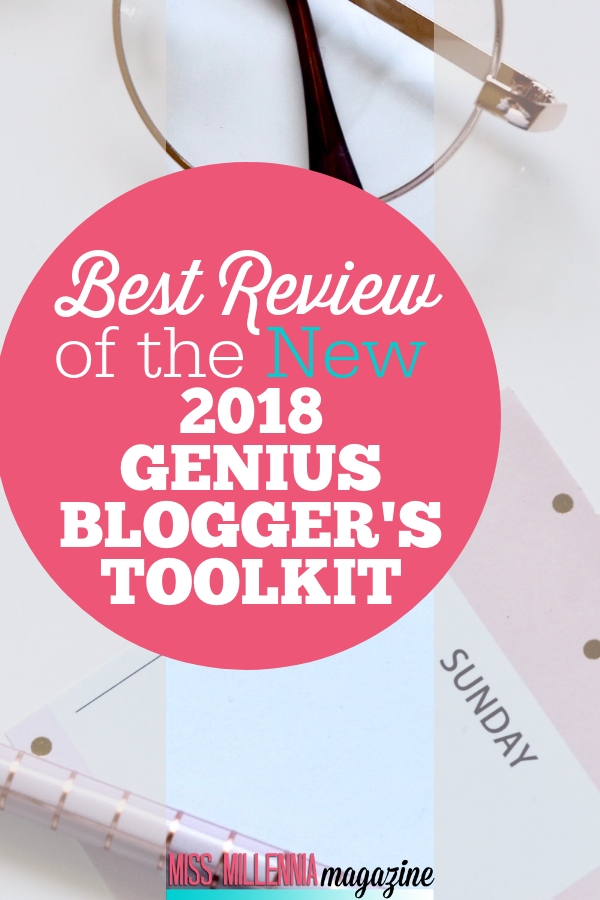 Making money with affiliate marketing

Making money with brand partnerships

Understanding Google Analytics

Learning how to do CSS code

How to complete a site audit for SEO

Driving traffic and monetizing with Pinterest

Learning more about Facebook Live

Putting together a better social media strategy

Attracting the right customer with hashtags

Setting up workflows in your business

Time management

Creating better landing pages

Learning how to have a profitable Shopify store

Facebook ads

How to create printables

Designing with Canva templates

Turning your blog content into a book

Creating gift guides for the holidays

Writing better emails to your list

How to create better opt-ins

Growing your email list

Learning more about photoshop

Blog Photography

Starting a podcast

Creating webinars

Legal requirements for your blog
How do you get it?
The toolkit goes on sale on October 10th and will only be on sale until October 15th.
The bonuses make it even easier to start (or grow!) your blog because you can get free, extended trials to technology that will help you save money while making money. And I like that ;).
In addition to the 77 resources in this bundle, you also get bonuses worth more than $540 from companies who can help you and your blog succeed.
Here's just a handful of the bonuses you get:
Podia makes it easy to sell online courses, memberships and digital downloads to your audience. With Podia, you can create a beautiful storefront in minutes and start selling your digital products – no technical knowledge needed, and no third-party plugins required. You'll get to try it out with a free 3-month Shaker Subscription. (Value $237)
ConvertKit is the email service provider for bloggers. You can try it out for two months free. (Value $58)
Use Pinterest to drive traffic to your blog – and make it even easier when you schedule for the ideal times using the Tailwind app. Get a free 3-month Tailwind for Bloggers subscription with your bundle. (Value $45)
Plus, get a free premium WordPress theme from MyThemeShop. (Value $35)
I haven't even told you about the other bonuses, but altogether the bonuses are worth over $540. See why I was just a little excited? 😉
And there's one more thing…
Wouldn't you love to create designer-level images in just a fraction of the time? If you buy a Toolkit before the deadline, you'll also get a two-month free subscription (a $40 value!) to Stencil to help you do just that.
You can pick and choose which bonus offers you want to redeem, and since the offers are digital, you don't even have to cover shipping costs!
The value of the bonuses is more than five times the cost of the bundle, which I think makes the bundle a no-brainer purchase.
When you add in the extra early bird bonus by buying today, it's just that much easier to justify spending money to grow your blogging business.
Check out all the bonuses and resources included in the 2018 Genius Blogger's Toolkit here